Innovative Timing Systems announces FREE timing for races with over 20,000 participants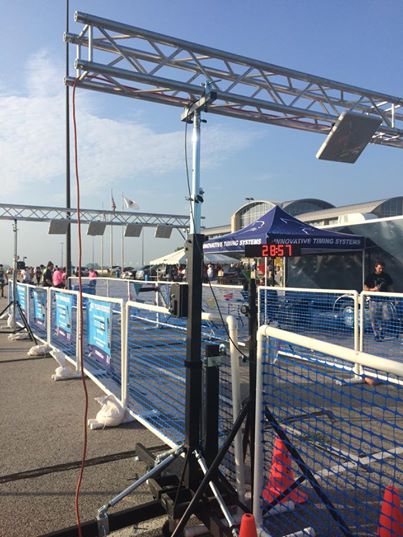 Innovative Timing Systems, LLC (ITS), the world leader in race timing systems, mobile apps, and race registration, today announced that they will begin timing races in North America that have over 20,000 athletes for FREE. ITS offers a completely integrated platform that is built upon their Jaguar RFID chip timing system. It incorporates registration, race timing, athlete kiosks, live video displays, automated athlete photo capture, streaming results to the web and mobile apps, as well as demographic research that race directors can use to improve their events.
By using the ITS YOUR RACE (IYR) online registration platform, as well as the Jaguar SnapShot photo system, races over 20,000 participants will receive free chip timing. Jaguar SnapShot is a photo capture system that syncs high-resolution cameras with the timing system. Athletes can receive up to 128 free photos to share on their favorite social media platforms. In addition, ITS provides athlete kiosks, large television displays showing live race results, and digital race clocks. IYR is fully integrated into the Jaguar platform and it has revolutionized the athlete experience. Race participants, family members and friends can view real-time results via the web, Facebook, Twitter, and the ITS YOUR RACE mobile app, which is available for free to athletes on iTunes and Google Play.
Kurt Hansen, CEO of ITS said: "We are thrilled to offer this integrated solution to very large races. With this announcement, race organizers and non-profits will no longer have to pay a fortune for race timing. In fact, they don't have to pay anything. Races can now deliver an amazing experience to their participants. Athletes get real-time results and all of their photos within seconds of crossing the finish line. Family members and friends can watch their athlete during the event with our live tracking on a moving map. Everyone at the finish line can celebrate when the athlete's time and race ranking is shown on large display screens."
During the past seven years, Innovative Timing Systems has grown to over 440 timing customers around the world in nearly 40 countries. It is estimated that over 15,000 events have been timed with the Jaguar platform.
RacePacket uses some of this same Jaguar equipment to provide an enhanced runner experience at smaller races.