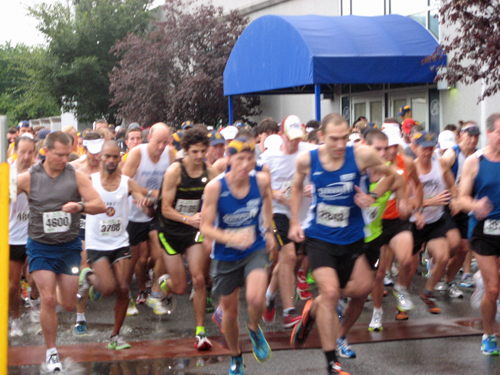 37th Annapolis 10 Mile is a Soaker
By James Moreland
Annapolis, MD
August 26, 2012



Runners are splash their way at the start.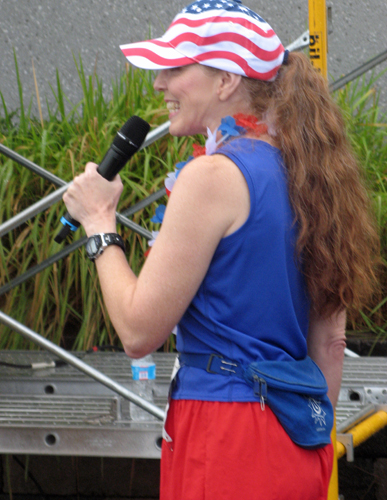 In its 37 year history the Annapolis ten miler has been well known as hot, humid, and hilly. It rarely rains. It has been since 2005 since it has rained which incidentally was the last time a woman broke the magical one hour mark. This morning rains came in a series of squalls rolling in about every fifteen minutes from 6:00 a.m. on. BRRC Robin Goodwin seemed surprised that the race was even held. There were many lightning strikes early in the morning but apparently they stopped a little more than 30 minutes before the start of the race as required by safety rules. In Baltimore the Get Ready Get Set Get Fit 5K did cancel because of the storm.
Before the race start (7:45 a.m.) vocalist Jeanne Larrison sang the National Anthem and it appeared the race would start with only a mild drizzle. Of course the course starts on a step downhill so there were large puddles for splashing early on and the current driving down to Taylor Avenue was deep enough to assure runners that their feet would be wet. The course circled back around past the parking lot and Mile One was most of the way up Farragut Avenue. There was barely enough time to hurry over therefore photos as the lead runner knifed through the light rain. One photographer noted, "There is no way he is going to keep that pace." Well he did.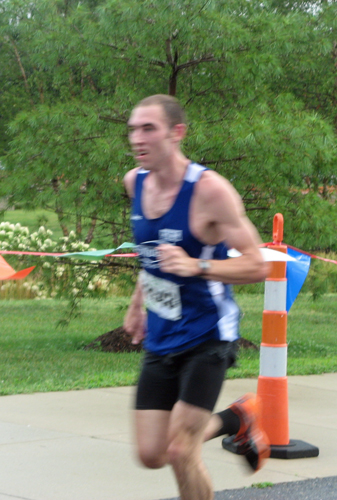 The top three runners were strung out about ten seconds apart at the first mile with the pack about hundred yards further back. Andrew Madison, 24, of Edgewater, MD (left) loped along to win a close one in 55:09. He had run two faster ten miles last year in the mid 54s, Cherry Blossom and the hilly RRCA Challenge. Runner-up Mark Buschman had run both of the races as well with his best effort close behind in 54:49 at Cherry Blossom. Buschman had bested Madison at their only other race of the summer the Rockville Rotary Twilight 8K 26:42 to 27:03.
Third place Alexander Mund, 20, was the first of many on the Navy Midshipmen team, running an excellent 56:40. Breaking an hour on this course is no gimme. Only 14 of the 3863 racers met that gold standard. Women have only done it once since the 1980s. Only two of these top men were older than thirty, both mega racers (Karsten Brown, 38, and Keith Freeburn, 38).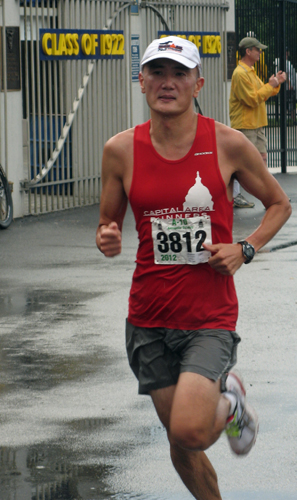 The top master was also a grandmaster. Mark Neff débuted this year with a nifty 60:07 for 17th overall. DCRRC's Richard Rapine (left) is enjoying his new spot in the masters division, winning the 40-44 age group in 1:01:50 as the second master. The next two masters finished right behind him though with net time they appeared further away. Charles Edwards, 42, was second 40-44 though his chip time was faster than Ken Zimmerman, 45, who won his division in 1:01:53.
Not far behind Maurice Pointer was racing a tactical battle with Elmer McPhail to hold on to his 55-59 crown. Both of these elite racers swapped positions more than once on the course. Pointer said he had to hold back a couple of times and run his own race. Finally as the bridge came into sight he was able to separate a little to win by 11 seconds in 1:02:27
Rocco Ferretti, 60, Arnold, MD was the third in his division to cross the finish line but out chipped Patrick Gary, 61, Manchester, MD and George Kroeker, 60, Columbia, MD. Top ranked Jim Noone had a real battle this time as the top three runners all netted sub 1:17:00. Noone claims his time was a little slow as he had added three pounds recently, crushing the scales at 136. Dwight Edris, 66, was closet to the start with a two seconds difference but was run down by Bob Chase and Noone who started much further back at the start. Lou Shapiro, 70, Silver Spring, MD is back. Even starting more than four minutes off the gun he easily won in 1:29:32.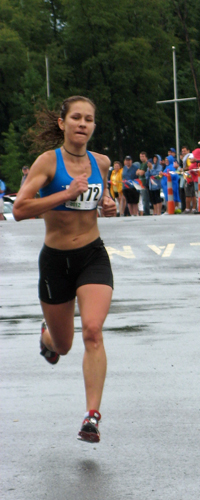 For the women Michelle Miller, 31, Damascus, MD (left) made it look easy out of sight of her competition. Her time of 1:03:06 was good for 36th overall. Bridget Holt, 34, Gambrills, MD hit the 10K mark in 41:26, just one second ahead of Kelly Westlake of Ellicott City, MD. After that she built a little distant nipping under sixty-five with 1:04:52. Westlake, 41, (below)was the top master in 1:05:05 but earned the even more prestigious third overall. The master award went to Robyn Humphrey, the 100th finisher. She had a great race in 1:08:08, more than four minutes faster than when she won her age group at the last race in 2010.
Donna Wecker, 50, of Elkridge aged up for the race and totally dominated in 1:09:56, more than ten minutes ahead of second place. Carole Jones, 55, of Ashburn, VA continues to roll up victories, winning in 1:14:19. She has caught the high of regular top ranked 55-59 Betty Blank who said earlier in the week, "Have you seen how well Carole Jones has been running?" Blank, who will turn sixty in February, did not race today but she is looking forward to taking on all her challengers.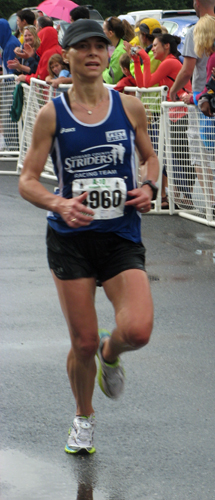 Alice Franks, 64, of Rockville, MD won handily in 1:22:46. She always seemed to be a little surprised that she won. By now, you think she would know the drill. You run the race and then you pick up your first place award.
As could be expected by the weather the numbers were down a little but the sun came out along with George Harrison's recording of "here comes the sun" as runners crested the final hill. There were plenty of cold towels to wipe off any perspiration that the rain clouds missed. After that runners picked up their race premiums, a race shirt, and headed for the 3B pavilion, bagels, bananas, and beer.

Support Our Sponsors
Marathon Training
PVTC Track Series
Mary's Custom Quilts
Seashore Striders Summer 2001 Schedule
Joints In Motion
Team Diabetes
Fredericksburg Grand Prix
TrackCoach.com
Running Enclave
DC Fit
Fleet Feet - DC
Fleet Feet - VA&MD