Army Ten Miler Downgraded to Fun Run
ATM downgraded to recreational run at 10:08AM due to temperature/humidity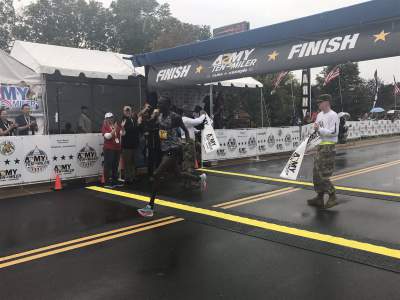 Haron Lagat Wins Army 10M
---
by ATM Staff
High temperatures and humidity caused the Army Ten-Miler to be downgraded to a recreational run with a shortening of the course after 10:08AM. Results were compiled for those who finished before 10:08AM and the finisher status (with no times) of those who crossed the finish after 10:08AM were also recorded. Results were originally to be posted by 3:00PM 8-October but will be delayed until 9-October AM. Runners who ran the full distance will receive a time, and runners who completed the course before 10:08 will be eligible for prizes.
Runners had started in waves between 8 a.m. and 8:50 a.m., so this decision mostly affected runners in the later waves.
Below is part of the statement issued by The U.S. Army Military District of Washington:
The U.S. Army Military District of Washington downgraded the 33rd Army Ten-Miler road race to a recreational run at approximately 10:08 a.m., due to high temperature and humidity creating unsafe weather conditions.
"The safety of our runners is paramount. The Military District of Washington is committed to providing a world-class road race in a safe and secure environment," said Jim Vandak, Army Ten-Miler race director. "The decision to downgrade the road race was made in coordination with medical, safety and race operations personnel."
A joint military medical team partnered with Arlington County and Washington D.C. Fire and Rescue, worked tirelessly to ensure runners affected by exercise-related heat and stress injuries received immediate first-class care.
The race was re-routed at Independence Avenue and 14th Street shortening the race approximately 1 mile, in an effort to mitigate heat related injuries.