Two Great Races in Chicago, as Chumba and Kiplagat take the wins
---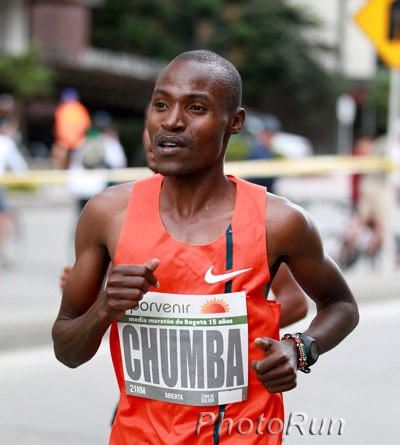 Dickson Chumba, photo by PhotoRun.net
The 38th Bank of America Chicago Marathon was held today, October 11, 2015.
With over 40,000 starters, the marathoners in the Windy City enjoyed fantastic weather, even with some wind.
---

By Larry Eder
Chicago, IL -- The men's race went out slow and calculating, with the first mile covered in 4:58 and 5k in 15:27. As the pace stayed even throughout the first half, the lead group went from 18-20 to a dozen, as the pack hit 30:30 for 10k, 45:59 for 15k, and 1:01:42 for 20k.

At the half marathon, hit in 1:05:11, there were ten contenders. And two of them were Americans! Luke Puskedra, fresh off his June marathon PB of 2:15:27 was there, and the U.S. Army's Elkanah Kibet was running his debut.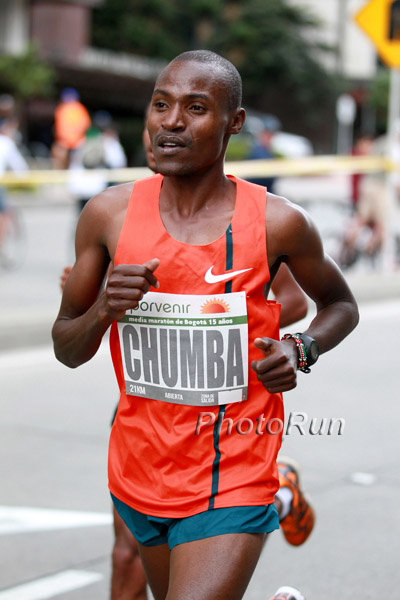 In the lead pack was Wesley Korir, Dickson Chumba, Sammy Ngungu, Gimray Gebru, Lukas Rotich and Abera Kuma. Puskedra stayed at the back of the lead pack for most of the first half of the race, Kibet, on the other hand, lead much of the first half, taking leads in eight seconds and later, fifteen seconds, before being swallowed up by the lead pack. Filex Kiprotich lead the 25k at 1:17:23,with a pack of ten (Wesley Korir, Dickson Chumba, Sammy Ngungu, Gimray Gebru, Lukas Rotich and Abera Kuma. Puskedra), before the race started to get heated.With no pacemakers, the race developed naturally. In fact, this observer thought that both races had more intriuge and interest as the races came down to final two miles in both events.

30k was hit in 1:33:13, and the pack started to get smaller. With eight in the pack and Luke Puskedra still there, Dickson Chumba, Sammy Kitwara and Abera Kuma broke away, with Sammy Ndungu, Girmay Gebru, Wes Korir and Luke Puskedras eleven seconds back. Chumba and Kitwara traded miles in 4:35 and 4:37, trying to break Abera Kuma, who has a 26:52.85 PB for 10,000 meters from 2013. Kuma just sat on those guys for most of the 30-35k area. Just after 35 kilometers, hit in 1:47:50, Kuma fell off the back.

Now it was down to Dickson Chumba and Sammy Kitwara. Kitwara had finished second, third and fourth in Chicago. Chumba had been third in Chicago in 2014.

The battle from 35k to 40k was intense. Dickson Chumba must have looked over his shoulder six or seven times, wondering if Sammy Kitwara could catch him. "My legs were too tired." said Kitwara afterwards. Chumba slowly built a lead at first, and then, with mid 4:40 miles, Dickson Chumba built a lead of twenty-five seconds over the final two miles, as Chumba won in 2:09.25. Sammy Kitwara added a second bridesmaid's position in Chicago, with his 2:09:50. In an exciting finish, Sammy Ndungu caught Girmay Gebru by one second at the finish, with American Luke Puskedra taking fifth.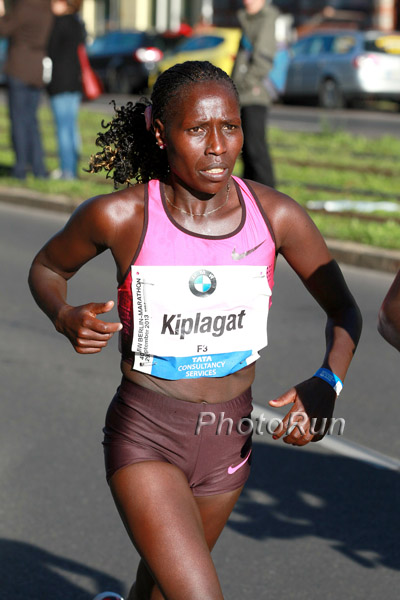 ---
Florence Kiplagat, photo by PhotoRun.net
Carey Pinkowski had to be proud, as both elite races were true battles, giving television commentators and viewers something to see and comment on. On the men's side, the battle came down to the final two miles and on the women's side the battle came down to the final mile.
And all, without pacemakers!
---


The women's race was a study in differences.

From the start, the women's race was on a sub 2 hour and 20 minute pace.

That was due to Kayoko Fukishi, who just pushed the pace from the start. Ten women were in eyesight, as Fukishi hit the 5k in 16:32. Right there were Meskerem Assefa, Yebrugual Melese, Florence KIplagat, Birhand Dibaba, Amane Gobena, Mulu Seboka. Diane Nukuri followed in 16:55, with Blake Russell, Deena Kastor and Sara Hall in 17:22 and 17:35. The 10k found Fukushi pushing it, with 33:03, and Assefa, Melese, Kiplagat, Gobena, Dibaba and Seboka folowing. Deena Kastor and Sara Hall ran by 10k in 34:46. Blake Russell was at 34:48.

The pace was encouraging, eight women on a 2:20 pace or beter. Meskerem Assefa had the lead at 15k, hit in 49:39, with Fukishi, Melese, Gobena, Dibaba and Kiplagat at 49:40.

Deena Kastor, focused on her run for the U.S. Masters' record was at 52:33, and Sara Hal was at 52:55, both looking good. Kayoko Fukushi was back up there at 20k, hit in 1:06:37, with Assefe, Melese, Gobena, Dibaba and Kiplagat all looking good and in control. Deena Kastor was at 1:10:10, and was running within herself. Sarah Hall was at 1:10:51 and Fionnuala Britton was next, in 13th in 1:11:05. Kayoko Fukushi is a metronome. The half marathon was passed in 1:10:25, and seven women were on 2:21 pace or better. Deena Kastor hit the half in 1:14:03, with Sarah Hall at 1:14:51 and Fionnuala Britton in 1:15:09. The lead women's pack, with no changes, hit 15 miles in 1:25:35.

What was interesting about this race is how the women were running as a pack. Men, hoping to run on their pace, were falling by the wayside. Fukushi's pacemaking skills made it a fascinating race, as many choose Dibaba to be the winner today, not thinking that Florence Kiplagat, even with her 1:05:09 WR performance. Mulu Seboka lead the pack at 30k, which was hit in 1:41:19, and seven women were still there. Deena Kastor hit 1:45:04 for 30k, her first American masters record of the day (Chicago is record suitable at 30k). At 30k, the pack was still large, so Florence Kiplagat decided it was time to move. Running 17:14 for the 30 to 35k, Kiplagat broke the race open, hitting the 35k in 1:58:43.

Building 41 seconds between herself and second place, Florence Kiplagat won the race in 2:23:43, with Yegrgual Melese, in second in 2:24:24 and Berhane Dibaba in third in 2:24:24. Kayoko Fukishi was rewarded with fourth in 2:24:25.

Florence Kiplagat laid on the finish line, after her win, and then, jumped up and down, smiling at the finish. She told the media later that it was in honor of her two "beautiful daughters", Faith (11) and Asha (7). " I jumped because I love my kids." noted an ebullent Kiplagat. Speaking of ebullence, Deena Kastor, all of 42, finished seventh, setting a new US Masters record of 2:27:47. Sara Hall surprised some with her 17 minute PB and tenth place in 2:31:14. Both elite races gave us wonderful stories and showed that major marathons can let their elite races do the story telling and not the pace makers. Focus on the races, as Wesley Korir told us earlier this week, and not the times.

Bank of America Chicago Marathon, Men (official), 1. Dickson Rhumba, KEN, 2:09:25, 2. Sammy Kitwara, KEN, 2:09:50, 3. Sammy Ndungu, KEN, 2:10:06, 4. Girmay Birhanu, Gebru, ETH, 2:10:07, 5. Luke Puskedra, USA, 2:10:24, 6. Wesley Korir, KEN, 2:10:39, 7. Elkanah Kibet, USA, 2:11:31, 8. Lucas Rotich, KEN, 2:13:39, 9. Abera Kuma, ETH, 2:13:44, 10. Fernando Cabada, USA, 2:15:36

Bank of America Chicago Marathon, Women, (official), 1. Florence Kiplagat, KEN, 2:23:33, 2. Yebrugual Melese, ETH, 2:23:43, 3. Birhane Dibaba, ETH, 2:24:24, 4. Kayoko Fukushi, JPN, 2:24:25, 5. Mulu Seboka, ETH, 2:24:40, 6. Meskerem Assefa, ETH, 2:25:11, 7. Deena Kastor, USA, 2:27:47, 8. Diane Nukuri, BDI, 2:29:13, 9. Jessica Draskau Petersson, DEN, 2:30:07, 10. Sara Hall, 2:31:14‬