Stephen Sambu Wins 2015 Credit Union Cherry Blossom Ten Mile, With American Jacob Riley A Surprising Second; Mary Wacera Victorious in the Women's Race
By Keith Peters
Washington, DC
April 15, 2015


Stephen Sambu Wins 2015 Credit Union Cherry Blossom Ten Mile, With American Jacob Riley A Surprising Second; Mary Wacera Victorious in the Women's Race

On an ideal day for running the Runner's Rite of Spring, with the cherry blossoms peaking for the race for the first time since 2007, the 2015 Credit Union Cherry Blossom Ten Mile Run turned out to be not quite 10 miles. Race organizers were forced to re-route the course between miles four and six due to an accident on the course that occurred about an hour prior to the 7:18 a.m. start of the elite women's race. The exact distance was measured as 9.39 miles after the race - making it just a fraction over 15K. When final race results are posted online, they will include both the actual time run and a projection of runners' times for 10 miles for all runners.

Defending champion Stephen Sambu successfully defended his title, while fellow Kenyan Mary Wacera prevailed in the women's race. Sambu's time of 43:20 for 9.39 miles projects to 46:10 for 10 miles, compared to his winning time of 45:29 last year. Wacera's actual time of 48:35 projects to 51:45 for 10 miles; last year, Ethiopia's Mamitu Daska won the women's race in 52:05.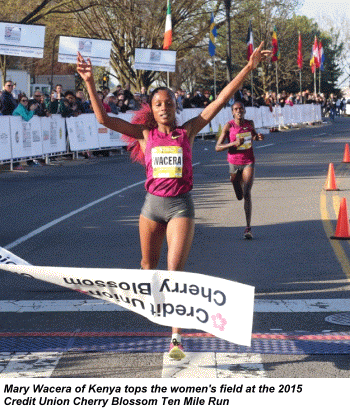 "I picked up the pace from three miles out," said Stephen Sambu. "I didn't want a replay of last year's finish when I had to outsprint Daniel Salel right at the finish." Rather than the fraction of a second that has separated the top two finishers in the men's race the past couple of years, there was an eight-second gap between Sambu's finish and the surprising second-place finish of American Jacob Riley. (The last time an American man placed second in this race was in 1991, when Bill Reifsnyder did so.) When asked about his mindset going into the race, Riley simply stated: "To be the best, you have to hang with the best." Well, Riley certainly hung with and beat many of the best men racing on the roads this year, including third-place Kenyan Elisha Barno and Barno's countryman, 2013 Cherry Blossom champion Daniel Salel, who was fourth. American Girma Mescheso of West Chester, PA, was the second American, in fifth place. In the women's race, Kenyan Mary Wacera and her compatriot Cynthia Jeretich Limo were both timed in 48:35. The organizers decided to pay bonuses based on projected times, so they will pay the sub-52:00 10-mile bonuses of $1,000 and $750 to Wacera and Jeretich Limo, respectively, based on their projected 10-mile finish times of 51:45 and 51:46. If Sambu's winning time had projected to be sub-46:00, he would have earned a $1,000 bonus. If Riley had run just six seconds faster, his projected finish time would have surpassed the American record time of Greg Meyer (46:13), and he would have earned a $10,000 bonus. After the race, Wacera was as ecstatic about course conditions as she was about her victory: "The fans were very motivating, and the course was so beautiful, with cherry blossoms everywhere." Kenyans Aliphine Tuliamuk Bol, Monicah Wanjuhi Ngige and three-time Cherry Blossom champion Lineth Chepkurui placed third, fourth and fifth, respectively, while Serena Burla of Stafford, VA, was the first American woman across the line in sixth place. The table below depicts both actual times and projected 10-mile times for the top ten overall male and female finishers, as well as the top ten American men and women. (American runners placing in the top ten overall were awarded pay-for-place earnings from both overall and American development purses.)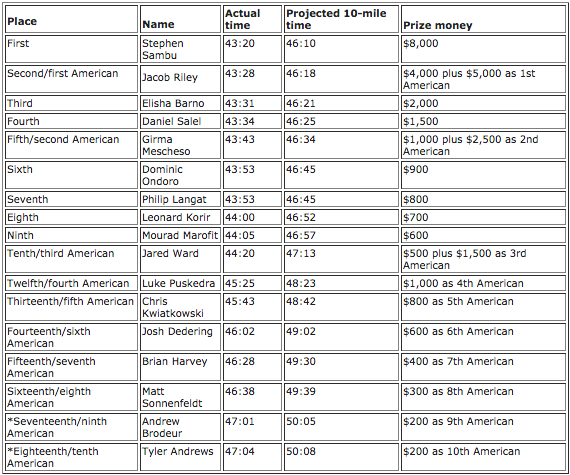 * A protest has been filed by Andrews over his tenth place finish. Placings are under review by the Chief Judge.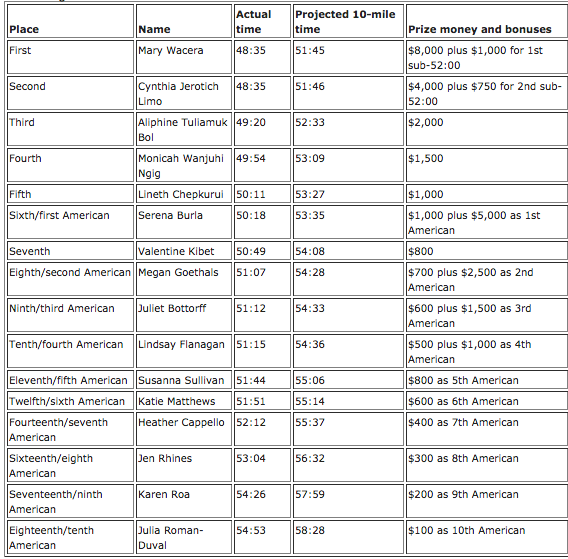 Ben Beach, 65, of Bethesda, MD, remained the only runner to have completed the race all 43 times when he finished in 1:27:59 (1:33:45 projected for 10 miles). Male and female winners of the 5K Run were Dylan Eddinger in a time of 17:02 and Ashley Kollme in 18:29, while 90-year-old Dixon Hemphill of Fairfax Station, VA, finished the 5K in 47:01, a little over two minutes faster than he ran in 2014 (49:07).(Dixon Hemphill Cherry Blossom story at wJLA) The 5K course was not affected by the re-routing of the 10-mile course. Over 26,000 runners submitted applications to participate in the 2015 Credit Union Cherry Blossom 10 Mile and 5K Run-Walk, and the list of accepted runners represented all 50 states and 14 foreign countries. With a field limit of 15,000 established by the National Park Service and selected by lottery in December, not everyone who hoped to run was able to participate in the only truly elite race to be run in our Nation's Capital. Since 2002, the Credit Union Cherry Blossom 10 Mile and 5K Run-Walk have raised over $7 million for the Children's Miracle Network Hospitals. This year's fundraising effort brought in $525,852. The 2015 event marked the 14th year of title sponsorship by Credit Union Miracle Day.