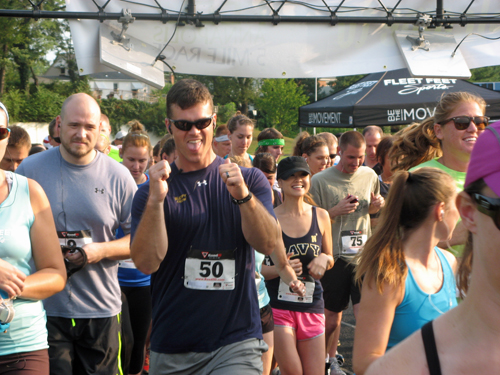 Feed Annapolis 5M Race Report
By James Moreland
Annapolis, MD
August 18, 2012



Runners are eager to get started in the race




Bates Junior High School in Annapolis, MD was the site of the inaugural Feed Annapolis 5 Mile race. After becoming aware of how many students in the area are on the free and reduced lunch program, the plan to get lunches, 10,000 of them, packed was underway. With the great weather there was a good deal of late signups giving the first year event nearly 150 participants. The five-mile road and trail race throughout the downtown Annapolis area started behind the school with a loop around the track. The first runner to bolt off the track was 52-year-old James Anderson. In photo left, the top two finishers enjoy their awards.
For many the race was like a festival journey around the city. The awards included a first place stroller division. The race had traditional sized ten years age groups after the overall win but the grand prize winner trumped all of them earning a year of free food from Chick fil A. For nearly all the race it seemed that Anderson had a real chance to win it all but he finished second in 30:04 behind recent high school graduate Martin Shpuntoff. Shpuntoff just missed breaking the coveted thirty minutes. The back up timer had him as unofficially 30:00.04. Anderson who has already had many years of victories seemed more interested in urging Shpuntoff to faster times. He lamented that perhaps he should have pushed harder at the finish to help him break thirty minutes.
New minted grandmaster Jack Kammerer of Washington, DC was fourth overall in 33:12 for a ranked runner time. Lorelei Gaus ran away from the field of women in 34:47 for weight overall. Kristen Kerr was runner-up in 37:08.
After the race there was a great variety of food for the runners. As runners roared down the final driveway at the front of the school past the Jaguar timing shields, there was vitalizing music playing. After cooling down on perhaps the best racing day of this summer, runners bellied up to the chow line. Leading the way of course were the Chick fil A sandwiches. But there was plenty of fruit and breads as well as sweets and coca cola to wash it all down.
The race was successful in reaching its first year charity drive goals and they are already planning ahead for a return next year.
Below, the Navy Cheerleaders pose after cheering the runners to the finish line.
Support Our Sponsors
Marathon Training
PVTC Track Series
Mary's Custom Quilts
Seashore Striders Summer 2001 Schedule
Joints In Motion
Team Diabetes
Fredericksburg Grand Prix
TrackCoach.com
Running Enclave
DC Fit
Fleet Feet - DC
Fleet Feet - VA&MD