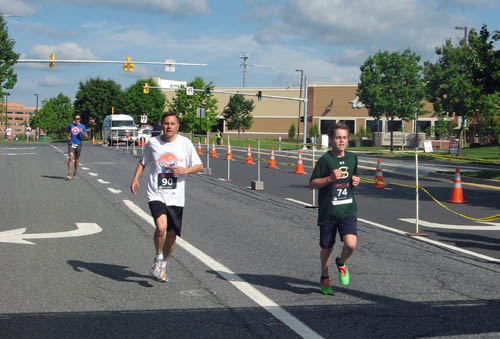 Germantown 5 Miler
By James Moreland
Gaithersburg, MD
May 17, 2004


Runners race to the finish line.

This year as the Germantown completes its first dozen years, the race is the Montgomery County entry and fourth race of the Maryland State RRCA Championship Series. The scores should be updated soon. Traditionally this rolling course set in mid May is run on really warm days. The winning times have always been very good, often faster than 25:00 for the men. Seven of the 12 years this has been true. This year Kevin McNab won a closely contended battle with Andrew Brodeur for the top cash prize 24:48 to 24:50.

Three times there have been three men faster than 5:00 a mile. Course record holder Steve Crane (24:29 -2007) had two runner-ups with three time champion Gurmessa Megressa (2005-6, 2013) before ascending to win two close ones in 2007-8.

For the women the elite standard of sub 30:00 has been best 21 times. The record was set by Victoria Klimina in 2004 when she ran away from nearly everyone in the field with 27:54 for her first of two titles. Elena Orlova was second in 28:02 as she was new in town. Orlova won in 2006 and was the reigning favorite. She won every other time she entered, including 2009-10, 2012-13. She has the masters and submasters records. The only other woman with two age group records is Alice Franks. Franks, 66, loped of a few seconds from last year's record to set a new won at 39:42. She also set the 55-59 record in the inaugural year.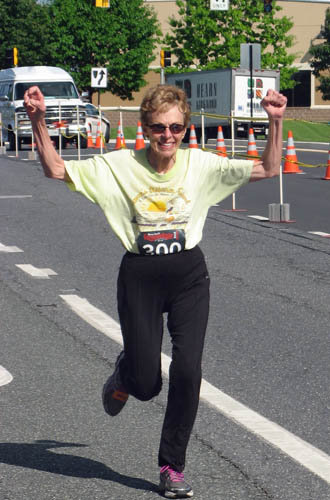 Two men have multiple records, Jason Page 60-64 and 65-69 (look for him to go for the 70-74 record next spring) and Jack McMahon 70-74 and 75-79. Two other runners set records this year. Fifth place Alex Roeder at just 16, pulverized the teen record with an amazing 26:53. Dee Nelson, 70, is setting records everywhere she goes crushing the old record by 15 minutes with 43:14.
Anne Savage, 31 of Washington, DC won in 32:53 ahead of Laura Ramos, 35, of Silver Spring. Third place Lisa Reichman was the first of three masters runners in the top six with a very nice 33:47. That was just ahead of Malcolm Senior, 63, of New Market who never seems to slow down. Kevin Yates, 42, of Olney owned the master division in 28:37. Paul Jacobson, 50, was next in 30:34. Jacobson is another runner with a 25 year history of speedy running locally. Franks, at 66, was the fastest women older than fifty. Art Gregory was tops in the 70 & older with 39:35.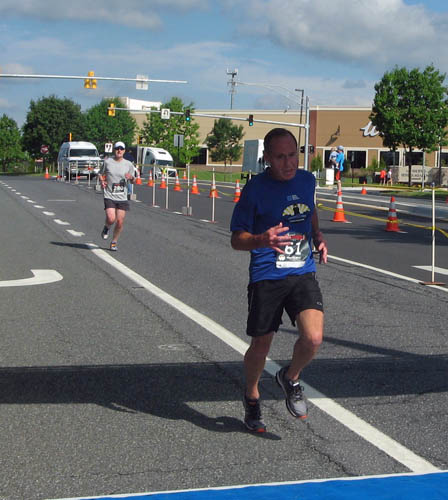 The course was a little more crowded this year with the brand new Wegman's shopping center right by the start. Still, nearly all the course, run between the 270 corridor and busy Route 355, was nearly empty of traffic. The course runs past an industrial park and through some neighborhoods. There is no flat spot on the entire course but as I wrote back in 2003, it is not a hard course with only a few places tough enough for an excuse to slow down. Weird weather 2014 dolled us out a special cool morning and the breeze was not enough to affect the race.
There was a lot of food after the event but the breeze picked up after the race and runners left quickly after the awards were announced.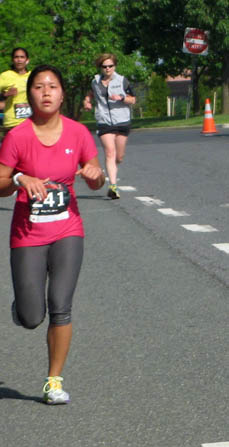 Stephanie Moy leads racers to the finish line.
Support Our Sponsors
Marathon Training
PVTC Track Series
Mary's Custom Quilts
Seashore Striders Summer 2001 Schedule
Joints In Motion
Team Diabetes
Fredericksburg Grand Prix
TrackCoach.com
Running Enclave
DC Fit
Fleet Feet - DC
Fleet Feet - VA&MD