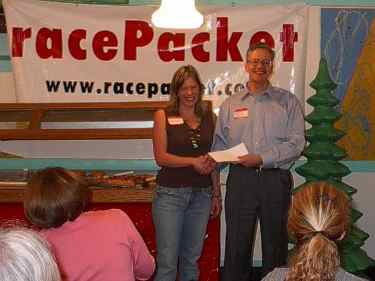 2013 Grand Prix Winners Announced
$3,000 in prize money at stake.
By James Moreland
Gaithersburg, MD
December 25, 2013


As the year winds down, runners eagerly scour the Racepacket Web Site to see who is getting the big bucks from the yearly Grand Prix Series. The series consists of twelve races run throughout the year, starting with the Sweethearts 4 Ever 4M. There are 5Ks and 10Ks and two half marathons. The next to last race was the Wilson Bridge Half Marathon. But do not be fearful of these elite athletes grabbing a handful of the generous $3,000 in prize money because the series is based on your points in your eight best races with a minimum of five races.

Note that there is no fee to enter the series other than the regular race fee you would be paying at one or more of these races that go from Hartwood, VA to Ellicott City and most places in between. It is no surprise that some of the winners in the series belong to the 50 Plus Club, a club with a purpose of racing fifty or more times in a year. Former winner of the grand Prix on more the one occasion is Ted Poulos who at fifty-two has run thousands of racing, averaging about 200 races a year for the last twenty-five years. Poulos earned 137 points in his eight best races and was in contention for another title all the way until the final race. Craig Chasse, 44, finally passed him on the final race of the year to earn the top prize of $500.00. Third place Mike Cannon, 55, and fifth place Bill Stahr, 53, are also 50 Plus Club members.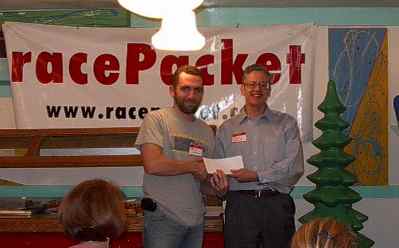 The series pays in cash 1st: $500.00; 2nd: $200.00; 3rd: $125.00; 4th: $100.00; 5th: $75.00; 6th: $60.00. Age group awards are three deep with awards: $50, $30, and technicalT-shirts for 3rd place. On January 19th, award winners will also be treated to a special dinner at Ramparts Restaurant in Alexandria, VA.
For the women, master runner Karen Young, who will finish the year with about 150 races pulled away from the field early and keep piling it on till the end to win with 93 points. Laura Suarez-Murias, 27, was next in with 75 points but she earned them in just four races. Look for her to make a title run in 2014. Take a look at who has been winning since 1997 here.
Races interested in adding incentive for prolific runners to enter their races should consider becoming part of the series. For questions about that and how the series works, please contact Bob Platt (bob at racepacket.com).

Support Our Sponsors
Marathon Training
PVTC Track Series
Mary's Custom Quilts
Seashore Striders Summer 2001 Schedule
Joints In Motion
Team Diabetes
Fredericksburg Grand Prix
TrackCoach.com
Running Enclave
DC Fit
Fleet Feet - DC
Fleet Feet - VA&MD