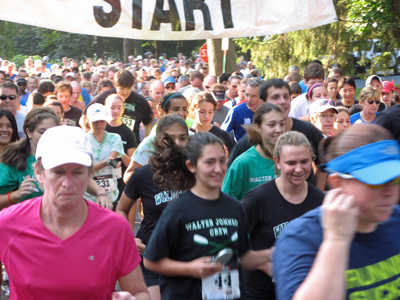 Kensington 8K, 2 Mile Challenge and 1K Fun Run
By James Moreland
Kensington, MD
September 22, 2012

Runners surge away at the start of the 8K



Summer is over but you could not tell it by this morning community race in Kensington. The rain clouds held off till late in the afternoon and a cool breeze made it just beautiful for the scores of well wishers that lined Armory drive to cheer on the close to one thousand participants in the 2m fun run, the 8K, and finnaly the 1K wished started last but finished before the 8K. On the road it was a slightly different story. In the 8K which cruised around Carroll Place by the historic Noyes library twice before climbing up along Armory Drive many of the runners would get heated up. The course is mostly flat along Kensington Parkway and Beach Drive but unsuspecting newbies were in for a treat as they left Rock Creek Park to stare at the East Bexhill monster hill, nearly a mile of steady stairway-like elevating.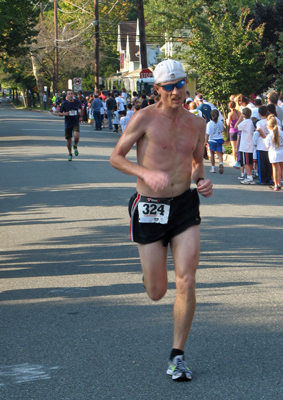 This event is often won by older runners such a grandmaster Cindy Conant and just a few years back hall of fame runner Jim Hage. Today's race featured some runners who made a longer trip to get here in an event that is usually raced by locals. One of the first of the scene was Jack Lovett, 42, of Newport News, VA (left) and his wife Pamela. She did not make the trip but has just joined the grandmasters and would have been a strong challenger for Conant. Jack ran an excellent 30:23 for six place overall and just missing the top masters spot by one place.
Steven Moore, 34, of Kensington ran away with the race in a very solid 27:42. This course has a lot of flat but it is so hard to maintain after you finally reach the summit of the testing hill climb. About a minute behind him Miles Aitken was trying to hold on to the runner-up spot, hearing footsteps from Keith Freeburn, 38. Runners try to slingshot down Baltimore Street to build momentum for the final 200 meter charge up Armory Drive. Aiken did hold on by 20 meters in 28:33. Frank Perna, 49, was fifth and top master in 30:04.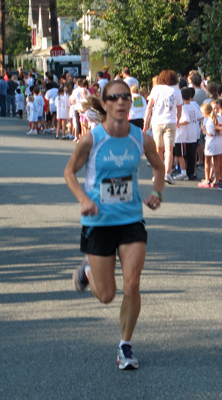 For the women, Brenda Schrank (left) normally does her work in the Shenandoah Valley where she reins supreme. She usually only comes into town for the really big events such as the credit union Cherry Blossom. Now 40, she is showing Montgomery County her prowess as she wins it all in 30:42, eighth person overall. She was not given the title she had to work the whole way as runner-up Kristin Henehan, 33, of Kensington was next to the finish line in 30:57. Third place a little further down Hilary Cairns made an appearance. Cairns, 41, has been picking up awards for more than 20 years but she says now she is more into triathlons. No is more competitive at getting to the finish line as she is. Her husband is Malcolm Lester is another ranked runner who has been away from the scene recently. Their daughter Page, 12, is trying other sports in school but proud mom says, "She can run a 6:00 pace with ease." Fifth place Julie Sapper of Rockville gets the master award in 33:16 with 51-year-old Cindy Conant rolling in right behind her.
Races are getting much better about older runners and there are many. The spring rankings champion Jack McMahon got upset by Bob Archibald of Fayetteville, PA 51:34 to 51:57 with Nathan Katz, 86 next as the oldest runner. Lou Shapiro dominated in his late sixties. Now at 70, he is coming off a hip injury and says, "I am really going to just walk through this one." A time is 43:29 is not walking. His excuse is the real race is the Dave Herlocker Bachmann Valley HM on Sunday.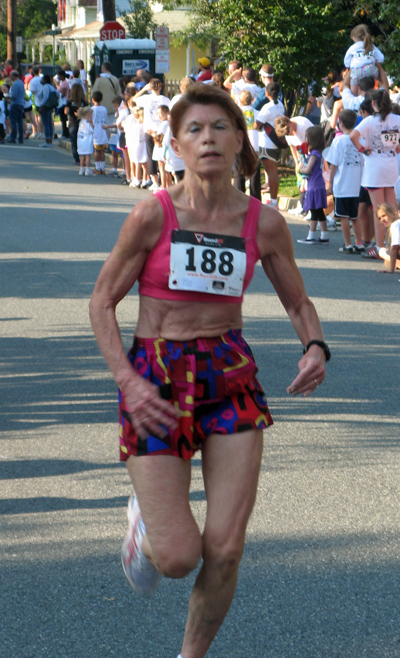 Herlocker who passed a few years ago was the MAN for the Westminster Roadrunners. For more than ten years and dozen of races each year I never went to any of the club races when Dave was not there. Top ranked Alice Franks, 64, of Rockville (left) fondly remembers Dave who was her chemistry professor at McDaniel College. She says of her racing, "I don't come for the awards. I wanna run fast." And again she did, winning her division by ten minutes in 39:16.
Back to the men Skip Grant, 76, has a birthday on Sunday and cruised to a marvelous 41:31 to win his division. Mary Kate Berglund, 71 came all the way from Richmond to try the course, winning in 48:46. Next behind her was the oldest women finisher Tam Graf, 76, of Lusby, MD. A prolific racer, she now has 55 races run this year and has the fastest time in ten different distances for her age group in 2012.
This delightful race also had a live band playing throughout the event and free parking fifty yards from the finish line. The race is the eight race in the RacePacket Grand Prix Series.
Below runners hurry to the finish.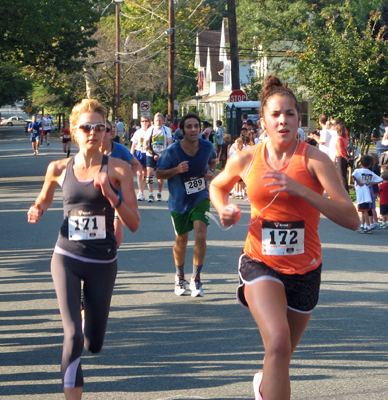 Support Our Sponsors
Marathon Training
PVTC Track Series
Mary's Custom Quilts
Seashore Striders Summer 2001 Schedule
Joints In Motion
Team Diabetes
Fredericksburg Grand Prix
TrackCoach.com
Running Enclave
DC Fit
Fleet Feet - DC
Fleet Feet - VA&MD