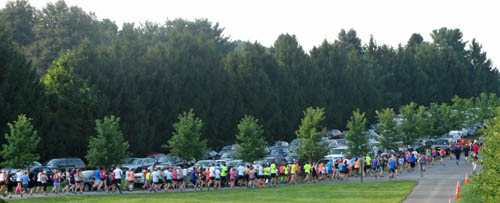 Knights of Columbus Labor Day Running Classic 10K
By James Moreland
Ellicott City, MD
August 31, 2013


Below runners gather for the start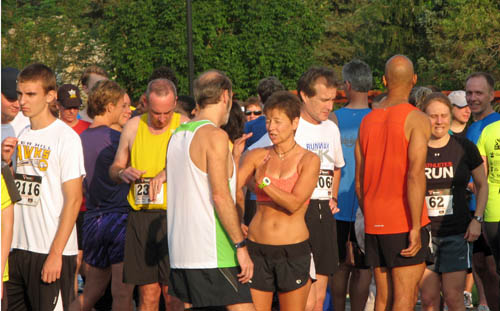 In its tenth year the Knights of Columbus Labor Day Running Classic 10K had it all. The beautiful grounds of the Shrine of St. Anthony offer a wondrous vista to charge down the hill for the opening half mile, albeit a more arduous return to crest that hill to cross the finish line. The grounds provides for easy parking for twice as many as the nearly four hundred runners. The finish area was festive with large dining tents surrounded by tables filled with food. Runners appetized on watermelon and doughnuts while the folks from the Smokin' Hot Bar & Grille to set up a dandy buffet with salads, pasta, chicken, half smokes, and coleslaw.
There was a DJ playing lively music and many ways to win. The 10K race is the seventh of 12 races in the RacePacket Grand Prix Series Races. Top twenty finishers overall and ten deep in age groups got points added to their chances of some of the $3,000 in cash prizes awarded in the series. This additional chance also helps to draw the prolific bunch from the 50 Plus Club. These racers have another goal of racing 50 or more races in a year. Of the eight runners from the club racing here, they have already run more than 600 races this year. Another member Bill Stahr coming off a injury earlier in the year has raced an addictive 104 times in the last 105 days with plans to race 3 races on Sunday.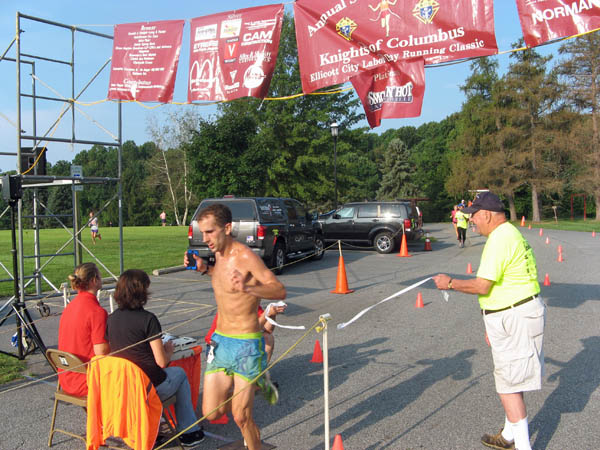 The 10K race was a runaway David Roche of Mountain View, CA blistering the course in 32:44. He was followed by Ted Poulos, 52, (below) with 131 races this year and nearly 5,000 lifetime. Poulos had run with at the back of a pack of five racers early, binding his time to earn big time points in the Grand Prix Series. His experience and tenacity allowed him to pull away in the final mile though he was glancing nervously over his shoulder (needlessly) as he crested the final hill with fifty meters to go to take the runner-up spot in 38:40. Last year he was 13th overall in a more competitive field.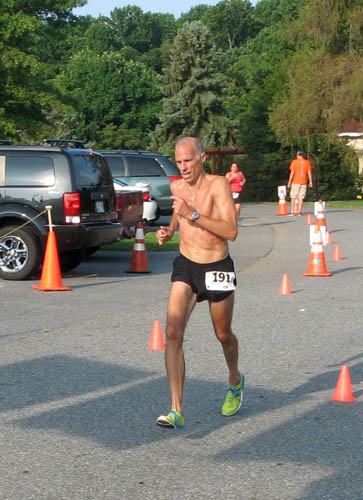 The next three runners finished tied together by a second and it would have been a closer battle except the finish chute was a narrow two feet wide right at the finish and did not allow any room for challenging. Last year's runaway winner Megan Digregorio (40:38 just two places behind Poulos) was hemmed in this year between James Blackwood (39:08 in 2012) and the narrow finish. Her final sprint was blocked and she had to ease up meters from the finish a fell just short of winner Julia Roman-Duval 39:00.3 and Blackwood 39:01.9 with a splendid 39:02.7.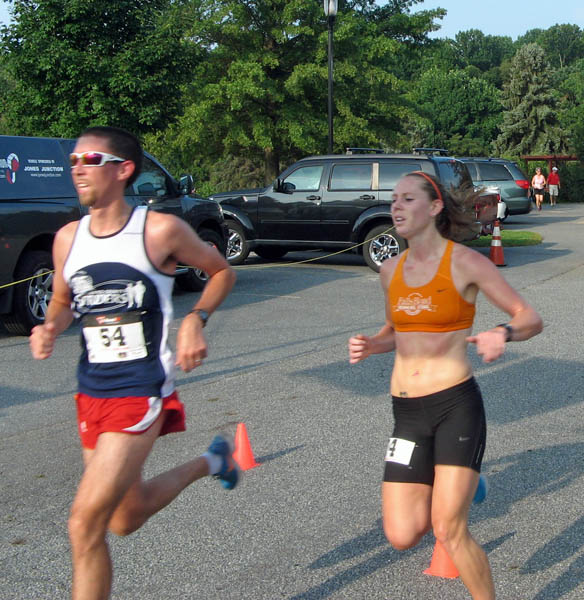 The event had a 3/4 mile fun run/walk which started at 8:20 a.m. Also this year the race added a 5K run which started with a large part of it run on the grounds and on trails. The trails had newly added mulch making it safer, and slower. Thus it was a huge surprise when Jason Hartman flew around the final corner to set the new event record in 16:17 before cameras could be focused. Ryan Hermstein, 18, ran a very nice but distance second in 19:31. Melissa McKinley, 24, of Millersville, MD was the women's winner and third overall with a Regional Ranked Runner time of 19:45.
The top three runners in both races earned cash and there were prizes for age winners as well as 19 random prizes. The randoms were preselected and listed right after the finish to avoid the long search for winners among runners by calling out numbers as they are picked.
Support Our Sponsors
Marathon Training
PVTC Track Series
Mary's Custom Quilts
Seashore Striders Summer 2001 Schedule
Joints In Motion
Team Diabetes
Fredericksburg Grand Prix
TrackCoach.com
Running Enclave
DC Fit
Fleet Feet - DC
Fleet Feet - VA&MD