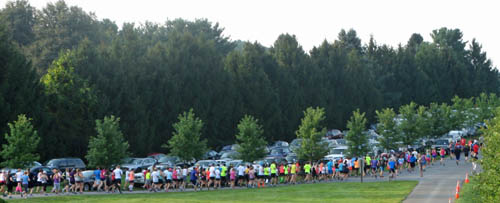 Knights of Columbus Labor Day Running Classic 10K
By James Moreland
Ellicott City, MD
August 30, 2014


Last year's start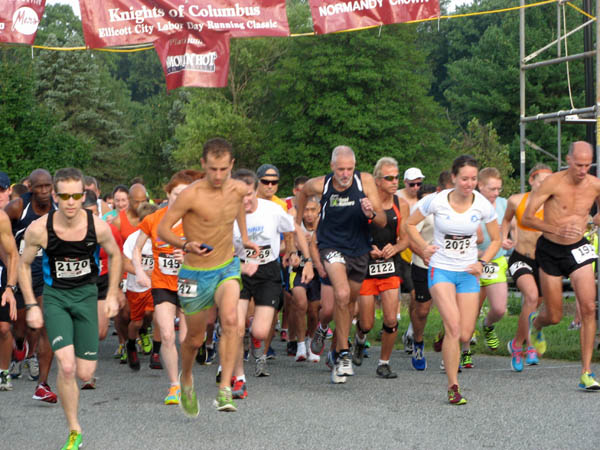 The weather for the summer of 2014 has been extremely kind. Still, the morning humidly is neither a stranger nor a helpful friend when traversing the hills on the course. Last year at the Knights of Columbus Labor Day Running Classic 10K we had a ringer come in from California to vaporize the course in 32:44. The year before that two Africans led by Gurmessa Megressa (32:49) had swift times. No stranger to winning as he turned forty this year Karsten Brown filled the void of the elite times to win handily in 36:34. Back in 2012 he had finished fourth overall in 35:27 to win the sub masters title against arch rival Steve Prinzivalli's 35:35. Brown had already won 23 races this year with only two other runners faster than forty minutes.
Even on the less than swift course many runners earned a Regional Ranked Runner time. Look for the Interim Rankings in our current edition. The Summer Rankings close out this weekend and will be posted in our next issue of RacePacket coming in early fall.
Third place James Blackwood is the only runner with a top ten finish in the last three years. He improved to 38:37 after just missing cracking 39:00 by a whisper the two previous years. Last year he split the top two female finishers as they finished 39:01, 02, and 03.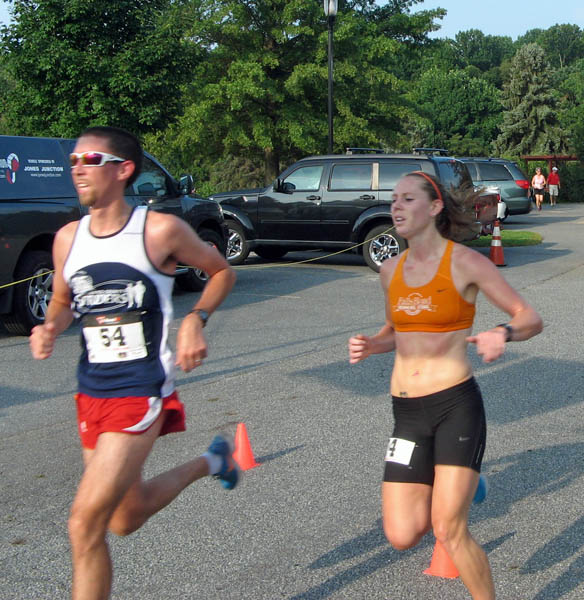 Last year at 39:03, Megan Digregorio was unable to defend her 2012 title though the competition drew her a minute and half faster. In last year's photo she is hemmed James Blackwood and the title by a mere two seconds. This year she had no competition and breezed to victory in 41:01 well clear of runner-up Caroline Fitcher of Washington, DC who finished in 44:55. Fitcher had to hustle to hold off hard charging top master Tammy Liu who raced to the finish line at the top of the hill in 45:14. She powered away from ninth grandmaster Bill Stahr running his 23rd 10K of the year. Liu was third in the inaugural 5K last year in 22:58.
Stahr can be excused as he was saving himself for his 43rd mile race later in the day. Bill Stahr is one of eight members of the 50 Plus Club that entered the race today. Of the eight runners from the club racing here, they have already run more than 800 races this year. Today's race was Stahr's 268th race of the year putting him on pace to run more than 400 races in a calendar year, well ahead of the previous world record of 337. That record was set back in 2003 by Ted Poulos. The prolific Poulos had run more than 200 races eight times since 1997 and never fewer than 113 races in any year. Poulos is also a favorite for some of the $3,000 in cash prizes awarded in the RacePacket Grand Prix Series. The 10K race is the seventh of 12 races in the series.
Back in 2012 in his first year as a grandmaster Poulos was 13th in a conservative 40:13. Last year he bolted past the competition to finish second overall. Poulos is known for his desire to win with his time being of secondary importance.
That year he needed both as four runners were on his heels until he crested the final long hill and pressed across the finish line in 38:40. This year he was fifth overall in 40:49 and again had four runners going for his spot, including the top female, Megan Digregorio. Poulos is unofficially at close to 150 races for the year with 48 overall wins as he heads for 6,000 lifetime races.
This year the event again had a 5K run which started with a large part of it run on the grounds and on trails. Omari Daughtridge ran a very nifty 16:49 to best an aging legend Doug Mock, 47, who ran 17:30. With the Annapolis ten miler just run last week, many remember Mock coming out of Salisbury University in 1991 to crush the 10 mile course in 50:28 with a 4:43 final mile. Jenny Gannon, 40, set the new masters record with an overall win in 21:58. Young Bailey Martini, 15, was runner-up in 23:08.
The top three runners in both races earned cash and there were prizes for age winners as well as 19 random prizes.