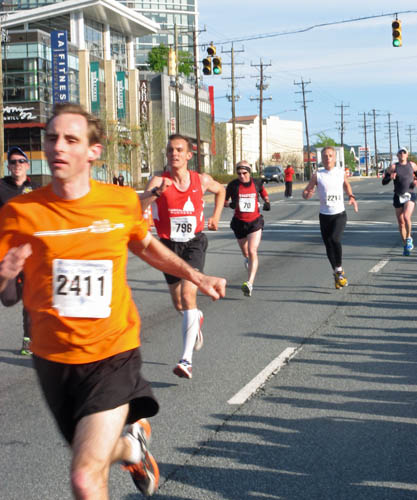 Kaiser Permanente Pike's Peek 10K
By James Moreland
Rockville, MD
April 21, 2013


Below Jessica Chin hurries to the finish line.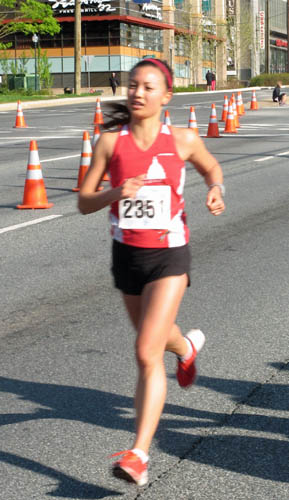 The 18th annual race down the pike will most likely have a different course next year. The iconic White Flint Mall, where the race finishes with a final cliff-like quarter mile, has already started its evacuation. The south side has already been demolished and construction will be an issue for next year. The weather dropped off even faster than the final sprint as atypical April changed from last week's 91 degrees to a mere 35 degrees at the start of the event. The wind was blustery making it really cold for the scores of volunteers. However for the hard charging pike runners a north south point-to-point race means a trailing wind is a runner's silent friend.
Many runners among the nearly 2,500 field joined a growing list of racers who can claim a PR on this swift course. Two-time defending champion and state record holder (28:06 - 2011, 28:12 - 2012) did not return. He ran a year's best 28:18 at the Ukrops 10K last week. This year most of the Ukrops times were bounced from the Best of 2013 listing by Pike's Peek. Last year's runner-up and top seed Abiyot Endale (28:19 - 2011, 28:16 - 2012) started with the lead pack as expected by a former Runner Rankings champion but somewhere he must have stopped to shop along the way, finishing in 29th place with 31:27. The top dozen runners all finished faster than a half hour. African runners took 17 of the top twenty spots. Another former rankings champion Wilson Komen was the top submaster in 31:06 but just missed cracking the top twenty-five.
Often runners who set the standard at the big St. Patrick's Day 8K came here to establish order and lay down the law in the 10K. Philippe Rolly demolished the masters field with a very nice 32:44. He time was 40th for runners and 38th for men. Often four or five masters runners crack the top twenty-five but maybe age makes the cool weather running a little harder. Or maybe not, as fifty-year-old Jean Christophe Arcaz finished a single second behind second master Scott Koonce, 41, in 34:48. Mark Neff, 52, cruised home soon after in 34:52. Chris Chattin is making his big push in his last year before becoming a grandmaster, winning the 45-49 age group in a swift 34:55. The last few years he had been fun running a lot with family. He noted that he was not yet done with his elite racing. Another about to turn fifth is Gaithersburg's Paul Jacobson who finished a long stride behind returning masters champion Elena Orlova. Last year was sixth women in 34:26. This year she ran a more stately 35:41 and waved to the crowd as she crossed the line.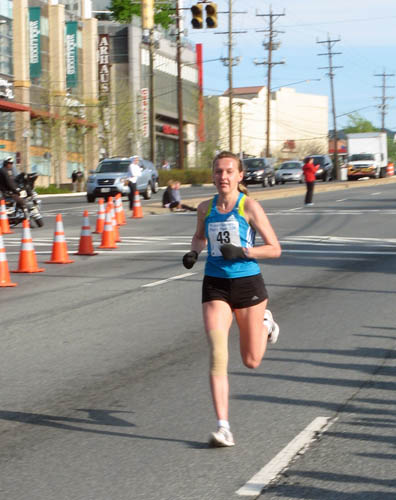 Not so for Jane Murage, 25, of Royersord, PA. She was running for her life and finishing in the state's third fastest time with 32:20. She never let up for a second as top teen Tsehay Getiso from New York carved more than three minutes off the state record roaring in next in 32:22. Nine more runners would race home faster than thirty-five minutes, including the fastest of four former Runner Rankings champions, Hirut Mandefro. Her time of 33:13 would have been tops all but a few 10K races in the region. She was followed by Olga Romanova in 33:32.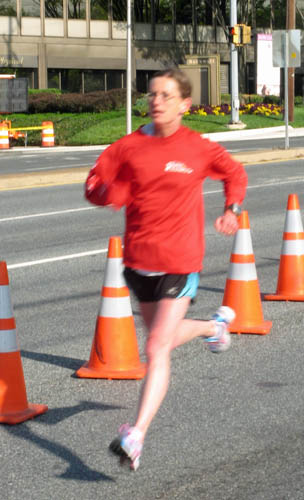 Kelly Westlake, 41, was the runner-up master in a fine 37:07. The next master was Cindy Conant, 52, of Kensington, MD who busted the state record with 38:45. Not far behind in the second fastest time which also broke the record was Deedee Loughran in 39:19. Among the seniors, Alice Franks, 64, says she is almost all the way back. She raced a brilliant 46:41, more than four minutes faster than the rolling hills at Seneca Creek State Park just a month ago. Franks turns 65 in early May and is hoping to have time to be a double age group champion in the Regional Runner Rankings. Dee Nelson, 69, who ages up in September improved her March 10K by three minutes to 50:47 and another Pike's Peek crown. Tam Graf, 77, carved seven minutes off her time to set the standard in 1:02:43.
For the senior men last year's champion (38:07) and the Winter Rankings champion Roland Rust arrived at the finish line well ahead of the field. Unfortunately, he was only a spectator and on an injured reserve getting his racing fix watching another former champion Tom Ruckert take the division in 38:55. Lou Shapiro, 71, is racing every weekend again and his time (48:45) tells us that he is in full health again. Chan Robbins, 75, raced a fine 49:50.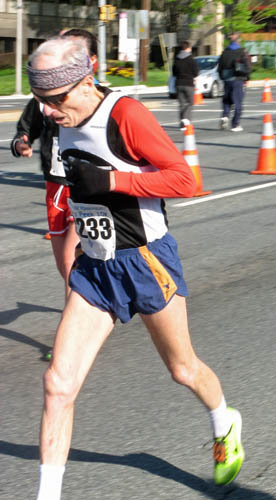 Three top octogenarians who are former champions had really solid times. The winner Jack McMahon was very happy with is time of 56:44. George Yannakakis was next in 58:14. Nianxiang Xie ran further back with family.
After the race the chow lines formed and runners seemed fine waiting even though this year it seemed arranged for just one long line to all the vendors. The band played in the center of the White Flint parking lot and kept runners entertained until the awards were announced. Because of the time, only the top ten overall and masters runners were announced. All the awards will be mailed. There was a stronger police presence including canines sniffing around but all went smooth as silk.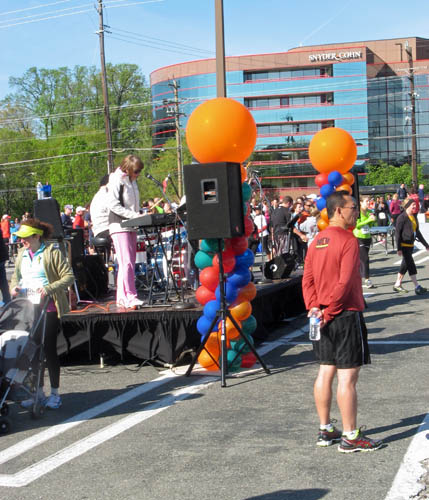 Support Our Sponsors
Marathon Training
PVTC Track Series
Mary's Custom Quilts
Seashore Striders Summer 2001 Schedule
Joints In Motion
Team Diabetes
Fredericksburg Grand Prix
TrackCoach.com
Running Enclave
DC Fit
Fleet Feet - DC
Fleet Feet - VA&MD