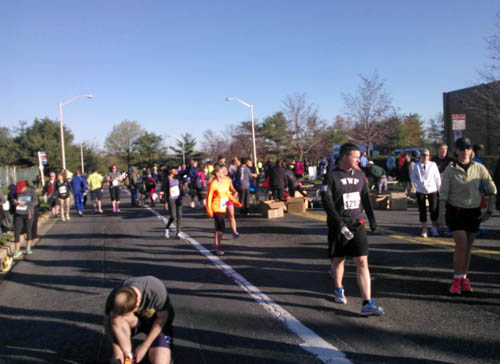 Kaiser Permanente Pike's Peek 10K
By James Moreland
Rockville, MD
April 27, 2014


Runners get ready for a PR racing attempt.

Back in the early days of running, the 10K race on the Pike was the Fritzbe's 10K. The restaurant and starting line were about two thirds of the way along the current Pike's Peek 10K course. In those days the race headed up stream and circled back around and a rolling course to the finish. The state record had been set there by Keith Brantley in 1987 with 29:37. Back in 2005 at the Disney Half Marathon when he was told he had set the record there he expressed real surprise. The course was just not that fast. Fritzbe's cashed in their chips in 1993 and the Montgomery County Road runners spent the next three years coming up with a faster replacement.

In its 19th year with a nearly 2,500 field began its journey on a cooler than average late April morn, like last year. The first two hundred meters took the runners sprinting down Redland Road. Next the surging herd of runners would take a sharp turn onto the Pike where they would run straight away the final 6 miles. The course is fast and billed as a PR course and to be sure it has a net downhill of 195 feet. Still, there are a couple of rolls in the middle miles that can cause a tiring runner to not get full value in the later miles. Being mostly flat, there is downhill either until the last quarter mile where runners usually accelerate at least 60 seconds per mile faster to close out the race.

White Flint Mall is still hanging in there for one more year where there front parking lot is home to the post race festivities. There was lots of food and bottled water but the hot food could not compete with the chilly morning. The band playing oldies was loud but not too loud and there were welcome tables to sit out for tired runners.

In the early years, there was an award ceremony and that was before chip timing. Gradually over the years the awards went from complete (overall, age groups, and random) to just overall and random prizes. This year there was just results posted on a truck by the finish line.

This year only five of the runners broke 30:00 and Nahom Mesfin ran away from the field to win in 28:30. Fourth place Gurmessa Megressa (34) ran an excellent 29:19 and is posed to challenge Wilson Komen next time for the sub master mantle the Komen has so carefully guarded. Last year Komen was 26th in 31:06. This year he was tenth overall in 30:46. For masters men, the first two years four men cracked the top 26 runners with John Doub running 31:59 in 1997. This year only Philippe Rolly (18th in 31:35) cracked the top 26. Last year Rolly was tops in 38th place with 32:44.

Most all of the race divisions had the top time in the Best of 2014 listings. Grandmaster Mark Neff repeated winning in 35:24 just two seconds of Doug Fernandez winning time at Ukrops. Not far behind him Dave Berardi, 53, has been revitalizing his great racing career lately, and finished in 35:47.

Last year Christine Ramsey ran a very nice 34:51 that would place her eleventh. The winner, Jane Murage, ran a sensational 32:20, even faster than when Jennifer Rhines won a $20,000 prize for her 32:45 record in 1998. She had won by nearly three minutes, not the two seconds of Murage's win. This year five other runners broke 36:00 when Ramsey won it all in 34:43. Her closest rival, Lindsay O'Brien was tenth last year in 34:40. She switched position with Ramsey to finish as runner-up in 34:57.

Second master Denise Knickman is forty-five and used to winning. She ran an excellent 39:27. Third master Darcy Strouse is fifty and her net time was a second behind Knickman though she followed her across the mats in 39:29. Neither had any chance at top honors as Cindy Conant, 53, moved up from a record 38:45, 25th place last year to eleventh overall in 38:08.

Among the senior runners, Betty Blank, 61, had an excellent time of 46:22. Just ahead of her Alice Franks, 65, was charging to the finish in a superb 46:14. That time was fast enough to beat all but five of the men 60 and older. Franks, is old enough to know better, should have been resting after running the Boston Marathon the previous Monday. The fastest senior man was Charles Morrow in 40:00.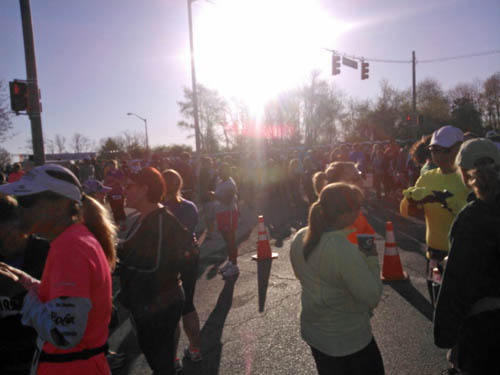 Redland Road is filled with runners as the blinding sun provided little early morning warmth.
Support Our Sponsors
Marathon Training
PVTC Track Series
Mary's Custom Quilts
Seashore Striders Summer 2001 Schedule
Joints In Motion
Team Diabetes
Fredericksburg Grand Prix
TrackCoach.com
Running Enclave
DC Fit
Fleet Feet - DC
Fleet Feet - VA&MD