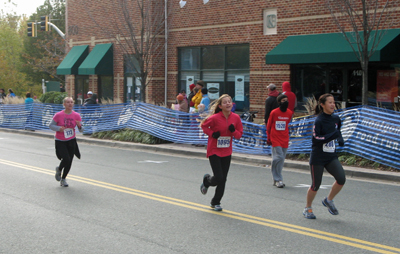 Rockville 10K & 5K
By James Moreland
Rockville, MD
November 04, 2012


Runners finish the 10K.

The Rockville 10K is the longest continuous running race in Montgomery County, starting 37 years ago. Its baby sister the 5K started in 1995 and rightly had to wait 30 minutes after the 10K before starting. The 10K event is the 10th race of the Maryland RRCA Challenge Series which is righteous because the 10K has evolved through ten iterations beginning at Montgomery College. By the early nineties the course stopped circling the campus and tried three different trips down the Pike toward the current Town Center. That oft changing center has also gone through a half dozen changes so the old course would not be physically possible.

The 5K only circled the campus for a few years before the race moved north to the edges of the not yet built King Farm community. Now MCRRC had three events that took on the mile long hill challenge Gude Drive. (The others were the Halloween Kids Run and the winterís Jingle Bell Jog 8K. Working out the challenges of racing two different distances can be daunting. After the race moved to the King Farm Center in 2002, more than once there was some confusion with top 5K runners leaving their course to had distance with a chunk of the 10K.

For the last three years the races have started by heading south towards Redland Road. The 5K turnaround is just past the two mile mark on Piccard drive at the bottom of the steepest hill which makes you glad to be running the 10K.

For some reason the race, which is starting to blossom in the last couple of years with more than a thousand combine runners, does not draw many elite racers. The course has very little flat stretches but with one exception the hills are mild. Still, times always seem a little week. Only three runners bested a 6:00 pave in the 10K.

Early in the race at the first turnaround on Gaither Road (2K) it looked like a runaway but the adrenaline can get burned out on the tough climb up Gaither Road. Nathan Garret, 34, was more patient and moved away to win handily in 36:22, albeit the slowest winning time for the event. The second runner finisher was top ranked master Elena Orlova in 37:04, crushing the filed by a full mile. That was not really a surprise as she had she came off a sluggish, for her, September 10 Mile race in 1:01:19, to win the Run for the Parks 10K in 35: 46. The following week was second overall at the Baltimore HM in 1:18:57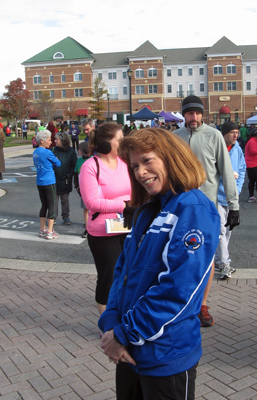 Lee Kaufman, 19, nipped out Quention Gloieux, 28, in a close battle for second place 37:15 to 37:18. Christina Guzzo was runner-up in 43:03. Then the next five women crowded home between 43:52 and 44:00 with Ruth Taylor of Frederick taking the top master spot by a second over Janice Lunenfeld. For the men the top three masters finishers were grandmasters led by John Whitridge, 50, in 39:26, followed by Dennis Coleman, 54, in 39:33, and Roland Rust, 60, in 39:45. Rust, noted he was winding down after an excellent Baltimore HM victory in 1:26:51, but his time was two minutes faster than he ran five years ago. Rust had the top menís age graded placement, finishing third behind Orlova and Alice Franks. Franks, 64, (in photo) ran 48:20 which was nearly two minutes faster than last yearís victory. Franks was very pleased with her 1:18:27 at the Army 10 miler were she defeated Naomi Stanford who is always a threat for the top place in the division.
In the 5K which had a record 549 finishers, Leo Smith ran away with the race in 15:50. Masters runner Douglas Woods, 43, as old as the combined ages of the third and fourth runners, did the old guys proud with an excellent 16:58.
Beth Conlon, 20 of Montgomery Village massacred the womenís field in a stupendous 18:09, holding off top grandmaster Jean Christophe Arcaz (18:11) for the sixth finisher overall. Top master for the women, Debbie Flynn, 56, was third overall in 22:28 behind Christina Manziís 22:23. Flynn, who seems to have been running in South Carolina the last few years, is back racing from Gaithersburg. Note in the results that the data entry has problems with consistent state abbreviations and city spellings. Flynn had the three best age graded time just behind Woods and perennial top ranked runner Dee Nelson. Nelson, 69, had the top graded time to win her ten year division in 26:45. Note that on the results pages for the race the awards are posted in five year age groups. The race day awards were handed out in ten year age groups. Nelson said she was looking forward to be the youngest in the new age group next year.
After the race there was lots of food and drink, including wraps and hot chili. The awards have stepped back from past years to just two deep in ten year age groups. It used to be three deep in five year age groups. Still there were lots of random awards and as they have done since 1995, there was a big prize worth $500.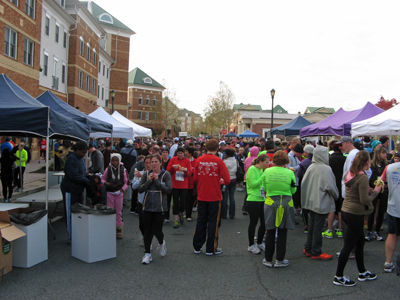 Support Our Sponsors
Marathon Training
PVTC Track Series
Mary's Custom Quilts
Seashore Striders Summer 2001 Schedule
Joints In Motion
Team Diabetes
Fredericksburg Grand Prix
TrackCoach.com
Running Enclave
DC Fit
Fleet Feet - DC
Fleet Feet - VA&MD