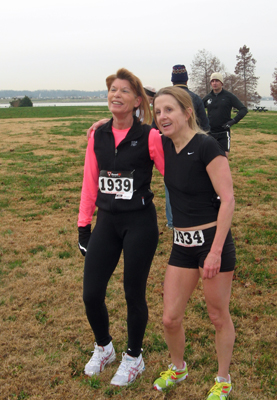 Snowflake 5K
By James Moreland
Washington, DC
December 15, 2012


Race winner Alice Franks (l) celebrates with runner-up Sarah Buckheit

The Snowflake 5K is the 12th race of the racePacket Grand Prix Series and the weather was quite nice, cool but not cold with no winds coming of the Potomac as runners race around Hains Point. The race often a discount to Regional Ranked runners and nearly a third of the field were ranked. Also the race offered a discount to runners with the 50 Plus Club and eight of them took advantage of that.

In a small race runners usually separate quickly and running alone can makes for slower times. Rob Biel, 23, of Gainesville, VA has the wheels for a sub 16:00 5K but today he was dogged by Keith Freeburn. Freeburn, 39, has already clinched the Grand Prix title ahead of Ted Poulos (third, GP), who has won the title more than once. Still Freeburn latched onto Biel hoping for the, as he calls it, elusive sub 17:00 5K.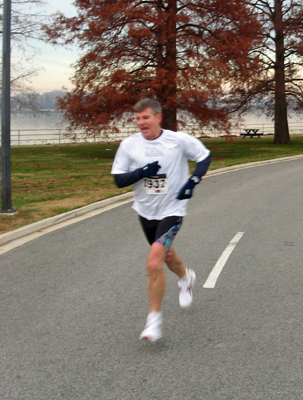 Number three in the race was Brian Daugherty. Now, 52, Daugherty has a sub 5:00 pace 5K on his résumé. In the last four years of the century Daugherty finished no lower than fifth at the Pike's Peek 10K, finishing fourth in 30:50 in 1999 and setting the masters record with 31:16 in 2000. It was set at 30:29 in 2009 and the only masters runner who has runner faster is Chris Juarez this year in 30:46.
Cruising home in fourth place, Ted Poulos has raced more than 200 races in a year for the seventh time. He has averaged 200 races for the last 16 years with 4,000 career races.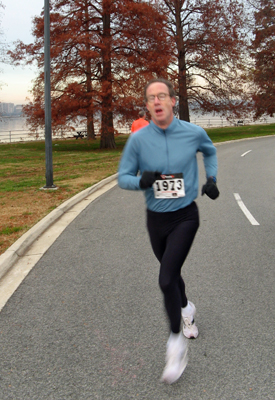 Dan Eddy, 61, is back on the roads with a solid top ten finish in 20:31. Top ranked Chan Robbins, 75, led a field of five 70 plus runners. Prolific racing legend Jon Palks added his 154th 5K of 2012. Gary Grimsley, 58, had just enough to day to pass David Pinnick in the overall standings, though Pinnick, from the same age group, won his age group with more points than Grimsley.
For the women, Sarah Buckheit, 52, (right) was in racing shorts and yet hinted she was too warmly dressed for the race. This young grandmaster was second overall. As the runners rounded the end of the point someone yelled out, "Here comes Alice!" That is Alice Franks, 64, who is top ranked in her division for the Fall Rankings which came out in the newest RacePacket on race morning. Franks was delighted as she learned that she not only won her age group but she was the top female in the race, her first overall victory.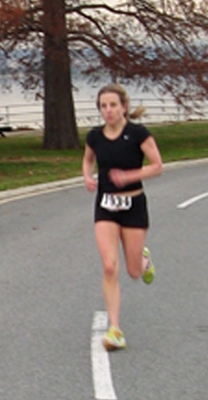 Tami Graf, 76, is back in town after last week's age group win at the USATF National Club Cross Country Championships in Lexington, KY. She won her division today as well, earning enough points to be one of the overall winner in the RacePacket Grand Prix series.
Support Our Sponsors
Marathon Training
PVTC Track Series
Mary's Custom Quilts
Seashore Striders Summer 2001 Schedule
Joints In Motion
Team Diabetes
Fredericksburg Grand Prix
TrackCoach.com
Running Enclave
DC Fit
Fleet Feet - DC
Fleet Feet - VA&MD