DARCARS Rockville Rotary Twilight Runfest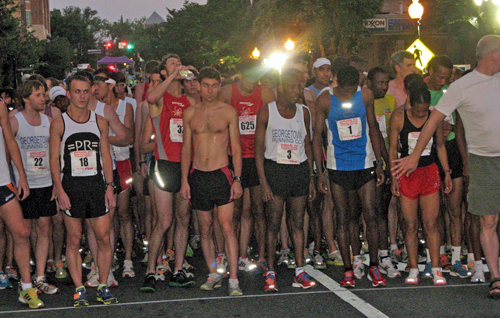 Start of last year's event.

By Nancy Betress
Rockville, MD
July 16, 2012


Rockville Town Center is the place to be for the 27th running of the DARCARS Rockville Rotary Twilight Runfest, Saturday, July 21, 2012. The Twilight Runfest Festival begins at 7:00 p.m. with live music, dancing, and variety of food vendors for the entire family. At day's twilight, the wheelchair race takes off at 8:40 p.m. followed by the 8K race at 8:45 p.m. and the 1K Fun Run at 8:50 p.m. Spectators will have a front row seat watching elite runners compete for open, masters, and age group awards. Most runners will be there for the pure enjoyment of running a "night-time event" and partying after they cross the finish line.

The 8K USATF certified course takes you through Rockville neighborhoods with a new and improved route around the Montgomery College campus. It has some rolling hills so the neighbors will be there to cheer you on. The 1K Fun Run is a short out and back with both races finishing under the balloon arch and lights.

HOT WEATHER WARNING: Runners are reminded that it is typically hot and humid during this event and you should be properly trained for these conditions. Be sure to be properly hydrated before the race and take water on the course. While we monitor the weather for the event, it is important for runners to make a decision based on the conditions and how well they can handle it.

Online registration is available until 5:00 p.m. Friday, July 20, 2012, at ImAthlete.com Late registration and packet pickup will be available at the following locations and times:
Friday Night: 5:00 - 8:00 p.m. at Potomac River Running
Saturday (race day): 10:00 a.m. - 4:00 p.m. at Potomac River Running
Saturday (race day): 4:00 - 8:00 p.m. at the Race Site provided we have not reached our registration limit.
The Twilight Runfest is presented by the Rockville Rotary Club, hosted by the City of Rockville Department of Recreation and Parks and conducted by the Montgomery County Road Runners Club Inc. Race proceeds will benefit the Rockville Recreation Fund and the Rockville Rotary Club Foundation.

For complete details, check the Web site: www.rockvilletwilighter.org For questions, you may call 301-353-0200 or e-mail MCRRC at Twilighter@MCRRC.org.

This is the event that started night-time racing in the National Capital area and continues the tradition. So do not miss Rockville's biggest summer block party and run under the stars and dance by the light of the moon at Twilight Runfest.
---
Check back race evening for the full results.