Chelanga and Huddle Win the .US National 12K
Chelanga edges Pennel while Huddle cruises in for first woman
---
Elite Women's Start to the .US National 12K presented by Neustar, photo by RacePacket

---

By Chris Leyen
Alexandria, VA --Sam Chelanga got his staring contest...

The elite men's race at the .US National 12K presented by Neustar came down to a matter of feet as Chelanga held off a surging Pennel to take first place in 34:35* (unofficial). At the press conference Saturday, he predicted a close race between himself and Pennel, joking that "he'd do a staring contest with Tyler", Sunday he got it, kicking it in with less than a quarter of a mile to go. Pennel steadily closed the gap, finishing just shy of Chelanga, also in 34:35.

After the race, Chelanga commented that he "love(s) running with Tyler, because it's kind of like dueling". Both racers expected the tight finish, and Pennel postured for it from the start, coming up just short. His plan was to "Come in as relaxed as I could at 10K" and he knew the real race was starting as Chelanga picked up the pace with 200 meters to go. The burst would prove enough even as Tyler was "barely gaining on him" throughout the last 200 meters, he narrowly missed overtaking Chelanga.

Kipchirchi, Spisak, and Shrader would follow shortly after Chelanga and Pennel, the top five men finishing within four seconds of each other. Jared Ward (34:42) and Jason Witt (35:10) would trade the lead early on, but go on to finish 6th and 13th respectively. With this 6th place finish however, Ward would go on to win the USATF Running Circuit Series, followed by Chelanga and Pennel. The victory today gives Chelanga his second USATF championship since becoming a US citizen earlier this year.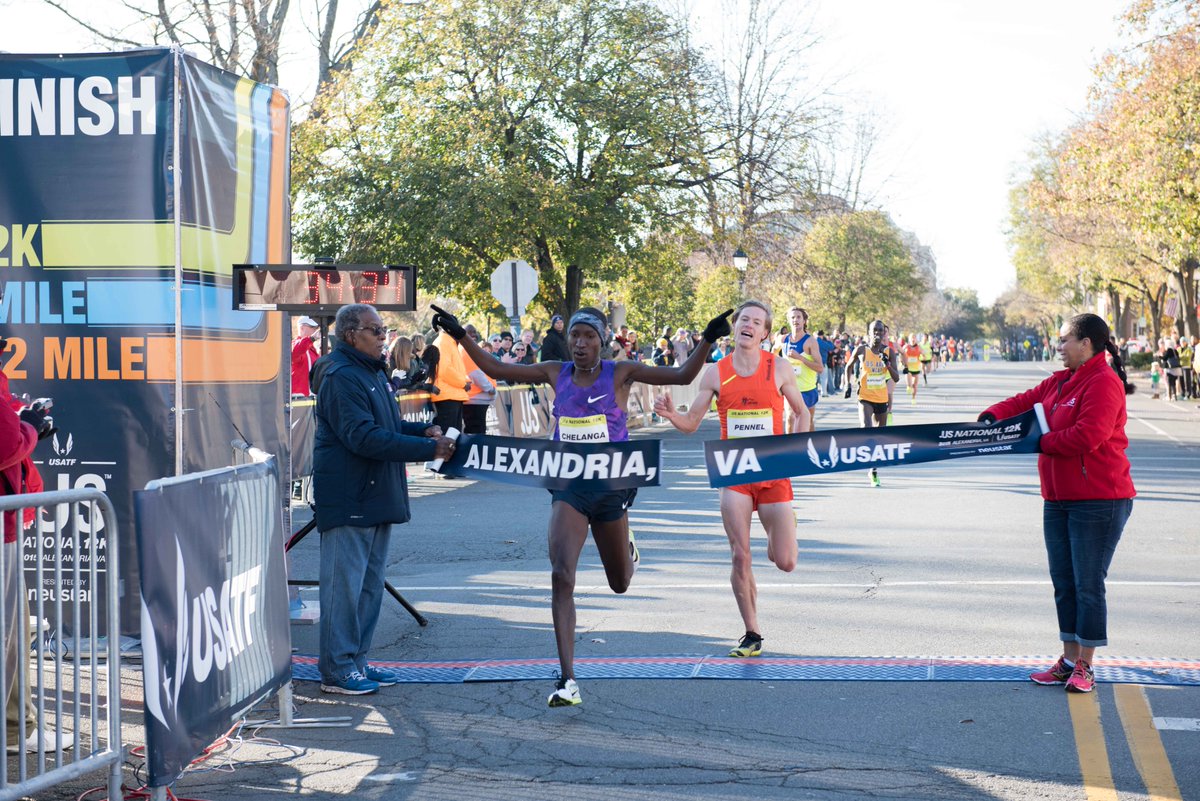 ---
Chelanga and Pennel duel to the end, photo by USATF
---
The women's race was a different story. Molly Huddle (38:36) cruised her way to a 6th national title in 2015, collecting $20,000, plus circuit bonuses as she led the field by over 200 meters, boasting a 13 second lead at the two-mile and 18 second lead at the 5k. The three-time .US National 12k champion cruised confidently along the George Washington parkway, as the racing continued behind her in the chase pack. This win, along with four additional USATF Running Circuit race winds would give Huddle her third consecutive USATF Running Circuit overall title. Huddle got a lead early and maintained it, but therein lay the challenge in her race. "It was hard to grind out there alone" she remarked.

Sara Hall would lead the chase pack in, finishing in 39:02, followed by Alisha Williams (39:05) and Kim Conley (39:11) finishing strong coming off of an injury.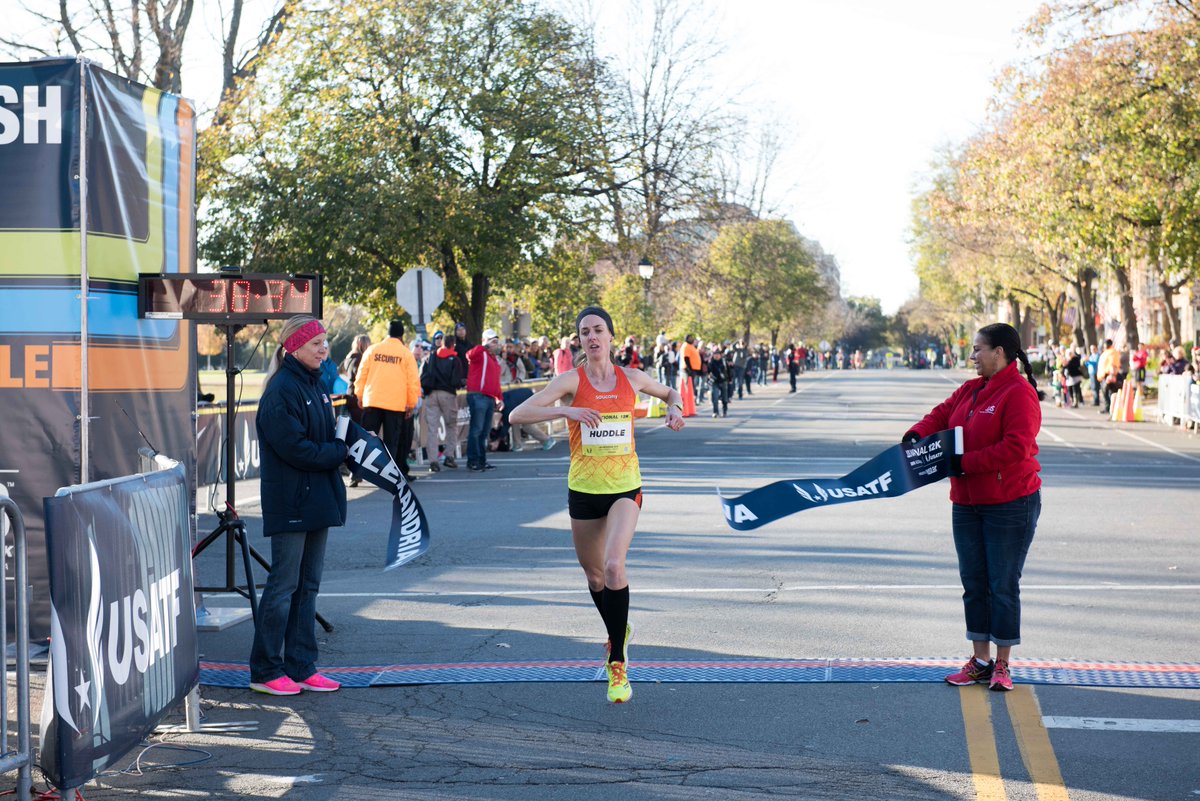 ---
Huddle Cruises to Victory, photo by USATF
---
Today's race was clear and crisp, perfect conditions for performing at the highest level, or as a casual runner. Today amateur and professional athletes lined up together at the starting line, as the elite men, masters, and open divisions took off at 7:55 a.m. The .US National 12K, now in its third year, brings elite US athletes to the road to race along the Potomac River through Old Town Alexandria and along the George Washington Parkway. It is part of the USATF road series race featuring USATF championships from the one mile distance through the marathon, consistently attracting the best American distance runners, awarding over $500,000 in total prize money, $100,000 of which was presented at today's race.

Full Elite Results