THREE RECORDS FALL AT THE GEORGE WASHINGTON PARKWAY CLASSIC
TOP HONORS TO BASWETI, BAILEY, AND OKEMWA
Sunday, April 23, 2006
Alexandria, VA
Conducted by Charm City Run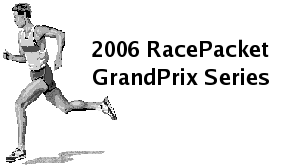 This is the fourth race in the 2006 RacePacket Grand Prix Series. These are the official results, which replace an earlier version.
RacePacket Home | 2005 Results | 10M Results By George Banker

On Sunday, April 23, 2006, it was racing at its finest hour along the scenic George Washington Memorial Parkway from historic Mount Vernon into Old Town Alexandria, Virginia. The conditions were close to ideal along the rolling hills within the first five miles of point to point course. The course is parallel to the Potomac River.

The 22nd Annual George Washington Parkway Classic 10 Miler had its highest number of finishers 1,980 since 1999. The race had its highest number of female finishers (923) in the history of the race. The race was a 15K from 1985-2001 and was changed to a 10-miler because of the construction at the Woodrow Wilson Bridge.

The pre race favorite was Jyncoel Onyancha Basweti of Kenya and training out of Chapel Hill, NC. At the Shamrock Half-Marathon in Virginia Beach, Va., in March he set the state record for age 19 and under for the distance (1:05:32). At the Colonial Williamsburg Half-Marathon he placed second with a 1:07. In the mix was Demesse Girma of Ethiopia, Pat MacAdie of Washington, DC.

The race started with a slight down hill as a pack four formed quickly. Basweti was a step off the leaders, countryman, Albert Okemwa, age 40, Zereu Keklele of Ethiopia, and Demesse Girma. They went through the first mile in 4:50 with a loose pack of three behind which included three-time runner-up (2003-52:00, 2004-51:44, 2005-51:2) Michael Wardian of Team Pacers/Brooks. Wardian within three weeks collected the following wins, the inaugural National Marathon in Washington, DC March (2:30:55). The Shamrock Marathon (2:28:31) in Virginia Beach, Va., and the Ocean City Marathon on April 8th in a time of 2:33:21.

Going into the second mile (9:26, split 4:36) Basweti started to open a gap of 25 meters and no one attempted to cover his move. Girma, Okemwa, and Kekele all started to drift further behind as Basweti hit the third mile in 14:20 (split 4:54). By the fourth mile, 19:24 (4:30 split) all others were out of contention for being a threat. It was a one man race. He was running fast enough to capture the win with the slowest mile a 5:02 split for mile 7 (34:04).

In the process of winning a new event record was established at 48:54. The old record was 49:05 (2002) by Benson Ogato of Kenya. Girma was second in 50:20 followed by Okemwa in 50:39 which was a new record for the master's. The old record was 54:01(2004) set by Chris Chattin of Columbia, Md. Pat MacAdie was fourth in 51:45. Chris Chattin was the second master in 55:30 (10th place) followed by Christopher Hamley of Silver Spring Md., in 56:16 (12th place).

Leaving out of Mount Vernon was former Marine Corps Captain, Mary Kate Bailey (Team Georgetown Running) and USATF Athlete of the Week (November 2, 2004) for her win at the Marine Corps Marathon in 2004 (2:48:31) the second active duty female to win the race in it's 29th year history that year. At the Credit Union Cherry Blossom 10 Mile Run she placed 9th overall with 57:07. Last month she won the Shamrock Half-Marathon in 1:15:24 and she placed first in Washington's St. Patrick's Day 8K in 27:50. She set a pace wire-to-wire which no one attempted to cover her move.

The first year of the 10 miler Irina Suvorova of Russia set the record at 58:46 and it was not broken until 2005 by Larisa Michailova of Russia with a 57:52. Bailey rolled along and set a new event record with a time of 56:24.

The only other runner to make it under an hour was Susan Graham-Gray of Cumberland Valley Athletic Club in a time of 59:38. Last year she was third in a time of 1:00:09 and won the inaugural National Marathon in a time of 2:58:05 (March 2006). In May 2005 she set a record at the Frederick Marathon with a time of 2:56:59. Gray was born with Stargardt's Disease which has left her with 20/400 vision and there is a cyclist along the course who alerts her of any major changes in the road or obstructions.

Erin Moore of Woodbridge, Va., captured third in 1:05:34. Rebecca Nathan of Arlington, Va., was fourth and the first master in 1:05:36. The second master was Linda Foley of Oak Hill, Va., in 1:07:43 (6th place). Sandra Adams of Winchester, Va., was the third master in 1:08:38 (7th place and first in the 55-59 age group).

About seven miles down from the start of the 10-miler the 8th George Washington Parkway Classic 5K taking off at the same time. The number of finishers doubled over last year 382 and 717 this year (311 males, 406 females). In the eight years 4,171 runners have finished the 5K.

The local running stores were testing the roads. Chris Banks of Arlington's Gotta Run and Ray Pugsley of Ashburn's Potomac River were both of the line with Scott Anderson of Washington, DC right in the mix.

Once the dust settled Banks proved to be the stronger and took first in 15:32 (the third fastest winning time) followed by Pugsley in 15:37. Anderson was the last to finish under 16 minutes in a time of 15:56 for third place. The record for the 5K was set in 2000 by the two-time winner Philippe Rolly of Arlington, Va., in a time of 14:48.

Jim Wadsworth of Washington, DC was the first master in 18:04 (9th place), and followed closely by Mike Fitzgerald of Hagerstown, Md., in 18:05 (10th place). The record was set by the only master to go under 15 minutes, John Tuttle in a time of 14:48. Tuttle was a two-time master winner of the 10-miler (2003-54:32, 2005-54:08). Chris Chattin of Columbia, Md., is the other only person to hold the master's title in both events (10-miler 54:01-2004, 5K-16:52 2005).

Jackie (Concaugh) Gruendel was returning from a foot injury and was attempting an unprecedented fourth consecutive title defense. She is a member of Team Pacers/Brooks. The race was under control until she reached Union Street the last three quarters of a mile. She had the finish line in her sights as she got closer the footsteps of the trailing runner Jill Laurendeau of Arlington, Va., was heard. Gruendel called up a kick which she held in reserve to grasp the fourth win in 18:03 to 18:18. Considering her condition the time was within her range (2003-17:53, 2004-17:27, 2005-17:32).

The third place was captured by Maria Spinnler of the Cumberland Valley Athletic Club with a time of 19:08. Spinnler captured her fourth master's title and she holds the record (2002-18:19 Record, 2003-18:32, 2005-18:55).

Win Persina of Washington, DC was the second master in 19:44 followed by Sushila Nanda of Arlington, Va., in a time of 21:35.

Sponsor, BAES Systems showed their total support by having 200 employees participating in the race. In addition, BAES Systems presented the Douglas MacArthur Cup to the fastest active duty military team by making a $1,000 contribution to that service's morale and welfare fund. The U.S. Navy Capital Regional Running Team made a successful defense of their title as Lt. Cmdr. Michael Kohler blazed in the lead for the second year in a row with a finish time of 1:01:23 (26th place overall).

The Potomac Runners Club had 25 volunteers supporting on race day and the members decided to make an additional monetary contribution to the Alexandria Boys and Girls Club. The Club provides support to other running events in the Washington DC area.

The George Washington Parkway Classic is presented by BAE Systems along with New Balance, Pacers, National Association of Chain Drug Stores, Burke and Herbert, and the United Brotherhood of Carpenters and Joiners of America, and 1st Saving Mortgage. The supporters include, Fotojack.com, Runner's World magazine, DCACCESS, and D.C. Road Runners.
---