2013 Spring Rankings
Open Women Break the Century Mark with 103 Qualifiers
(March 9, 2013 – May 19, 2013)
By James Moreland
Last spring was easily the most abundant racing season ever—until this year. It blossomed to a ridiculous 273, 755. That is 12, 000 more than the entire year in 2006 and just short of the 301,000 in 2007. With only half the year gone the numbers are just short of the whole year in 2008.
Women now control participation with more than 55% of the 4652 ranked times. And 445 of the 836 ranked runners are women. The elite women, running faster than a 41:15 for a 10K equivalent, exploded to a huge record of 103 women. The top five would have qualified for the men's elite division.
There were loads of major races (500 runners or more) and the spring crushed the record 66 from this winter with 82 while fielding nearly twice as many races, a record 494. If you wanted the biggest bang for your buck you went to the Kaiser Permanente Pike's Peek 10K which elected 12 of the 24 division champions. Though 16th in size it had more than 7.6% of its finishers having a ranked time. Only the Credit Union Cherry Blossom with two had more than one. The open division expanded by 17% to 179 ranked runners. Thirty-one came from other division with grandmaster Cindy Conant returning again at age 52.
Forty races had more than 1,000 finishers. Of the top ten races increased 15% to just short of 120,000 racers. The two biggest races, Credit Union Cherry Blossom and Ukrop's Monument Avenue 10K, combined for 52,000 finishers, and 472 qualified racers. At the 8K, Townebank was largest with less than 1% of its 8036 finishers ranked, not as competitive as the St. Patrick's Day 8K. That race had its numbers fall off by 2,400 with nearly 2.67% ranked. Rockstar had 5.4% of their 517 runners ranked but the Organ Donor had nearly as many runners, 26 to 28, of their 210 finishers.
As with last spring only six 10Ks had more than five hundred finishers. Of the 40 10Ks raced in the spring, 66% ran at the monster Ukrops. Pike's Peek had the second largest amount of ranked runners (186) with 1/13 as many finishers. Clyde's and Apple Blossom also had more the 50 ranked runners, but the real surprise is that 11% of the 346 racers at the Piece of Cake 10K, and the hills say it was not, had ranked times.
There were more than 300 5Ks, sixteen with more than 1,000 finishers, including three of the four Crystal City Fridays 5Ks. Kelly's Shamrock 5K dominated with 66 runners. The Westchester Shamrock 5K was impressive with 58 ranked runners in 1/6 as many finishers. Run for the D. O. G. 5K was next with 37 runners and sixteen more races had more than twenty ranked runners. Fourteen of the races had more than 10% qualifiers. Three races with more than fifty finishers had 20% ranked.
There were only ten 10 mile races and Credit Union Cherry Blossom dominated again in size with 286 ranked times. Cherry Pit was the leader in per cent with 8.72of their 516 finishers. But Charlottesville had 74 ranked times with only 1802 finishers, while the GW Parkway's excelled with 100 of 4819 runners.
There were eight marathons with the Rock 'n' Roll leaving the Yeungling Shamrock Festival Marathon behind in finishers 3552 to 2845. The classic in Virginia Beach had nearly twice as many ranked runners with 46.
At the half marathon, production went up from 37,000 finishers to more than 62,000 with the Rock 'n' Roll again leading the way with 20,000. The new Nike Women's Half Marathon brought nearly 15,000 new runners to the score, close to twice as many as the most competitive race, the Anthem Shamrock Festival. Again it was fourth in ranked runners with 149. Rock 'n' Roll moved up to fifth with 125 ranked runners. Thirteen of the 22 halves were major races.
Runners who win the race or win their division in a race earn an asterisk beside their name. Open runners only get an asterisk for an overall win. The Speed Alone is the fastest qualifying time run for each division. In red, it means the division champion ran it. (MRF) is for the Moreland Racing Factor.
Now let's see who made the top.
Click here to return to Regional Runner Rankings menu.

Rankings Explained: What It Is, Who Does It, How We Do It, and Where We Are Going
The goal of the runner rankings is to rank the best runners of Washington, DC, Maryland, and Virginia in five-year age groups for the purpose of stimulating competition in the Washington region. Runners are ranked only according to performances in included races. To be included, a race must meet the following criteria:
Take place in Washington, DC, Maryland, or Virginia

Full results listed on the RacePacket Web site

Must list age (and preferably also city and state of residence) of all runners

Standard distance--5K, 4-mile, 8K, 10K, 12K, 15K, 10-mile, 20K, 1/2 Marathon, 25K, 30K, 20-mile, or Marathon

Road race or cross-country
To be included, a race must meet all of the above criteria. If you place well in a race and want it included in the rankings, be sure to ask the race director to e-mail the complete results to the RacePacket at james@racepacket.com so the race can be posted on the RacePacket Web site and counted in the runner rankings.
Runners will be ranked by age divisions for both men and women, with the divisions being open, 19 & younger, 35-39, 40-44, 45-49, 50-54, 55-59, 60-64, 65-69, 70-74, 75-79 and 80 & older.
The rankings are established using a nearly completely objective rating procedure. A preliminary sort, followed by an intensive analysis of competitive results, forms the rankings. The preliminary sort is based on the number of qualifying marks and best times. The final ranking is based on head-to-head competitive results against the other top placers (50%), with time playing a major but secondary role (40%). Our general philosophy is that competition is about beating other runners, and we intend to place an increased emphasis on competitive results.
To qualify for the end-of-year rankings, top priority will go to runners who qualify in two ranking periods. A preliminary sort, followed by a more involved analysis of competitive results, also forms these rankings. The preliminary sort is based on seasonal rankings and best times. The final ranking is again based on head-to-head competitive results, with time playing a secondary role, though at times a deciding role. One special race can at times put a runner over the top, though consistency is a valued asset.
Qualifying times are set in each age division for the 10K, and then adjusted for other distances. We believe in a constant time so that, while a runner may not make the top ten, he or she may consider himself or herself a ranked runner. Our primary concern is that of believability. There should be few surprises. Competitiveness will always find a few disputes. Most runners know whom they can best and who remains unbeatable. The rankings should fairly reflect that. If you have comments and questions or would like to get a more complete explanation of individual rankings, contact the author at james@racepacket.com. The current qualifying standards for the 10K are:

Age Group       Men      Women
Open              34:20    41:15
19 & younger      38:20    46:05
35-39             36:40    44:10
40-44             38:20    46:05
45-49             39:45    48:45
50-54             42:00    51:45
55-59             43:55    54:30
60-64             49:45    62:05
65-69             52:50    75:00
70-74             56:20    89:40
75-79            1:32:30 1:39:00
80 & older       1:45:00 1:50:00

The ranking periods for the 2013 ranking year:
Summer Runner Rankings, May 13, 2013 through September 2, 2013 - reported November-December 2013

Fall Runner Rankings, September 3, 2013 through November 10, 2013 - reported January-February 2014

Best of 2013 (November 13, 2012 through November 10, 2013) - reported March/April 2014

    Date    Location                   Event
  9-Mar-13  Newport News, VA           Chalkboard Chase 6K
  9-Mar-13  Stephens City, VA          Treasure Hunt 5K
  9-Mar-13  Stafford, VA               Wolfpack 5K
  9-Mar-13  Richmond, VA               Benedictine/Saint Gertrude 5K Challenge
  9-Mar-13  Virginia Beach, VA         Cox Falcon 5K
  9-Mar-13  Frederick, MD              Break Away 5K
  9-Mar-13  Washington, DC             Georgetown 10 Miler
  9-Mar-13  Hughesville, MD            Maxwell Hall Park 4M
  9-Mar-13  Bristol, VA                St. Anne School 5K
  9-Mar-13  Westminster, MD            Celtic Canter 3M
  9-Mar-13  Gainesville, VA            Michael Pennefather Memorial 5K
  9-Mar-13  Williamsburg, VA           Jamestown High School Swamp Run 5K
  9-Mar-13  Waynesboro, VA             Spring Fling 5K
  9-Mar-13  Richmond, VA               Hope 5K
 10-Mar-13  Havre de Grace, MD         RASAC Susquehanna 5K Run
 10-Mar-13  Alexandria, VA             DCRRC Fort Hunt 10K
 10-Mar-13  Fredericksburg, VA         John Robbins Organ Donor 8K
 10-Mar-13  Baltimore, MD              Kelly's Shamrock 5K
 10-Mar-13  Salisbury, MD              Tim Kennard 5K Mile River Run
 10-Mar-13  Salisbury, MD              Tim Kennard 10M Mile River Run
 10-Mar-13  Piney Point, MD            Lower Potomac River Marathon
 10-Mar-13  Washington, DC             St. Patrick's Day 8K
 15-Mar-13  Abingdon, VA               Shamrock 4 Mile
 16-Mar-13  Arlington, VA              Spring 5K
 16-Mar-13  Westminster, MD            McDaniel 5K
 16-Mar-13  Severna Park, MD           B&A Trail Half Marathon
 16-Mar-13  Severna Park, MD           B&A Trail Marathon
 16-Mar-13  Reston, VA                 Lucky Leprechaun 5K
 16-Mar-13  Alexandria, VA             Thomas Jefferson PI Miler
 16-Mar-13  Lusby, MD                  Patuxent Pi Mile Trail Run
 16-Mar-13  Farmville, VA              Foundation / Centra 5K Run for Scholarships
 16-Mar-13  Chesterfield, VA           Instant Classic Marathon
 16-Mar-13  Chesterfield, VA           Instant Classic Half Marathon
 16-Mar-13  Richmond, VA               SPCA 5K
 16-Mar-13  Danville, VA               Danville Shamrock 5K
 16-Mar-13  Harrisonburg, VA           Shamrock Trail Run 5K
 16-Mar-13  Gainesville, VA            Gainesville 5K
 16-Mar-13  Ocean City, MD             St. Paddy's Day 5K
 16-Mar-13  Denton, MD                 St. Patrick's 5K
 16-Mar-13  Salisbury, MD              St. Paddy's Day 5K
 16-Mar-13  Midlothian, VA             Westchester Shamrock 5K
 16-Mar-13  Millwood, VA               Millwood Bobcat 5K
 16-Mar-13  Bel Air, MD                Shamrock 'n' Roll 5K
 16-Mar-13  Roanoke, VA                Shamrock Hill 5K
 16-Mar-13  Roanoke, VA                Shamrock Hill 10K
 16-Mar-13  Hagerstown, MD             St. Patrick's 5K
 16-Mar-13  Manassas, VA               G. C. Round E.S. Shamrock 5K
 16-Mar-13  Petersville, MD            Forest of Needwood 5M
 16-Mar-13  Washington, DC             Rock 'n' Roll Half Marathon
 16-Mar-13  Washington, DC             Rock 'n' Roll Marathon
 16-Mar-13  Charlottesville, VA        Charlottesville 10 Mile
 16-Mar-13  Virginia Beach, VA         TowneBank Shamrock Festival 8K
 17-Mar-13  Spotsylvania, VA           Feets for Seats 5K
 17-Mar-13  Virginia Beach, VA         Anthem Shamrock Festival Half Marathon
 17-Mar-13  Virginia Beach, VA         Yeungling Shamrock Festival Marathon
 17-Mar-13  Columbia, MD               HCS Swansfield 5K
 20-Mar-13  Washington, DC             Tidal Basin Runs 5K
 23-Mar-13  Millersvillle, MD          Barlowe Bolt 5K
 23-Mar-13  Reston, VA                 Run for Haiti 5K
 23-Mar-13  Richmond, VA               St Francis Home 5K
 23-Mar-13  Midlothian, VA             Run for Robius 5K
 23-Mar-13  Virginia Beach, VA         Get your Cert on 5K
 23-Mar-13  Lynchburg, VA              Gifts for Gulu 5K
 23-Mar-13  Virginia Beach, VA         Cerebral Palsy of Virginia 5K
 23-Mar-13  Richmond, VA               Run to Rebuild Richmond 5K
 23-Mar-13  Richmond, VA               Douglas Freeman 5K Rebel Run
 23-Mar-13  Cumberland, MD             Great Escape Law Enforcement 5K
 23-Mar-13  Woodstock, MD              Mind, Body, & Soul 5K
 23-Mar-13  Sharpsburg, MD             KW March for Kids Health 10K
 23-Mar-13  Washington, DC             Hills Are Alive 10K
 23-Mar-13  Phoenix, MD                Kelly's Dream 5K
 23-Mar-13  Martinsville, VA           Martinsville Half Marathon
 23-Mar-13  Martinsville, VA           Martinsville 5K
 23-Mar-13  Ashburn, VA                Van Metre 5M
 23-Mar-13  Montvale, VA               Montvale 10M
 23-Mar-13  Winchester, VA             Trooper Manion Memorial 5K
 23-Mar-13  Quantico, VA               Marine Corps 17.75K
 23-Mar-13  Fairfax, VA                Rev 3 Run Rogue 5K
 23-Mar-13  Yorktown, VA               Yorktown Victory Run 8 Miler
 23-Mar-13  Bowie, MD                  Bowie Spring 5K
 23-Mar-13  Middletown, MD             Francie's Family 5K
 24-Mar-13  Washington, DC             Scope it Out 5K
 24-Mar-13  Gaithersburg, MD           MCRRC Piece of Cake 10K
 24-Mar-13  Columbia, MD               HCS Elkhorn 10K
 24-Mar-13  Warrenton, VA              Molly's Irish Pub Wearin' of the Green 5K
 24-Mar-13  Bridgewater, VA            Young Life 5K
 24-Mar-13  Frederick, MD              Mission 10 Miler Race to Recovery
 24-Mar-13  White Hall, MD             BRRC White Hall 15K
 24-Mar-13  Falls Church, VA           W&OD Trail 5K
 30-Mar-13  Annapolis, MD              Annapolis Youth 5K
 30-Mar-13  Havre de Grace, MD         The Bunny 5K
 30-Mar-13  Arlington, VA              Run for Rights 5K
 30-Mar-13  Alexandria, VA             PVTC Easter Classic 5K
 30-Mar-13  Alexandria, VA             PVTC Easter Classic 10K
 30-Mar-13  Yorktown, VA               Knights of Columbus 10M
 30-Mar-13  Richmond, VA               Henrico Celebration 5K
 30-Mar-13  Spotsylvania, VA           Rabbit Run 5K
 23-Mar-13  Saint Leonard, MD          Keep Your Colon Rollin 5K
 30-Mar-13  Virginia Beach, VA         Autism Awareness 5K
 30-Mar-13  Williamsburg, VA           Ali's 5K
 30-Mar-13  Norfolk, VA                ODU Monarch 5K
 30-Mar-13  Virginia Beach, VA         Don't Sit on Colon Cancer 5K
 30-Mar-13  Hagerstown, MD             Race for Ryan 6K
 30-Mar-13  Colonial Heights, VA       White Bank Classic 5 Miler
 30-Mar-13  Chestertown, MD            Great Goose Chase 5K
 30-Mar-13  Virginia Beach, VA         Freedom Fellowship Resurrection 5K
  5-Apr-13  Crystal City, VA           Crystal City Fridays 5K
  6-Apr-13  Solomons, MD               St. Peter's Chapel 5K
  6-Apr-13  Ellicott City, MD          Leprachaun 8K
  6-Apr-13  Fredericksburg, VA         J Brian's Tap Room 15K
  6-Apr-13  Potomac, MD                Shulman Rogers 5K
  6-Apr-13  Charlottesville, VA        Charlottesville Half Marathon
  6-Apr-13  Charlottesville, VA        Charlottesville Marathon
  6-Apr-13  Richmond, VA               VA War Memorial 5K Run To Remember
  6-Apr-13  Ashburn, VA                One Sparrow Run 5K
  6-Apr-13  Herndon, VA                Red Shoe 5K
  6-Apr-13  Lynchburg, VA              Point of Honor 5K
  6-Apr-13  Charlotte Hall, MD         Looking For Trouble 5K
  6-Apr-13  Abingdon, VA               Get Well Tanzania 5K
  6-Apr-13  Williamsburg, VA           Queens Lake 5K
  6-Apr-13  Frederick                  Crib Crawl 5K
  6-Apr-13  Newport News, VA           Run for Autism 10K
  6-Apr-13  Shenandoah, VA             Lois Jean Comer Memorial Challenge 5K
  6-Apr-13  Baltimore, MD              Runners for Others: An Ignation 5K
  6-Apr-13  Suffolk, VA                Bon Secours 5K for Colon Cancer
  6-Apr-13  Boonsboro, MD              Reach the Finish Line 10K
  6-Apr-13  Boonsboro, MD              Reach the Finish Line 5K
  6-Apr-13  Boonsboro, MD              Reach the Finish Line Half Marathon
  7-Apr-13  Washington, DC             Credit Union Cherry Blossom 10M
  7-Apr-13  Washington, DC             Credit Union Cherry Blossom 5K
  7-Apr-13  Edgewater, MD              Cherry Pit 10M
  7-Apr-13  Annapolis, MD              SPCA 5K Traits and Trails
  7-Apr-13  Vienna, VA                 Wolftrap Elementary 5K
  7-Apr-13  Bel Air, MD                RASAC Phil's Survivor 5K
  7-Apr-13  Cooksville, MD             Queen Anne's 5K
  7-Apr-13  Gloucester, VA             Daffodil 5K
  7-Apr-13  Fairfax, VA                Heroes v. Villains Run for Justice 5K
  7-Apr-13  Onancock, VA               Run for the Animals 10K
  7-Apr-13  Onancock, VA               Run for the Animals HM
 12-Apr-13  Crystal City, VA           Crystal City Fridays 5K
 13-Apr-13  Poquoson, VA               Gates Memorial 5K
 13-Apr-13  Greenbelt, MD              Springburst 8K
 13-Apr-13  Great Falls, VA            MCRRC Spin in the Woods 8K
 13-Apr-13  Arlington, VA              NESPTA 5K
 13-Apr-13  Stafford, VA               Stafford Hospital 5K
 13-Apr-13  Clarksburg, MD             Clarksburg 5K
 13-Apr-13  Richmond, VA               Ukrops Monument Avenue 10K
 13-Apr-13  Chesapeake, VA             Dismal Swamp Stomp HM
 13-Apr-13  Waldorf, MD                St. Charles 5K
 13-Apr-13  Waldorf, MD                St. Charles 10M
 13-Apr-13  Stevensville, MD           Kent Island Metric Marathon
 13-Apr-13  Stevensville, MD           Kent Island Half Metric Marathon
 13-Apr-13  Leonardtown, MD            St. Mary's Hospice 10K
 13-Apr-13  Leonardtown, MD            St. Mary's Hospice 5K
 13-Apr-13  Manassas, VA               Manassas Runway 10K
 13-Apr-13  Manassas, VA               Manassas Runway 5K
 13-Apr-13  Charlottesville, VA        Hoos Heal 5K
 13-Apr-13  Danville, VA               Bridge to Bridge 5K
 13-Apr-13  Danville, VA               Bridge to Bridge 10K
 13-Apr-13  Arlington, VA              Nottingham Elementary PTA 5K
 13-Apr-13  Roanoke, VA                Roanoke Susan G Komen Race for the Cure 5K
 14-Apr-13  Washington, DC             Stop the Silence 8K
 14-Apr-13  Lorton, VA                 Prison Break 5K
 14-Apr-13  Columbia, MD               Clyde's 10K
 14-Apr-13  Potomac, MD                Holy Child Tiger Trot 5K
 14-Apr-13  Fairfax, VA                Star Kid 5K
 14-Apr-13  Havre de Grace, MD         Women's 5K by The Bay
 14-Apr-13  Baltimore, MD              Red Hot Run 5K
 14-Apr-13  Baltimore, MD              Red Shoe Shuffle 5K
 14-Apr-13  Frederick, MD              Cupcake 5K
 17-Apr-13  Washington, DC             Tidal Basin 5K
 19-Apr-13  Crystal City, VA           Crystal City Fridays 5K
 19-Apr-13  Grottoes, VA               Grand Caverns 5K
 20-Apr-13  Winchester, VA             Champions4Children 5K
 20-Apr-13  Andrews Air Base, MD       Andrew Air Force HM
 20-Apr-13  King George, VA            YMCA Healthy Kids Day 5K
 20-Apr-13  Baltimore, MD              Sole for the City 10K
 20-Apr-13  Newport News, VA           Race For A Better Place 8K
 20-Apr-13  Flint Hill, VA             Fodderstack 10K
 20-Apr-13  Arbutus, MD                Arbutus 5K
 20-Apr-13  University Park, MD        Azalea Classic 5K
 20-Apr-13  Reston, VA                 Band on the Run 5K
 20-Apr-13  Roanoke, VA                Blue Ridge Half Marathon
 20-Apr-13  Roanoke, VA                Blue Ridge Marathon
 20-Apr-13  Reston, VA                 Nature House Fund Run 5K
 20-Apr-13  Virginia Beach, VA         Sportsplex 5K
 20-Apr-13  Bowie, MD                  Chuck Pacholkiw Memorial 5K
 20-Apr-13  Hagerstown, MD             Hagerstown 5K
 20-Apr-13  Rawlings, MD               Mindy VanPelt's 5K
 20-Apr-13  Silver Spring, MD          Ben's Run to Ben-a-fit the Children's National Medical Center 5K
 20-Apr-13  Washington, DC             Intaba 5K
 20-Apr-13  Williamsburg, VA           Run for the D. O. G. 5K
 20-Apr-13  Charlottesville, VA        Virginia Institute of Autism 5K
 20-Apr-13  Edgewood, MD               Franklin Tull 5K
 21-Apr-13  Rockville, MD              Kaiser Permanente Pike's Peek 10K
 21-Apr-13  Alexandria, VA             George Washington Parkway Classic 10 Mile
 21-Apr-13  Alexandria, VA             George Washington Parkway Classic 5K
 21-Apr-13  Ashburn, VA                Coyote Chase 5K
 21-Apr-13  Towson, MD                 HopeWell Cancer Support Reach Out And Run 5K
 21-Apr-13  Washington, DC             Visitation Cub Chase 5K
 21-Apr-13  Ellicott City, MD          Tridelphia Ridge 5K
 21-Apr-13  Monkton, MD                Manor Tavern Oyster Festival 5K
 21-Apr-13  Baltimore, MD              Mulligan Metric Marathon
 21-Apr-13  Ocean City, MD             Ocean City Komen Race for the Cure 5K
 24-Apr-13  Portsmouth, VA             Coast Guard 5K
 25-Apr-13  Fairfax, VA                GMU Victims' Rights Run/Walk 5K
 26-Apr-13  Crystal City, VA           Crystal City Fridays 5K
 27-Apr-13  Tabb, VA                   Tabb High School May Day 5K
 27-Apr-13  Bethesda, MD               Lion's Roar 5K
 27-Apr-13  Hunt Valley, MD            Maryland Worker's Memorial 5K
 27-Apr-13  Columbia, MD               AFCEA 5K
 27-Apr-13  Bowling Green, VA          Festival of Feet 5K
 27-Apr-13  Bowling Green, VA          Festival of Feet 10K
 27-Apr-13  Richmond, VA               CASA SuperHero 5K
 27-Apr-13  Mount Rainier, MD          Mount Rainier Gateway 5K
 27-Apr-13  Virginia Beach, VA         Run for Independence 5K
 27-Apr-13  Lynchburg, VA              Bald Mountain 10K
 27-Apr-13  Oxford, MD                 Oxford Day 10K
 27-Apr-13  Alexandria, VA             Run for Wakefield 5K
 27-Apr-13  Fairfax, VA                Woodson HS 5K
 27-Apr-13  Salisbury, MD              Ben Layton Memorial 5K
 27-Apr-13  Greenbelt, MD              GNS Tortoise and Hare 5K
 27-Apr-13  Ashland, VA                Ashland Railroad 10K
 27-Apr-13  Ocean City, MD             Ocean City HM
 27-Apr-13  Ocean City, MD             Ocean City 5K
 27-Apr-13  Fairfax Station, VA        Healthy Strides Community 10K
 27-Apr-13  Goochland, VA              Goochland Bulldog 5K
 27-Apr-13  Bel Air, MD                Special Olympics Inspiration Run 5K
 27-Apr-13  Rocky Mount, VA            Chug for the Jug 5K
 27-Apr-13  Vinton, VA                 Vinton Baptist Church Dogwood 5K
 27-Apr-13  Leesburg, VA               Run me Home 10K
 27-Apr-13  Leesburg, VA               Run me Home 5K
 27-Apr-13  La Plata, MD               Civista 5K
 27-Apr-13  Bristol, VA                Champions4Children 5K
 27-Apr-13  Thurmont, MD               Tiger Trot 5K
 27-Apr-13  Waynesboro, VA             Park to Park HM
 27-Apr-13  Baltimore, MD              Nate Bruckenthal Memorial Run 5K
 27-Apr-13  Midlothian, VA             Great Gator 5K
 28-Apr-13  Burke, VA                  Rockstar 8K
 28-Apr-13  Stafford, VA               Park Ridge 5K
 28-Apr-13  Lynchburg, VA              Spring into Spring 4M
 28-Apr-13  Churchville, MD            Adam Thompson 5K
 28-Apr-13  Columbia, MD               HCS Jeffers Hill 10K
 28-Apr-13  Columbia, MD               Iron Girl Columbia Half Marathon
 28-Apr-13  Baltimore, MD              Roar for Autism 5K
 28-Apr-13  Baltimore, MD              Blue Jay 5K Race for Juvenile Diabetes
 28-Apr-13  Pikesville, MD             Mitzvah Miles 5K
 28-Apr-13  Washington, DC             Nike Women's HM
 28-Apr-13  Frederick, MD              Run for the Rock 5K
 28-Apr-13  Vienna, VA                 Vienna PTA 5K
  3-May-13  Silver Spring, MD          White Oak Classic 5K
  4-May-13  Westminster, MD            Sandymount 4 Mile
  4-May-13  Newport News, VA           Riverside Rehab By The Bay 5K
  4-May-13  Washington, DC             River Run for Orphans 5K
  4-May-13  Washington, DC             Manna 5K
  4-May-13  Reston, VA                 Palio Di Siena 5K
  4-May-13  Oak Hill, VA               Oak Hill Howlin' and Prowlin' 5K
  4-May-13  Richmond, VA               CrossOver Challenge 15K
  4-May-13  Richmond, VA               CrossOver Challenge 5K
  4-May-13  Haymarket, VA              Angel Run 5K
  4-May-13  Silver Spring, MD          St. John The Jogger 5K
  4-May-13  Farmville, VA              Heart of Virginia 10K
  4-May-13  Williamsburg, VA           Walsingham 5K
  4-May-13  Abingdon, VA               Animal Chase 10K
  4-May-13  Abingdon, VA               Animal Chase 5K
  4-May-13  Bedford, VA                Trail Nut Half Marathon
  4-May-13  Bedford, VA                Trail Nut 10K
  4-May-13  Fairfax, VA                Run for Children 8K
  4-May-13  Rockville, MD              Lockheed Martin 5K
  4-May-13  Washington, DC             Bull Dog 5K
  4-May-13  Winchester, VA             Apple Blossom 10K
  4-May-13  Baltimore, MD              Packard Center Fiesta 5K
  4-May-13  Prince George, VA          Race Against Drugs 5K
  4-May-13  Frederick, MD              Frederick Twilight 5K
  4-May-13  Grundy, VA                 Grundy Kiwanis 5K
  4-May-13  Washington, DC             Metropolitan Branch Trail 5K
  4-May-13  Virginia Beach, VA         St. John the Apostle 5K
  4-May-13  Smithfield, VA             Optimist May 5K
  4-May-13  Manassas Park, VA          Cougar 5K
  4-May-13  Galax, VA                  Galax Park 10K
  4-May-13  Vinton, VA                 DSAR 5K
  5-May-13  Frederick, MD              Frederick Half Marathon
  5-May-13  Washington, DC             Race for Hope 5K
  5-May-13  Takoma Park, MD            Takoma Park Safe Routes 5K
  5-May-13  Ashburn, VA                Ashburn Village 10K
  5-May-13  Ashburn, VA                Ashburn Village 5K
  5-May-13  Carderock, MD              Potomac River Run Half Marathon
  5-May-13  Carderock, MD              Potomac River Run Marathon
  5-May-13  Virginia Beach, VA         JFS Run, Roll or Stroll 5K
  5-May-13  Arlington, VA              Friends of Montessori Education 5K
  5-May-13  Towson, MD                 Billy Korrow Memorial 5K
  5-May-13  Baltimore, MD              Port to Fort 6K
  5-May-13  Havre de Grace, MD         Cross Fit Redcoat Run 5K
  5-May-13  Annandale, VA              Atoms 5K Run
  5-May-13  Washington, DC             Public Service 5K
  5-May-13  Dulles, VA                 Aol Spring into Summer 5K
  5-May-13  Richmond, VA               Carytown 10K
  5-May-13  Lake Ridge, VA             Lake Ridge May Day 5K
  5-May-13  Edgewater, MD              South River Media 5K
 11-May-13  Poquoson, VA               Bull Island 4M
 11-May-13  Washington, DC             National Police Week 5K
 11-May-13  Fulton, MD                 Maryland Half Marathon
 11-May-13  King George, VA            King George Domestic Violence Awareness 5K
 11-May-13  Norfolk, VA                Run on the Wild Side 5K
 11-May-13  Forest, VA                 Autism Awareness 5K Run
 11-May-13  Damascus, VA               Justin Foundation 5K
 11-May-13  Virginia Beach, VA         Dolphin Dash 5K
 11-May-13  Leesburg, VA               Get Smart 5K
 11-May-13  Sudlersville, MD           Strykers for a Cause 5K
 11-May-13  Forest Hill, MD            Hannah Kriss Foundation 5K
 11-May-13  Bethesda, MD               Wood Acres Jogfest 5K
 11-May-13  Ellicott City, MD          Wine in the Woods 5K
 11-May-13  Bowie, MD                  Samuel Ogle 5K
 11-May-13  Fairfax, VA                Stand Up For Our Warriors 5K
 11-May-13  Ashburn, VA                TKO Melanoma 5K
 11-May-13  Washington, DC             Best Kids 5K
 11-May-13  Purcellville, VA           Sadie's Run 5K
 11-May-13  Herndon, VA                Herndon Middle School 5K
 11-May-13  Alexandria, VA             Lane PTA 5K
 11-May-13  Washington, DC             Komen Global Race for the Cure 5K
 11-May-13  Richmond, VA               Richmond Race for the Cure 5K
 11-May-13  Roanoke, VA                Grandin Court Baptist 10K
 11-May-13  Roanoke, VA                Gallop 4 Greenways 5K
 11-May-13  Baltimore, MD              Preakness 5K
 11-May-13  Arlington, VA              Science Focus 5K
 11-May-13  Rising Sun, MD             Tiger Trot 5K
 11-May-13  Mechanicsville, VA         Lawson's 10K
 11-May-13  Mechanicsville, VA         Lawson's 5K
 11-May-13  Havre de Grace, MD         Music Boosters 5K
 11-May-13  Kilmarnock, VA             Kilmarnock 5K
 12-May-13  Potomac, MD                MCRRC Run Aware 5K
 12-May-13  Chantilly, VA              Angel Kisses 5K
 12-May-13  Ellicott City, MD          Hills of Milltown 5K
 12-May-13  National Harbor, MD        HER 5K
 12-May-13  Reston, VA                 Devotion Mother's Day 4M
 12-May-13  Columbia, MD               HCS Hammond 5K
 15-May-13  Washington, DC             Tidal Basin 5K
 16-May-12  Washington, DC             Capital Challenge 3M
 16-May-13  Newport News, VA           Virginia Senior Games 5K
 17-May-13  Newport News, VA           Virginia Senior Games 10K
 17-May-13  Richmond, VA               James River Scramble 10K
 18-May-13  Ashburn, VA                Broad Run 5K
 18-May-13  Fairfax, VA                Break the Silence 5K
 18-May-13  Germantown, MD             Germantown 5 Miler
 18-May-13  Rockville, MD              Mercy Clinic 5K Health Run
 18-May-13  Hanover, VA                Ashcreek 5K
 18-May-13  Freeland, MD               MAC HM
 18-May-13  Reston, VA                 We've Got Your Back 5K
 18-May-13  Lynchburg, VA              Calvary Baptist Church Road Trip 5K
 18-May-13  Arlington, VA              Turtle Trot 5K
 18-May-13  Washington, DC             Semper Fi 5K
 18-May-13  Abingdon, VA               Creeper Classic for Cory 5K
 18-May-13  Bristow, VA                Race to Victory 5K
 18-May-13  Roanoke, VA                MANNAthon 8K
 18-May-13  Roanoke, VA                MANNAthon 5K
 18-May-13  St. Michael's, MD          St. Michael's Run Festival Half Marathon
 18-May-13  St. Michael's, MD          St. Michael's Run Festival 10K
 18-May-13  St. Michael's, MD          St. Michael's Run Festival 5K
 18-May-13  New Market, MD             Deer Dash 5K
 18-May-13  Clifton, VA                Clifton Caboose 5K
 18-May-13  Dale City, VA              Holy Family Falcon 5K
 18-May-13  Danville, VA               Nestle 5K
 18-May-13  Fulton, MD                 Musical Madness 5K
 18-May-13  Virginia Beach, VA         Smile 5K
 18-May-13  Perryville, MD             Head of the Bay 5K
 19-May-13  Ashburn, VA                Carter's Run 5K
 19-May-13  Lansdowne, VA              Loudoun Lyme 5K
 19-May-13  Virginia Beach, VA         Beacon of Hope 5K
 19-May-13  Columbia, MD               HCS Burleigh Manor 5M
 19-May-13  Wheaton, MD                Run for the Animals 5K
 19-May-13  Baltimore, MD              BRRC WDF 5K
 19-May-13  Washington, DC             Capitol Hill Classic 10K
 19-May-13  Great Falls, VA            Joe Cassella 5K
 19-May-13  Fredericksburg, VA         Marine Corps Historic Half Marathon
 19-May-13  Fredericksburg, VA         Marine Corps10K
 19-May-12  Virginia Beach, VA         Girls on the Run 5K
 19-May-13  Elkton, MD                 Body Force 5K
 18-May-13  Batesville, VA             Batesville 10K
 18-May-13  Fort Lee, VA               Run the Crater 5K
 18-May-13  Fort Lee, VA               Run the Crater 8M
 19-May-13  Cockeysville, MD           Polakoff Foundation 5K to Fight Glaucoma
 19-May-13  Clifton, VA                Union Mill Elementary 5K
 19-May-13  Baltimore, MD              Making Tracks for Celiacs 5K
 19-May-13  Norfolk, VA                Anchors Run 5K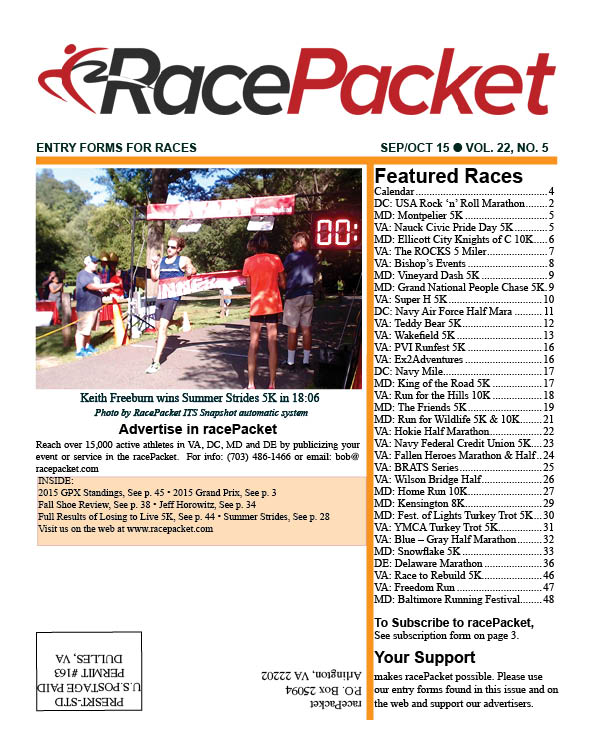 Subscribe to RacePacket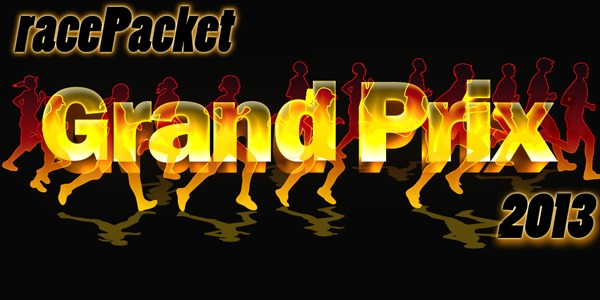 Find out about our $3,000 in prizes