2013 Summer Rankings
Highest Percentage of Ranked Runners Versus Finshers Since 2009
(May 15, 2013 - September 2, 2013)
By James Moreland
This summer was the first time that the number of races and runners has dropped. There were 74 fewer races with 111,750 finishers, the lowest summer total since 2008 and 12 fewer major races (500 or more finishers) with 46. The storm canceled Rockville Rotary Twilight 8K contributed to the shift (152 ranked runners in 2012). Maybe after the massive increase in the spring runners were taking a break and of course the Race for the Cure 5K was in the spring this year. The percentage of ranked runners swelled to 3.49% of all finishers, highest since 2009.
The Rock 'n' Roll Half marathon dipped below 10,000 finishers for the first time. Still, they led nine races with more than two thousand finishers and with nearly as many as than the next three races combined. Twenty-three had more than 1,000 finishers.
Eleven races had more than fifty ranked runners racing in them. Annapolis regained the title as most competitive with 132. The Crystal City Twilight 5K with 84 passed The Reston Firecracker (81) for second. The Charlottesville 4 Miler was fourth with 76. The Lawyers Have Heart 10K edge the Elizabeth River Run 68 to 66 for tops at that distance.
Forty-seven races had more than 10% of the runners with ranked times. This summer, 1,971 different men and 1,655 different women ran at least one qualifying time. Three hundred and sixty-four men and 417 women were ranked.
Washington, DC had 15 events with four being major races. Maryland had 127 races with the largest groups being in Columbia (7), Baltimore (16), and Annapolis (9). The larger state of Virginia had the 167 races, with the largest groups being in Arlington (14), Fredericksburg (7), Virginia Beach (11). There were 134 different cities that hosted a race.
This time the open divisions rebounded with 64 women and 47 men. "Open", of course, includes runners of any age able to meet the open 10K equivalent standard twice: men 34:20 & women 41:15. Eight men and 20 women made it in from another division. Philippe Rolly was the oldest man at 40 and DeeDee Loughran is the oldest female, at 55.
Runners who win the race or win their division in a race earn an asterisk beside their name. Open runners only get an asterisk for an overall win. The Speed Alone is the fastest qualifying time run for each division. In red, it means the division champion ran it. (MRF) is for the Moreland Racing Factor.
Now let's see who made the top.
Click here to return to Regional Runner Rankings menu.

Rankings Explained: What It Is, Who Does It, How We Do It, and Where We Are Going
The goal of the runner rankings is to rank the best runners of Washington, DC, Maryland, and Virginia in five-year age groups for the purpose of stimulating competition in the Washington region. Runners are ranked only according to performances in included races. To be included, a race must meet the following criteria:
Take place in Washington, DC, Maryland, or Virginia

Full results listed on the RacePacket Web site

Must list age (and preferably also city and state of residence) of all runners

Standard distance--5K, 4-mile, 8K, 10K, 12K, 15K, 10-mile, 20K, 1/2 Marathon, 25K, 30K, 20-mile, or Marathon

Road race or cross-country
To be included, a race must meet all of the above criteria. If you place well in a race and want it included in the rankings, be sure to ask the race director to e-mail the complete results to the RacePacket at james@racepacket.com so the race can be posted on the RacePacket Web site and counted in the runner rankings.
Runners will be ranked by age divisions for both men and women, with the divisions being open, 19 & younger, 35-39, 40-44, 45-49, 50-54, 55-59, 60-64, 65-69, 70-74, 75-79 and 80 & older.
The rankings are established using a nearly completely objective rating procedure. A preliminary sort, followed by an intensive analysis of competitive results, forms the rankings. The preliminary sort is based on the number of qualifying marks and best times. The final ranking is based on head-to-head competitive results against the other top placers (50%), with time playing a major but secondary role (40%). Our general philosophy is that competition is about beating other runners, and we intend to place an increased emphasis on competitive results.
To qualify for the end-of-year rankings, top priority will go to runners who qualify in two ranking periods. A preliminary sort, followed by a more involved analysis of competitive results, also forms these rankings. The preliminary sort is based on seasonal rankings and best times. The final ranking is again based on head-to-head competitive results, with time playing a secondary role, though at times a deciding role. One special race can at times put a runner over the top, though consistency is a valued asset.
Qualifying times are set in each age division for the 10K, and then adjusted for other distances. We believe in a constant time so that, while a runner may not make the top ten, he or she may consider himself or herself a ranked runner. Our primary concern is that of believability. There should be few surprises. Competitiveness will always find a few disputes. Most runners know whom they can best and who remains unbeatable. The rankings should fairly reflect that. If you have comments and questions or would like to get a more complete explanation of individual rankings, contact the author at james@racepacket.com. The current qualifying standards for the 10K are:

Age Group       Men      Women
Open              34:20    41:15
19 & younger      38:20    46:05
35-39             36:40    44:10
40-44             38:20    46:05
45-49             39:45    48:45
50-54             42:00    51:45
55-59             43:55    54:30
60-64             49:45    62:05
65-69             52:50    75:00
70-74             56:20    89:40
75-79            1:32:30 1:39:00
80 & older       1:45:00 1:50:00

The remaining ranking periods for the 2013 ranking year:
Fall Runner Rankings, September 3, 2013 through November 10, 2013 - reported January-February 2014

Best of 2013 (November 13, 2012 through November 10, 2013) - reported March/April 2014

 Date   Location                   Event
 05/25/13 Towson, MD                 Stoneleigh Stampede Run 5K
 05/25/13 Chevy Chase, MD            Save the Trail 5K
 05/25/13 Vienna, VA                 Evolution Sunrise 5K
 05/25/13 Fairfax, VA                Fair Oaks Volunteer Fire & Rescue Ambulance Chase 5K
 05/25/13 Sterling, VA               Cascades Firechase 10K
 05/25/13 Newport News, VA           Chick-fil-A 5K
 05/25/13 Newport News, VA           Chick-fil-A 10K
 05/25/13 Norfolk, VA                Heroes Run to Remember 5K
 05/25/13 Roanoke, VA                Appalachian Power Festival 10K
 05/25/13 Roanoke, VA                Appalachian Power Festival  5K
 05/25/13 Manassas, VA               Soaring Eagles 5K
 05/25/13 Roundhill, VA              Roundhill Hometown Festival 5K
 05/25/13 Chestertown, MD            Chestertown Tea Party 10 Mile
 05/25/13 Chestertown, MD            Chestertown Tea Party 5K
 05/25/13 Henrico, VA                5K Run/Walk for Autism
 05/25/13 Frederick, MD              St. John's 5K
 05/25/13 Pound, VA                  Fragile 5K
 05/25/13 Sharpsburg, MD             Project 320 5K
 05/25/13 Portsmouth, VA             Elizabeth River Run
 05/26/13 Baltimore, MD              McVets 10K
 05/26/13 Baltimore, MD              McVets 5K
 05/26/13 Alexandria, VA             Alexandria Running Festival Half Marathon
 05/26/13 Alexandria, VA             Alexandria Running Festival 5K
 05/26/13 Ocean City, MD             The Green Turtle 5K
 05/26/13 Baltimore, MD              Patapsco 6M
 05/27/13 Yorktown, VA               Yorktown Freedom 5K
 05/27/13 Washington, DC             TBR Memorial Day Presidential Fitness Runs
 05/27/13 Rockville, MD              MCRRC Memorial 4M
 05/27/13 Fredericksburg, VA         Civitan's 10K
 05/27/13 Fredericksburg, VA         Civitan's 5K
 05/27/13 Olney, MD                  Jeremy's Run 5K
 05/27/13 Olney, MD                  Jeremy's Run 10K
 05/27/13 Lynchburg, VA              Juvenile Diabetes Research Foundation 10K
 05/27/13 Columbia, MD               Remembrance 5K
 05/27/13 Reisterstown, MD           Mission Possible 5K
 05/27/13 Ashburn, VA                Ringing Hope 5K
 05/27/13 Ashburn, VA                Ringing Hope 10K
 05/27/13 Rocky Mount, VA            Heritage Classic 5K
 05/27/13 Chesapeake, VA             Run for the Ranch 5K
 05/27/13 Baltimore, MD              Special Operations Memorial Day 5K
 06/01/13 Hampton, VA                Fox Hill Community 5K
 06/01/13 Farmville, VA              National Trails Day 5K
 06/01/13 Arlington, VA              Latinas Leading Tomorrow 5K
 06/01/13 Williamsburg, VA           Fit to Dream 8K
 06/01/13 Charlottesville, VA        4 the Wounded 5K
 06/01/13 Annapolis, MD              Zooma 10K
 06/01/13 Annapolis, MD              Zooma Half Marathon
 06/01/13 Springfield, VA            Springfield 5K
 06/01/13 Springfield, VA            Springfield 15K
 06/01/13 Hillsboro, VA              Virginia Wine Country Half Marathon
 06/01/13 Salem, VA                  Race Open for Space 5K
 06/01/13 Chesapeake, VA             Chesapeake Police Foundation Five-0 5K
 06/02/13 Montclair, VA              Henderson Husky 5K
 06/02/13 Richmond, VA               Stratford Hills 8K
 06/02/13 Herndon, VA                Herndon Festival 10K
 06/02/13 Herndon, VA                Herndon Festival 5K
 06/02/13 Virginia Beach, VA         Tropical Smoothie Cafe 5K
 06/02/13 Ellicott City, MD          Matzohball 5K
 06/02/13 Columbia, MD               4.09 Be Strong
 06/02/13 Sharpsburg, MD             Run Through History 10K
 06/02/13 Sharpsburg, MD             Run Through History 5K
 06/02/13 Bel Air, MD                Bel Air Town Run 5K
 06/02/13 Virginia Beach, VA         FARA Fest 5K
 06/02/13 Bowie, MD                  Cornerstone Church 5K
 06/04/13 Lynchburg, VA              Lynchburg Track 5K
 06/06/13 Sykesville, MD             WRC Run with the Knights 5K
 06/07/13 Derwood, MD                Run with the June Bugs 5K
 06/07/13 Washington, DC             DC Front Runners Pride Run 5K
 06/08/13 Richmond, VA               Boxer Brief Battle 5K
 06/08/13 Washington, DC             Year of the Snake 5K
 06/08/13 Rocky Mount, VA            Sundown Classic 5K
 06/08/13 Harrisonburg, VA           On a Mission 5K
 06/08/13 Grantsville, MD            Katie's Run 5K
 06/08/13 Crofton, MD                Crofton Kiwanis - Team Surlis 10K Challenge
 06/08/13 Washington, DC             Gaza Solidarity 5K
 06/08/13 Richmond, VA               Abby's Race for Hope 5K
 06/08/13 Fallston, MD               Grandview Christian 5K
 06/08/13 Edgewood, MD               Gunpowder Neck 10M
 06/08/13 Roanoke, VA                Race with Grace 5K
 06/08/13 Virginia Beach, VA         Eggleston OK 5K
 06/08/13 Woodstock, VA              Woodstock 5 Mile
 06/08/13 Williamsburg, VA           Mental Health Recovery Run 5K
 06/08/13 Annapolis, MD              Hemophilia Foundation of MD 5K
 06/08/13 Burke Gardens, VA          Varmint Half Marathon
 06/08/13 Burke Gardens, VA          Varmint 5K
 06/08/13 Washington, DC             Lawyers Have Heart 10K
 06/08/13 Washington, DC             Lawyers Have Heart 5K
 06/08/13 Petersburg, VA             Delightfully Different 3.5M
 06/08/13 Ashburn, VA                PRR Twilight Festival 4 Miler
 06/09/13 Fredericksburg, VA         SPCA Run for Shelter 5K
 06/09/13 Manassas, VA               Tropical Smoothie Cafe 5K
 06/09/13 Alexandria, VA             Operation Walk Virginia 5K
 06/09/13 Columbia, MD               Damien's Run for Recovery 5K
 06/09/13 Baltimore, MD              Schechter on the Move 5K
 06/09/13 Towson, MD                 Red Devil 5K
 06/09/13 Warrenton, VA              Pacemakers 5K
 06/09/13 Warrenton, VA              Pacemakers 10K
 06/12/13 Columbia, MD               Elkhorn 5K
 06/15/13 West Point, VA             Chesty Puller Memorial Twin Bridge 10K
 06/15/13 Havre de Grace, MD         Walk on Water 5K
 06/15/13 Radford, VA                Run with the Law 5K
 06/15/13 Pulaski, VA                New River 5K
 06/15/13 Danville, VA               Run for Justice 5K
 06/15/13 Danville, VA               Run for Justice 10K
 06/15/13 Annapolis, MD              Run Awake 5K
 06/15/13 Lexington Park,MD          Juneteenth 5K
 06/15/13 Dayton, VA                 Sadie Rose 5K
 06/15/13 Annandale, VA              Losing to Live 5K
 06/15/13 Washington, DC             Purple Strides 5K
 06/15/13 Fairfax, VA                Adam's Angels 5K
 06/15/13 Norfolk, VA                King's Daughters Run/Walk for the Kids 8K
 06/15/13 Wheaton, MD                MCRRC Run for the Roses 5K
 06/15/13 Baltimore, MD              Baltimore 10 Miler
 06/16/13 Arlington, VA              ZERO Prostate Cancer Run 4 Miler
 06/16/13 Severna Park, MD           AS Dawson's 10K
 06/16/13 Reston, VA                 Run with Dad 5K
 06/16/13 Towson, MD                 GBMC Father's Day 5K
 06/16/13 Elkridge, MD               Father's Day 10K
 06/16/13 Fredericksburg, VA         Battling Cancer 5K
 06/16/13 Charlottesville, VA        Charlottesville Father's Day 4M
 06/16/13 Washington, DC             Georgetown Running Company Father's Day 8K
 06/16/13 Norton, VA                 Mountain States Rehab 5K
 06/16/13 Baltimore, MD              GPS 5K
 06/19/13 Washington, DC             Tidal Basin 5K
 06/20/13 Westminster, MD            Hashawa 2.86M
 06/21/13 Washington, DC             DCRRC Hugh Jascourt 4M
 06/21/13 Ellicott City, MD          Centennial CC 5K
 06/22/13 Lynchburg, VA              Presbyterian Homes 5K
 06/22/13 Bel Air, MD                Race to Feed the Hungry 5K
 06/22/13 Springfield, VA            Harvest Sprouts 5K
 06/22/13 Arlington, VA              Run for  Hope 5K
 06/22/13 Hagerstown, MD             Children's Village 5K
 06/22/13 Reston, VA                 Reston WDF 5K
 06/22/13 Spotsylvania, VA           Fresh H2O 5K
 06/22/13 Elkton, MD                 Elkton on the Move 5K
 06/22/13 Richlands, VA              Freedom Festival 5K
 06/22/13 Annapolis, MD              5K by the Bay
 06/22/13 Snow Hill, MD              Chicken Run United 5K
 06/22/13 Williamsburg, VA           Warhill 5K
 06/22/13 Blacksburg, VA             Downtown Sundown 5K
 06/22/13 Baltimore, MD              Dreaded Druid Hills 10K
 06/23/13 Arlington, VA              Rain for the Rainforest 5K
 06/23/13 Virginia Beach, VA         Diamond's House 5K
 06/23/13 Baltimore, MD              New Balance Jenny Smith Baltimore Women's Classic 5K
 06/23/13 Olney, MD                  Alex's Run 5K
 06/25/13 Arlington, VA              DCRRC WDF 5K
 06/25/13 Arlington, VA              DCRRC After the Women 5K
 06/26/13 Frederick, MD              FSC Firecracker 5K
 06/27/13 Union Bridge, MD           Francis Scott Key 6K
 06/28/13 Fisherville, VA            Vine to Wine 5K
 06/29/13 Leesburg, VA               Run for Independence 8K
 06/29/13 Lonaconing, MD             Iron Furnace 5K Run
 06/29/13 Covington, VA              Jackson River Trail 10K
 06/29/13 Virginia Beach, VA         Young Life Capernaum Stroll and Roll 5K
 06/30/13 Columbia, MD               HCS Women's Distance Festival 5K
 06/30/13 Ellicott City, MD          EC 5K
 06/30/13 Ellicott City, MD          EC 10K
 06/30/13 Washington, DC             Abebe Bikila 5K
 07/04/13 Charlottesville, VA        Kiwanis Club Independence Day 5K
 07/04/13 Winchester, VA             Liberty 5K
 07/04/13 Midlothian, VA             Patriot's 5K
 07/04/13 Fairfax, VA                Let Freedom Run 5K
 07/04/13 Fredericksburg, VA         FARC Heritage Festival 5 Mile Run
 07/04/13 Arbutus, MD                Arbutus Firecracker 10K
 07/04/13 Yorktown, VA               Yorktown Independence Day 8K
 07/04/13 Montgomery Village, MD     Montgomery Village 5K
 07/04/13 Reston, VA                 Reston Firecracker 5K
 07/04/13 Potomac, MD                Autism Speaks 5K
 07/04/13 Alexandria, VA             PVTC Go Fourth 8K
 07/04/13 Virginia Beach, VA         We Build People 5K
 07/04/13 Ocean Pines, MD            OPA Freedom 5K
 07/04/13 Carderock, MD              DCRRC Age-Handicapped 4 Mile
 07/04/13 Shawsville, VA             Shawsville 5K
 07/04/13 Williamsport, MD           Jack Barr  Memorial Run for Freedom 5K
 07/06/13 Deltaville, VA             Deltaville 5K
 07/06/13 Chestertown, MD            Chestertown 5K
 07/06/13 Reedville, VA              Reedville Firecracker 5K
 07/08/13 Richmond, VA               RRRC Cul De Sac Series 5K #1
 07/12/13 Williamsburg, VA           Sweatiní for Scholarships 5K
 07/13/13 Woodbridge, VA             Mission 5K
 07/13/13 Annapolis, MD              AS WDF 5K
 07/13/13 Annapolis, MD              AS Run after the Women 5K
 07/13/13 Havre de Grace, MD         Pirate Fest 5K
 07/13/13 Westernport, MD            Lisa's Run 5K
 07/14/13 Washington, DC             DCRRC Bastille Day 4M
 07/14/13 Fairfax, VA                PRR Birthday Bash 5K
 07/14/13 Pikesville, MD             Pikesville 5K
 07/14/13 Union Mills, MD            Westminster WDF 5K
 07/15/13 Richmond, VA               RRRC Cul De Sac Series 5K #2
 07/17/13 Arlington, VA              DCRRC Bluemont 5K
 07/17/13 Washington, DC             Tidal Basin 5K
 07/19/13 Clarksville, MD            HCS Oakland Mills 5K
 07/20/13 Lynchburg, VA              Percivalís Island Five Miler
 07/20/13 Charlottesville, VA        Fairview 5K
 07/20/13 Bristol, VA                Fragile X Festival 5K
 07/20/13 Virginia Beach, VA         Allen Stone Memorial 5K
 07/20/13 Roanoke, VA                Commonwealth Games 5K
 07/21/13 Bel Air, MD                Harford County Farm Fair 5K
 07/21/13 Fairfax, VA                Vibha DC 5K
 07/21/13 Fairfax, VA                Vibha DC 10K
 07/21/13 Baltimore, MD              Run in the Sun for Autism 5K
 07/21/13 Baltimore, MD              Run in the Sun for Autism 10K
 07/21/13 Fair Hill, MD              Running with the Pigs 5K
 07/22/13 Richmond, VA               RRRC Cul De Sac Series 5K #3
 07/22/13 Charlottesville, VA        Charlottesville Track 5K
 07/24/13 Columbia, MD               HCS Burleigh Manor 5K
 07/25/13 Westminster, MD            WRC Pleasant Valley 4M
 07/25/13 Harwood, MD                South High School XC 5K
 07/26/13 Fulton, MD                 Reservoir HS 5K
 07/27/13 Arlington, VA              Crystal City Twilight 5K
 07/27/13 Richmond, VA               Pony Pasture 5K
 07/27/13 Fort Story, VA             Run for the Homefront 5K
 07/27/13 Fredericksburg, VA         Fredericksburg Christian Health Center Twilight 5K
 07/27/13 Vienna, VA                 Friends of W&OD 10K
 07/27/13 Gale City, VA              Baylee Dockery 5K
 07/27/13 Abingdon, VA               Service Above Self 5K
 07/27/13 Baltimore, MD              Cricket 5K
 07/28/13 Towson, MD                 Check it Out 8K
 07/28/13 Towson, MD                 Check it Out 5K
 07/28/13 Washington, DC             The Dash 10K by Capital Sprints
 07/30/13 Lusby, MD                  CBRC Track Meet 5K
 08/01/13 Westminster, MD            Runnymede 8K
 08/01/13 Pasadena, MD               Chesapeake High School XC 5K
 08/02/13 Baltimore, MD              AT&T BoMF Baltimore Sneaks Come Out at Night 15K
 08/02/13 Arlington, VA              Lost Dog 5K #1
 08/03/13 Baltimore, MD              Casey Cases 5K
 08/03/13 Yorktown, VA               Coast Guard Day 5K
 08/03/13 Appalachia, VA             Railroad Days 5K
 08/03/13 Grantsville, MD            Moonshine Classic 10K
 08/03/13 Betterton, MD              Betterton Bayside 5K
 08/04/13 Fairfax, VA                Crime Solvers 5K
 08/04/13 Alexandria, VA             Summer Strides 5K
 08/04/13 Boyds, MD                  Riley's Rumble Half Marathon
 08/04/13 Arnold, MD                 AS Dog Days 8K
 08/06/13 Springfield, VA            Steve Thompson 8K
 08/08/13 Glen Allen, VA             Moonlight 4 Miler
 08/08/13 Edgewater, MD              Southern River High School XC 5K
 08/09/13 Arlington, VA              Lost Dog 5K #2
 08/09/13 Clarksville, MD            River Hill 5K
 08/09/13 Hagerstown, MD             Donut Alley Rally  5K
 08/10/13 Frederick, MD              FSC WDF 5K
 08/10/13 Williamsburg, VA           Vineyards of Williamsburg 5K
 08/10/13 Salem, VA                  Health Focus of SW Virginia Salem 5K
 08/10/13 Salem, VA                  Health Focus of SW Virginia Salem 10K
 08/10/13 Lynchburg, VA              Lynchburg 5K
 08/10/13 Lynchburg, VA              Lynchburg Half Marathon
 08/10/13 Baltimore, MD              Charles Street 12M
 08/10/13 Abingdon, VA               Christopher Todd Richardson Memorial 10K
 08/10/13 Bethel, VA                 Schoolhouse 5K
 08/11/13 Bethesda, MD               DCRRC Landon 3M
 08/11/13 Arlington, VA              Arlington Country Fair 5K
 08/11/13 Towson, MD                 Giddy up 5K
 08/11/13 Culpeper, VA               Rockin' the Pink 5K
 08/16/13 Arlington, VA              Lost Dog 5K #3
 08/17/13 Wise, VA                   Laura's 5K
 08/17/13 Colonial Heights, VA       TCRR Race for the Cause 5K
 08/17/13 Williamsport, MD           Gary Brown Memorial C&O Canal 5 Miler
 08/17/13 Mountaindale, MD           Run for the Pie 10K
 08/17/13 Newport News, VA           Smart Smiles 5K
 08/17/13 Manchester, MD             River Valley Ranch Trail Run 5K
 08/17/13 Manchester, MD             River Valley Ranch Trail Run 10K
 08/17/13 Barton, MD                 Andrea's Memorial 5K
 08/17/13 Comus, MD                  MCRRC Comus Cross-Country 5K
 08/17/13 Salem, VA                  FAB 5K
 08/17/13 Virginia Beach, VA         Surfer's Healing 5K
 08/17/13 Abingdon, VA               Abingdon Main St 5K
 08/17/13 Annapolis, MD              Feed Annapolis 5M
 08/17/13 Virginia Beach, VA         Hospice Heroes 5K
 08/17/13 Boonsboro, MD              San Mar Family 5K
 08/18/13 Leesburg, VA               Leesburg 5K
 08/18/13 Leesburg, VA               Leesburg 20K
 08/18/13 Fredericksburg, VA         Hartwood 10 Mile
 08/18/13 Sparks, MD                 Too Hot to Trot 10K
 08/20/13 Burke, VA                  DCRRC Paul Thurston 4.5M
 08/21/13 Washington, DC             Tidal Basin 5K
 08/21/13 Columbia, MD               HCS Northfield 5K
 08/22/13 Greenbelt, MD              Buddy Attick 5K
 08/23/13 Arlington, VA              Lost Dog 5K #4
 08/24/13 Silver Spring, MD          Eastern County 8K
 08/24/13 Hampton, VA                Transitions 5K
 08/24/13 Virginia Beach, VA         East Coast Surfing Championship 8K
 08/24/13 Salem, VA                  5th Quarter 5K
 08/24/13 Cockeysville, MD           Celebree 5K
 08/24/13 Richmond, VA               Moving & Groovin 5K
 08/24/13 Williamsburg, VA           Recovery Rocks 5K
 08/24/13 Alexandria, VA             Run & Mate 5K
 08/24/13 Ashland, VA                Patrick Henry Half Marathon
 08/25/13 Annapolis, MD              Annapolis 10 Miler
 08/25/13 Reston, VA                 Southlakes 10K
 08/25/13 Hydes, MD                  Boordy Vineyard 5K
 08/28/13 Arlington, VA              SHF Roosevelt Run 5K
 08/29/13 Greenbelt, MD              Buddy Attick 5K
 08/31/13 Ellicott City, MD          Knights of Columbus 10K
 08/31/13 Ellicott City, MD          Knights of Columbus 5K
 08/31/13 Gaithersburg, MD           Kentlands/Lakelands 5K
 08/31/13 Charlottesville, VA        Charlottesville 4 Miler
 08/31/13 Falls Church, VA           Potomac Valley Games
 08/31/13 Chestertown, MD            Race to Erase MS 5K
 08/31/13 Chaptico, MD               Chaptico Classic 5K
 08/31/13 Chaptico, MD               Chaptico Classic 10K
 08/31/13 Saltsville, VA             Salt 5K
 09/01/13 Baltimore, MD              Run for the Cure 5K
 09/01/13 Greenbelt, MD              Larry Noel 15K
 09/01/13 Baltimore, MD              Run for the Cure 5K
 09/01/13 Greenbelt, MD              Larry Noel 15K
 09/01/13 Virginia Beach, VA         Rock N Roll Half Marathon
 09/01/13 Hunt Valley, MD            Charm City 20 Mile
 09/02/13 Eldersburg, MD             Labor Day Rogue 5K
 09/02/13 Winchester, VA             Chick-fil-A Dash for Diabetes 4M
 09/02/13 Roanoke, VA                Labor of Love 5K
 09/02/13 Coeburn, VA                Finer Miner 5K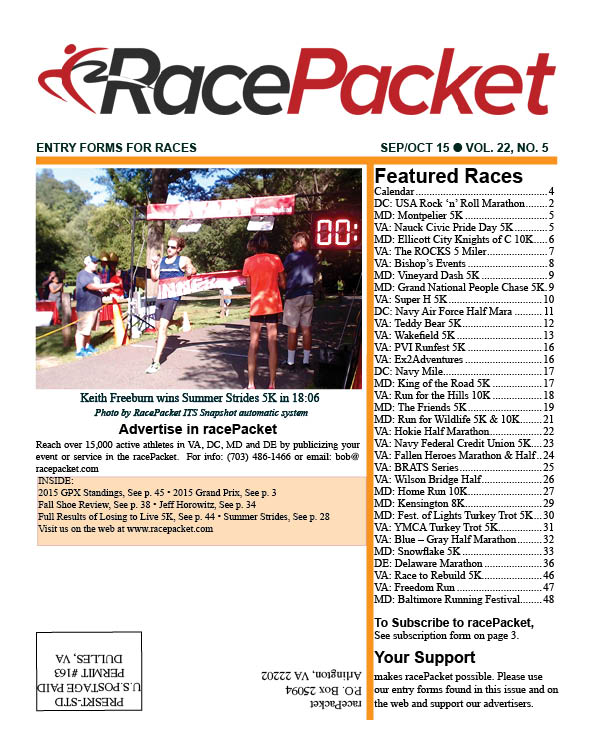 Subscribe to RacePacket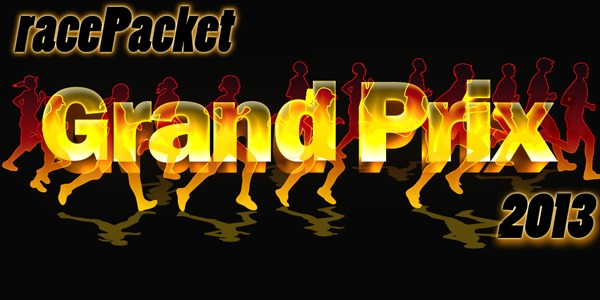 Find out about our $3,000 in prizes