2013 Fall Rankings
Race Numbers Fall Off for First Time
(September 4, 2013 Ė November 11, 2013)
By James Moreland
The total number of races dipped slightly to 380 with 92 races with no qualifiers. There were more than two hundred other races that either were not run or did not report their results. The total of runners dropped 11,000 to 183,000 with a drop to only 55 major races, lower than all four seasons last year. Ranked times dropped by 100.
Marine Corps Marathon and the Army 10 Mile were still the big dogs among the five races with more than 5,000 finishers. Army was tops at 26,025 but really when you count Marine Corps Marathon with 23,712 and their 10K with 7603, the Corps comes out on top. Also, the Baltimore Running Festivalís three events had 16, 097 as three of the top ten races with more than 2500 finishers.
This season only two races had 100 qualifiers and the top ten came from nearly every distance. Army easily led the field with 264 times and the Marine Corps Marathon had 153; it was the multiple races that really shone. The Marine Corps Marathon combined with its 10K had 194 times. Run for the Parks surpassed Veterans Day 84 to 78 to lead all 10Ks with the Anthem Wicked 10K in third with 49.
Richmondís HCA 8K moved to the winter by a week and the little Downís Park 5M had 68 ranked runners for more than 20% of the field. The Galax Autumn Days 5K totally destroyed that percentage with 49 ranked runners for nearly 27% of the field.
The 8K was the most competitive distance with 5% ranked of 15 races. Then came the 264 5K races at 2.55% and more than 70,000 finishers. The 51 10Ks were 2.22% of their 34,000 finishers, and the 10M a meager 1.44%. The half marathon nearly matched the average of all the races with 2% of their 21,980 runners in 19 races and the toughest distance, the marathon with five races had fewer than 1%.
There were twenty per cent fewer different men, down to 909, and 9% fewer women, down to 1018 ran at least one qualifying time. Three hundred and thirteen men and 384 women were ranked. Just 144 runners qualified for the Elite Division this season. The largest age groups are the women 45-49 with 47 women 65-69 with 40, women 50-54 with 40, men 60-64 with 45, and men 45-49 with 44.
Runners who win the race or win their division in a race earn an asterisk beside their name. Open runners only get an asterisk for an overall win. The Speed Alone is the fastest qualifying time run for each division. In red, it means the division champion ran it.
We now list the 10K equivalent of each runnerís fastest race next to their spot in the ranking list. Remember; the fastest time is not always the best race and each runner has at least two races to qualify.
Now let's see who made the top.
Click here to return to Regional Runner Rankings menu.

Rankings Explained: What It Is, Who Does It, How We Do It, and Where We Are Going
The goal of the runner rankings is to rank the best runners of Washington, DC, Maryland, and Virginia in five-year age groups for the purpose of stimulating competition in the Washington region. Runners are ranked only according to performances in included races. To be included, a race must meet the following criteria:
Take place in Washington, DC, Maryland, or Virginia

Full results listed on the RacePacket Web site

Must list age (and preferably also city and state of residence) of all runners

Standard distance--5K, 4-mile, 8K, 10K, 12K, 15K, 10-mile, 20K, 1/2 Marathon, 25K, 30K, 20-mile, or Marathon

Road race or cross-country
To be included, a race must meet all of the above criteria. If you place well in a race and want it included in the rankings, be sure to ask the race director to e-mail the complete results to the RacePacket at james@racepacket.com so the race can be posted on the RacePacket Web site and counted in the runner rankings.
Runners will be ranked by age divisions for both men and women, with the divisions being open, 19 & younger, 35-39, 40-44, 45-49, 50-54, 55-59, 60-64, 65-69, 70-74, 75-79 and 80 & older.
The rankings are established using a nearly completely objective rating procedure. A preliminary sort, followed by an intensive analysis of competitive results, forms the rankings. The preliminary sort is based on the number of qualifying marks and best times. The final ranking is based on head-to-head competitive results against the other top placers (50%), with time playing a major but secondary role (40%). Our general philosophy is that competition is about beating other runners, and we intend to place an increased emphasis on competitive results.
To qualify for the end-of-year rankings, top priority will go to runners who qualify in two ranking periods. A preliminary sort, followed by a more involved analysis of competitive results, also forms these rankings. The preliminary sort is based on seasonal rankings and best times. The final ranking is again based on head-to-head competitive results, with time playing a secondary role, though at times a deciding role. One special race can at times put a runner over the top, though consistency is a valued asset.
Qualifying times are set in each age division for the 10K, and then adjusted for other distances. We believe in a constant time so that, while a runner may not make the top ten, he or she may consider himself or herself a ranked runner. Our primary concern is that of believability. There should be few surprises. Competitiveness will always find a few disputes. Most runners know whom they can best and who remains unbeatable. The rankings should fairly reflect that. If you have comments and questions or would like to get a more complete explanation of individual rankings, contact the author at james@racepacket.com. The current qualifying standards for the 10K are:

Age Group       Men      Women
Open              34:20    41:15
19 & younger      38:20    46:05
35-39             36:40    44:10
40-44             38:20    46:05
45-49             39:45    48:45
50-54             42:00    51:45
55-59             43:55    54:30
60-64             49:45    62:05
65-69             52:50    75:00
70-74             56:20    89:40
75-79            1:32:30 1:39:00
80 & older       1:45:00 1:50:00

The ranking periods for the 2014 ranking year:

Event                                                 Location                   Date
Back to Football 5K                                   Baltimore, MD           04-Sep-13
Harvest Moon 10K                                      Martinsville, VA        06-Sep-13
Fall Frenzie 5K                                       Washington, DC          07-Sep-13
Race for Hope 5K                                      Newport News, VA        07-Sep-13
PGRC WDF 5K                                           Greenbelt, MD           07-Sep-13
Pasadena 5K                                           Pasadena, MD            07-Sep-13
Walk for Wells 5K                                     Milford Mills, MD       07-Sep-13
Hope for Tomorrow 5K                                  Lynchburg, VA           07-Sep-13
High Bridge 5K                                        Farmville, VA           07-Sep-13
High Bridge HM                                        Farmville, VA           07-Sep-13
Hampton Bay Days 8K                                   Hampton, VA             07-Sep-13
Arlington Police, Fire & Sheriff 9-11 Memorial 5K     Arlington, VA           07-Sep-13
Dominator 5K                                          Forest Hill, MD         07-Sep-13
Dominator 10K                                         Forest Hill, MD         07-Sep-13
Hare & Tortoise New Quarter Park 8K                   Williamsburg, VA        07-Sep-13
Run the Creek 5K                                      Lusby, MD               07-Sep-13
Race for the Gold 5K                                  Bowling Green, VA       07-Sep-13
Jessica Meredith Jacobsen Charge of Knights 5K        Towson, MD              07-Sep-13
Beat the Deadline 5K                                  Washington, DC          07-Sep-13
Crossroads 4M                                         Quantico, VA            07-Sep-13
Danville River City 5K                                Danville, VA            07-Sep-13
Danville River City 15K                               Danville, VA            07-Sep-13
Mission Footprint 5K                                  Richmond, VA            07-Sep-13
Decatur Way 5K                                        Berlin, MD              07-Sep-13
Parks HM                                              Rockville, MD           08-Sep-13
AVJAR 5K                                              Arlington, VA           08-Sep-13
Run to Remember 5K                                    Baltimore, MD           08-Sep-13
Run for the Schools 5K                                Falls Church, VA        08-Sep-13
Moss Free Clinic 5K                                   Fredericksburg, VA      08-Sep-13
Police Pace 5K                                        Columbia, MD            08-Sep-13
Blue Ridge Veterans Celebration 5K                    Roanoke, VA             08-Sep-13
911 Heroes Run 5K                                     Charlottesville, VA     08-Sep-13
Damascus Freedom 10K                                  Damascus, MD            08-Sep-13
Damascus Freedom 5K                                   Damascus, MD            08-Sep-13
Heroes Run 5K                                         Annapolis, MD           08-Sep-13
Lauren Woodall Roady Memorial 5K                      Chevy Chase, MD         08-Sep-13
Travis Mannion 5K                                     Midlothian, VA          08-Sep-13
Travis Mannion Heroes Run 5K                          Virginia Beach, VA      08-Sep-13
ECPI 8K                                               Newport News, VA        14-Sep-13
Aberdeen 7K                                           Aberdeen, MD            13-Sep-13
Ringing in Hope 5K                                    Chantilly, VA           14-Sep-13
Ringing in Hope 10K                                   Chantilly, VA           14-Sep-13
Race for DC Kids 5K                                   Arlington, VA           14-Sep-13
911 Heroes Run 5K                                     Arlington, VA           14-Sep-13
Crosswhite Fitness FCA 5K                             Lynchburg, VA           14-Sep-13
Ladysmith Village 5K                                  Ruther Glen, VA         14-Sep-13
Bladensburg 5K                                        Bladensburg, MD         14-Sep-13
Break Away 5K                                         Gale City, VA           14-Sep-13
Run 4 Shelter 5K                                      Chester, MD             14-Sep-13
Run 4 Shelter 10K                                     Chester, MD             14-Sep-13
Run 4 Shelter HM                                      Chester, MD             14-Sep-13
Wing and a Prayer 5K                                  Mount Airy, MD          14-Sep-13
Abebe Bikila Day International Peace HM               Washington, DC          14-Sep-13
Abebe Bikila Day International Peace Marathon         Washington, DC          14-Sep-13
Navy 5 Mile                                           Washington, DC          14-Sep-13
Navy-Air Force Half Marathon                          Washington, DC          14-Sep-13
Pepsi 10K                                             Charlottesville, VA     14-Sep-13
Dulles Day 5K on the Runway                           Dulles, VA              14-Sep-13
Freedom 9.11M                                         Chesapeake, VA          14-Sep-13
HSCC'S Pet Day 5K Run                                 Solomons, MD            14-Sep-13
Sullins Academy Scholarship 5K                        Bristol, VA             14-Sep-13
Western Maryland Half Marathon                        Hancock, MD             15-Sep-13
Western Maryland 5K                                   Hancock, MD             15-Sep-13
Fort McHenry Tunnel Run 5K                            Baltimore, MD           15-Sep-13
Executive Stampede 5K                                 Hunt Valley, MD         15-Sep-13
Grace Oughton Memorial 5K                             Spotsylvania, VA        15-Sep-13
PVI Runfest 5K                                        Fairfax, VA             15-Sep-13
Run for Recovering Heroes 5K                          Carderock, MD           15-Sep-13
Run for Recovering Heroes 10K                         Carderock, MD           15-Sep-13
HCS Thunder Hill 10K                                  Columbia, MD            15-Sep-13
ACF Revenge of the Penguins 20M                       Carderock, MD           15-Sep-13
ACF Revenge of the Penguins 10M                       Carderock, MD           15-Sep-13
Zack's 5K                                             College Park, MD        15-Sep-13
Amazing Raise 5K                                      Richmond, VA            18-Sep-13
Tidal Basin 5K                                        Washington, DC          18-Sep-13
Kensington 8K                                         Kensington, MD          21-Sep-13
Baron "Deuce" Braswell Run Against Teen Violence 5K   Spotsylvania, VA        21-Sep-13
Poolesville Day 5K                                    Poolesville, MD         21-Sep-13
Sprint Four the Cure 5K                               Washington, DC          21-Sep-13
Real Life 5K                                          Charlotte Hall, MD      21-Sep-13
Diane Geppi-Aikens Memorial 5K                        Baltimore, MD           21-Sep-13
Farmhouse 6K                                          Virginia Beach, VA      21-Sep-13
Run N Mate 5K                                         Washington, DC          21-Sep-13
Williamsburg Landing 5K Run for Arc Awareness         Williamsburg, VA        21-Sep-13
Gulf War Memorial 5K                                  Cumberland, MD          21-Sep-13
Black Bear 5K                                         Big Stone Gap, VA       21-Sep-13
Heart of Ghent 10K                                    Norfolk, VA             21-Sep-13
Bluemont Fair 10K                                     Bluemont, VA            21-Sep-13
Federalsburg Hospice 5K                               Federalsburg, MD        21-Sep-13
Brain Aneurysm Awareness 8K                           Reston, VA              21-Sep-13
Hoofing It 5K                                         Fairfax, VA             21-Sep-13
Harford Memorial Hospital Celebration Run 5K          Havre de Grace          21-Sep-13
Lake Needwood 10K                                     Rockville, MD           21-Sep-13
HCS Metric Marathon                                   Columbia, MD            21-Sep-13
Pregnancy Wellness Clinic 5K                          Annapolis, MD           21-Sep-13
Reese Strong 5K                                       Mechanicsville, VA      21-Sep-13
Children's Hospital of Richmond 4 Miler               Richmond, VA            21-Sep-13
Rocks 5M                                              Fairfax Station, VA     21-Sep-13
Rhythm and Roots Reunion 5K                           Bristol, VA             21-Sep-13
Get Ready Get Set Get Fit 5K                          Baltimore, MD           22-Sep-13
Vibrant Life 5K                                       Hagerstown, MD          22-Sep-13
Pohick Bay 10M                                        Lorton, VA              22-Sep-13
Margaret Brent 5K                                     Stafford, VA            22-Sep-13
Cade Race for the Family 5K                           Gaithersburg, MD        22-Sep-13
Chris Yung 5K                                         Manassas, VA            22-Sep-13
KTS 5K                                                Annapolis, MD           22-Sep-13
Savage 7K                                             Savage, MD              22-Sep-13
Susie's Cause 5K Run                                  Baltimore, MD           22-Sep-13
Larchmont Rat Race 5K                                 Norfolk, VA             27-Sep-13
Maymont 5K                                            Richmond, VA            27-Sep-13
Clarendon Day 10K                                     Arlington, VA           28-Sep-13
Clarendon Day 5K                                      Arlington, VA           28-Sep-13
Hilton 5K                                             Newport News, VA        28-Sep-13
Howlin Coyote 10K                                     King George, VA         28-Sep-13
Undy 5000 5K                                          Washington, DC          28-Sep-13
Light the Way 5K                                      Washington, DC          28-Sep-13
Oktoberfest 5K                                        Potomac, MD             28-Sep-13
Chester River Crab Chase 5K                           Chestertown, MD         28-Sep-13
Virginia 10 Mile                                      Lynchburg, VA           28-Sep-13
Virginia 4 Mile                                       Lynchburg, VA           28-Sep-13
Marian House 5K                                       Baltimore, MD           28-Sep-13
College Park Cares 5K                                 College Park, MD        28-Sep-13
Neptune Festival 8K                                   Virginia Beach, VA      28-Sep-13
Neptune Festival 5K                                   Virginia Beach, VA      28-Sep-13
Salisbury 5K                                          Midlothian, VA          28-Sep-13
Fired Up for a Cure 5K                                Roanoke, VA             28-Sep-13
Fired Up for a Cure 10K                               Roanoke, VA             28-Sep-13
Ridgeway ES Digital Dash                              Severn, MD              28-Sep-13
GBIA 5K                                               Glen Burnie, MD         28-Sep-13
Eagle Strut 5K                                        Rocky Mount, VA         28-Sep-13
James River 8M                                        Richmond, VA            28-Sep-13
Ellicott City 5K for Families                         Ellicott City, MD       28-Sep-13
St. George's Dragon 5K                                Hampstead, MD           28-Sep-13
Riverfest 5K                                          Laurel, MD              29-Sep-13
National Capital Hydrocephalus 5K                     Washington, DC          29-Sep-13
HCS Hammond 5K                                        Columbia, MD            29-Sep-13
Home Run 10K                                          Rockville, MD           29-Sep-13
Home Run 5K                                           Rockville, MD           29-Sep-13
Perfect 10M                                           Reston, VA              29-Sep-13
Perfect 10K                                           Reston, VA              29-Sep-13
Run Wild for Autism 5K                                Baltimore, MD           29-Sep-13
Blazer Dash 5K                                        Towson, MD              29-Sep-13
Bachmann Valley Half Marathon                         Westminster, MD         29-Sep-13
Falls Road Pacemaker 15K                              Baltimore, MD           29-Sep-13
Hilson Hustle 5K                                      Baltimore, MD           29-Sep-13
NCR Trail Half Marathon                               Cockeysville, MD        29-Sep-13
National Capital 20 Miler                             Bethesda, MD            29-Sep-13
Race for our Kids 5K                                  Baltimore, MD           29-Sep-13
Race for our Kids 10K                                 Baltimore, MD           29-Sep-13
Run for the Refuge 5K                                 Laurel, MD              29-Sep-13
Cody's Crew 5K                                        Manassas, VA            29-Sep-13
Jogging Joe 5K                                        Annapolis, MD           29-Sep-13
Lighthouse Shelter Half Marathon                      Annapolis, MD           29-Sep-13
Ellen's Run 5K                                        Chevy Chase, MD         29-Sep-13
Teddy Bear 5K                                         Falls Church, VA        29-Sep-13
ZERO Prostate Cancer Challenge Baltimore 5K           Baltimore, MD           29-Sep-13
ZERO Prostate Cancer Challenge Baltimore 10K          Baltimore, MD           29-Sep-13
National Ovarian Cancer Coalition 5K                  Annapolis, MD           29-Sep-13
Autumn Toast 5K                                       Fisherville, VA         04-Oct-13
Poquoson Seafood Festival 5K                          Poquoson, VA            05-Oct-13
Mind your Health 5K                                   Alexandria, VA          05-Oct-13
Men Against Breast Cancer 5K                          Bethesda, MD            05-Oct-13
Green Circle Fall Fitness Fair 5K                     Winchester, VA          05-Oct-13
Collaborate to Eradicate 5K                           Glen Allen, VA          05-Oct-13
Donate Life Family 5K                                 Baltimore, MD           05-Oct-13
Breast Cancer Awareness 5K                            Winchester, VA          05-Oct-13
Mustang 5K                                            Midlothian, VA          05-Oct-13
Jackson 5K                                            Fairfax, VA             05-Oct-13
Star City WDF 5K                                      Roanoke, VA             05-Oct-13
All American Beach Ford 5K                            Virginia Beach, VA      05-Oct-13
Navy Federal 5K                                       Vienna, VA              05-Oct-13
Kelvy's Run 5K                                        The Plains, VA          05-Oct-13
Race for Every Child 5K                               Washington, DC          05-Oct-13
Habitat for Humanity 5K                               Amherst, VA             05-Oct-13
TRC 5K                                                Hagerstown, MD          05-Oct-13
Great Allegany 15K                                    Cumberland, MD          05-Oct-13
Great Allegany 5K                                     Cumberland, MD          05-Oct-13
Monster Dash 5K                                       Bel Air, MD             05-Oct-13
Danville HM                                           Danville, VA            05-Oct-13
Stampede 5K                                           Doswell, VA             05-Oct-13
Stampede 10K                                          Doswell, VA             05-Oct-13
Blaine Whorl 5K                                       Leonardtown, MD         05-Oct-13
Hero Plaooza 5K                                       Timonium, MD            05-Oct-13
Miles for Mom 10K                                     Stevensville, MD        05-Oct-13
Miles for Mom 5K                                      Stevensville, MD        05-Oct-13
Arundel Volunteer Fire Department 10K                 Gambrills, MD           05-Oct-13
Arundel Volunteer Fire Department 5K                  Gambrills, MD           05-Oct-13
Calvert Memorial 5K                                   Solomons, MD            05-Oct-13
Pass it Forward 5K                                    Millersville, MD        05-Oct-13
Pink Ribbon 5K                                        Frederick, MD           05-Oct-13
Renie Amoss Road Race 5K                              Towson, MD              06-Oct-13
Coors Light Crawlin' Crab 5K                          Hampton, VA             06-Oct-13
Coors Light Crawlin' Crab HM                          Hampton, VA             06-Oct-13
AS Metric Marathon                                    Harwood, MD             06-Oct-13
NOVA 5K Hustle2Health                                 Woodbridge, VA          06-Oct-13
Doggy Dash 5K                                         Chesapeake, VA          06-Oct-13
Go for Bo! Sierra Leone Benefit 5K                    Stafford, VA            12-Oct-13
Smithfield Hog Jog 5K                                 Smithfield, VA          12-Oct-13
Pirate Treasure Your Health 5K                        Alexandria, VA          12-Oct-13
Mathew Henson 5K                                      Silver Spring, MD       12-Oct-13
Nova 5K                                               Arlington, VA           13-Oct-13
Race for the Ribbon 5K                                Elkton, MD              12-Oct-13
Ottermill 5M                                          Taneytown, MD           13-Oct-13
Fall Foliage 5K                                       Waynesboro, VA          12-Oct-13
Fall Foliage 10K                                      Waynesboro, VA          12-Oct-13
Greenway Memory 10M                                   Roanoke, VA             12-Oct-13
Greenway Memory 4M                                    Roanoke, VA             12-Oct-13
Anthem Great Pumpkin 5K                               Reston, VA              12-Oct-13
Poplar Forest 5K                                      Forest, VA              12-Oct-13
Downs Syndrome 5K                                     Richmond, VA            12-Oct-13
Chatham Sartomer 5K                                   Chatham, VA             12-Oct-13
Journey for a Cure 5K                                 Rock Hall, MD           12-Oct-13
Johnny Casa 5M                                        Moneta, VA              12-Oct-13
Vinton Fall Festival 5K                               Vinton, VA              12-Oct-13
Festival of Leaves 5K                                 Front Royal, VA         12-Oct-13
Baltimore United Way 5K                               Baltimore, MD           12-Oct-13
Baltimore Half Marathon                               Baltimore, MD           12-Oct-13
Baltimore Marathon                                    Baltimore, MD           12-Oct-13
Run for the Hills 10K                                 Williamsburg, VA        12-Oct-13
Freedoms Run Marathon Festival 10K                    Shepherdstown, WV       12-Oct-13
Freedoms Run Marathon Festival HM                     Shepherdstown, WV       12-Oct-13
Freedoms Run Marathon Festival Marathon               Shepherdstown, WV       12-Oct-13
Blessed Heart 5K                                      Richmond, VA            12-Oct-13
Race for Dignity 5K                                   Richmond, VA            12-Oct-13
Run for Your Life 5K                                  Irvington, VA           12-Oct-13
Virginian 6.6K                                        Wise, VA                12-Oct-13
Spat Dash 5K                                          Cambridge, MD           12-Oct-13
Chick Fil-A 5K                                        Pasadena, MD            12-Oct-13
NCH Heart-One Cardiac Rehab 5K                        Wise, VA                12-Oct-13
Clark Elementary School 5K                            Charlottesville, VA     12-Oct-13
TS Komen Race for the Cure 5K                         Virginia Beach, VA      12-Oct-13
Lower Potomac River 10 Mile                           Piney Point, MD         13-Oct-13
PTOS & FAPTO Innovation 5K                            Alexandria, VA          13-Oct-13
Ride & Run to Remember 5K                             Washington, DC          13-Oct-13
King George Fall Festival 5K                          King George, VA         13-Oct-13
Race for a Cause 8K                                   Arlington, VA           13-Oct-13
Boo! Run for Life 5K                                  Washington, DC          13-Oct-13
Heritage Half Marathon                                Gainesville, VA         13-Oct-13
Heritage 5K                                           Gainesville, VA         13-Oct-13
Monster Mask 5K                                       Washington, DC          13-Oct-13
Run like a Girl 4M                                    Richmond, VA            13-Oct-13
Charlottesville Fall Classic 10K                      Charlottesville, VA     13-Oct-13
Charlottesville Fall Classic HM                       Charlottesville, VA     13-Oct-13
Columbus Day Layoff 5K                                Arlington, VA           14-Oct-13
Tidal Basin 3M                                        Washington, DC          16-Oct-13
MCRRC Black Hill 10K Cross Country                    Boyds, MD               19-Oct-13
Stone Ridge 5K Run for Education                      Stone Ridge, VA         19-Oct-13
Dead Man's 5K                                         Washington, DC          19-Oct-13
Ashland Harvest 10K                                   Ashland, VA             19-Oct-13
Ashland Harvest 5K                                    Ashland, VA             19-Oct-13
Falcon & Bruin 5K                                     Manassas, VA            19-Oct-13
From Here to Eternity 5K                              Norfolk, VA             19-Oct-13
Race at the Cape 5K                                   Virginia Beach, VA      19-Oct-13
Truro Preschool & Kindergarten 5K                     Fairfax, VA             19-Oct-13
Deep Hollow Trail 5K                                  Lynchburg, VA           19-Oct-13
St. Rita's 5K                                         Alexandria, VA          19-Oct-13
Spook Hill Cider & Wine 4M                            Burkittsville, MD       19-Oct-13
Glen Burner 5K                                        Glen Burnie, MD         19-Oct-13
Emory & Henry Wasper 5K                               Emory, VA               19-Oct-13
Pounding the Pink Pavement                            Coeburn, VA             19-Oct-13
St Edwards Epiphany School Eagle Challenge 5K         Richmond, VA            19-Oct-13
Bank of Fincastle 10K                                 Fincastle, VA           19-Oct-13
Bank of Fincastle 5K                                  Fincastle, VA           19-Oct-13
Galax Autumn Days 5K Run                              Galax, VA               19-Oct-13
Making Strides 5K                                     Ocean City, MD          19-Oct-13
Mariners' Museum 10K on the Noland Trail              Newport News, VA        19-Oct-13
Mariner's Museum Noland Trail 5K                      Newport News, VA        19-Oct-13
Bridge Bash 5K                                        Chesapeake, VA          19-Oct-13
Boo-Yah 5K                                            Portsmouth, VA          19-Oct-13
Prince George's Crime Victim's Fund Run 5K            College Park, MD        19-Oct-13
Into the Darkness 4M                                  Roanoke, VA             19-Oct-13
Crop 5K                                               Aberdeen, MD            19-Oct-13
Glow Worm 5K                                          Cedar Bluff, VA         19-Oct-13
Crapolfest 5K                                         Williamsburg, VA        19-Oct-13
Pure Chiro 5K                                         Vienna, VA              20-Oct-13
Somerset 8K                                           Chevy Chase, MD         20-Oct-13
Army 10 Mile                                          Washington, DC          20-Oct-13
Key School 5K                                         Annapolis, MD           20-Oct-13
Key School 10K                                        Annapolis, MD           20-Oct-13
HCS Elkhorn 10K                                       Columbia, MD            20-Oct-13
Queen of Roses 5K                                     Chestertown, MD         20-Oct-13
CBTF Superheroes 5K                                   Chevy Chase, MD         20-Oct-13
10K Run Through History                               Spotsylvania, VA        20-Oct-13
Komen Maryland Race for the Cure 5K                   Hunt Valley, MD         20-Oct-13
Northfield Roadrunner 5K                              Ellicott City, MD       20-Oct-13
Walk for the Animals 5K                               Virginia Beach, VA      20-Oct-13
GROC Fall 10K                                         Greenbelt, MD           23-Oct-13
Shoebox Shuffle 5K                                    Sparks, MD              26-Oct-13
I am Woman 5K                                         Lynchburg, VA           26-Oct-13
Trinity Trick or Trot 5K                              Ellicott City, MD       26-Oct-13
Brookside Fall 5K                                     Warrenton, VA           26-Oct-13
City Point 5K River Run                               Hopewell, VA            26-Oct-13
Seaside 5K                                            Ocean City, MD          26-Oct-13
Seaside 10M                                           Ocean City, MD          26-Oct-13
Ready...Set...Sniff 5K                                Baltimore, MD           26-Oct-13
Killer Zombies 5K                                     Lorton, VA              26-Oct-13
Killer Zombies 8K                                     Lorton, VA              26-Oct-13
Spooky Sprint 5K                                      Roanoke, VA             26-Oct-13
Haunted Halloween 5K                                  Calverton, MD           26-Oct-13
Spartan Spooktacular 5K                               Leesburg, VA            26-Oct-13
Halloween Hustle 5K                                   Montgomery Village, MD  26-Oct-13
William & Mary Homecoming 5K                          Williamsburg, VA        26-Oct-13
Race to Beat Breast Cancer 5K                         Harrisonburg, VA        26-Oct-13
Headless Horseman 5K                                  Frederick, MD           26-Oct-13
Great Pumpkin Race 5K                                 Henrico, VA             26-Oct-13
Trick or Trot 5K                                      Richmond, VA            26-Oct-13
Anthem Wicked 10K                                     Virginia Beach, VA      26-Oct-13
Greasy Gooney 10K                                     Browntown, VA           26-Oct-13
ASA Halloween Hustle 5K                               Towson, MD              27-Oct-13
HCS Swansfield 5K                                     Columbia, MD            27-Oct-13
Goblin Gallop 5K                                      Fairfax, VA             27-Oct-13
Marine Corps 10K                                      Washington, DC          27-Oct-13
Marine Corps Marathon                                 Washington, DC          27-Oct-13
Cross Country on the Farm 5K                          Derwood, MD             27-Oct-13
Sprout 5K                                             Ashburn, VA             27-Oct-13
Monster Mash 5K                                       McLean, VA              27-Oct-13
9K around the Fairway                                 Elkridge, MD            27-Oct-13
NAPS 5K                                               Annapolis, MD           27-Oct-13
NAPS 10K                                              Annapolis, MD           27-Oct-13
Monster Dash 5K                                       Norfolk, VA             31-Oct-13
Quincy Conner Foundation 5Q 5K                        Lake Ridge, VA          02-Nov-13
Jack T. Farrar 5K                                     Alexandria, VA          02-Nov-13
KidsPeace Trick or Treat 5K                           Baltimore, MD           02-Nov-13
Yorktown Battlefield 10 Miler                         Yorktown, VA            02-Nov-13
Yorktown Battlefield 5K                               Yorktown, VA            02-Nov-13
Care2 Cure 5K                                         Winchester, VA          02-Nov-13
Taste of Town Center 5K                               Virginia Beach, VA      02-Nov-13
Mustang 5K Stampede                                   Marriottsville, MD      02-Nov-13
CAASA 5K                                              Solomons, MD            02-Nov-13
Race for Breath 5K                                    Virginia Beach, VA      02-Nov-13
Run for Life 5K                                       Abingdon, VA            02-Nov-13
Alexandria 5K                                         Alexandria, VA          02-Nov-13
Jug Bay 5K                                            Upper Marlboro, MD      02-Nov-13
Jug Bay 10K                                           Upper Marlboro, MD      02-Nov-13
Down's Park 5 Mile                                    Pasadena, MD            02-Nov-13
Run for Shelter 5K                                    Charlottesville, VA     02-Nov-13
Aberdeen 5K                                           Aberdeen, MD            02-Nov-13
Rockville 5K                                          Rockville, MD           03-Nov-13
Rockville 10K                                         Rockville, MD           03-Nov-13
Mock the Clock 5K                                     Bethesda, MD            03-Nov-13
Run for the Parks 10K                                 Washington, DC          03-Nov-13
Run through the Grapevine 8K                          Mount Airy, MD          03-Nov-13
Scarecrow Classic 5K                                  Ellicott City, MD       03-Nov-13
Race Against The Odds 5K                              Arlington, VA           03-Nov-13
Edgemoor Classic 5K                                   Bethesda, MD            03-Nov-13
Colonel Ripley 5K                                     Annapolis, MD           03-Nov-13
Chestertown River Challenge Half Marathon             Chestertown, MD         03-Nov-13
Chestertown 5K                                        Chestertown, MD         03-Nov-13
Massey Cancer 5K                                      Williamsburg, VA        08-Nov-13
Tuckahoe 5K                                           Arlington, VA           09-Nov-13
Loudoun County Run4 the Homeless 5K                   Ashburn, VA             09-Nov-13
Chris Dove Memorial 5K                                Warrenton, VA           09-Nov-13
Norfolk Wounded Warriors 5K                           Norfolk, VA             09-Nov-13
Jefferson College of Health Sciences Riverside Run 5K Roanoke, VA             09-Nov-13
116th Infantry Regiment Annual 5K                     Staunton, VA            09-Nov-13
Mary Washington 5K                                    Fredericksburg, VA      09-Nov-13
All in Motion 5K                                      Manassas, VA            09-Nov-13
All in Motion 10K                                     Manassas, VA            09-Nov-13
Heather Hurd 5K                                       Churchville, MD         09-Nov-13
Triangle 5K                                           Triangle, VA            09-Nov-13
Children of Our Heart 5K                              Lynchburg, VA           09-Nov-13
Fighting Creek Trail 5K                               Powhattan, VA           09-Nov-13
Lexington-Buena Vista 10K                             Lexington, VA           09-Nov-13
Robinson Crew 5K                                      Fairfax, VA             10-Nov-13
Veterans Day 5K                                       Fairfax, VA             10-Nov-13
FCA 5K                                                Spotsylvania, VA        10-Nov-13
Honeygo Family 5K                                     Perry Hall, MD          10-Nov-13
Virginia Running Festival HM                          Newport News, VA        10-Nov-13
Virginia Running Festival 5K                          Newport News, VA        10-Nov-13
Norfolk Freedom Half Marathon                         Norfolk, VA             10-Nov-13
Norfolk Freedom Marathon                              Norfolk, VA             10-Nov-13
Candy Cane City 5K                                    Chevy Chase, MD         10-Nov-13
Woodrow Wilson Bridge HM                              Alexandria, VA          10-Nov-13
Veterans Day 10K                                      Washington, DC          10-Nov-13
HCS Oakland Mills 6M                                  Columbia, MD            10-Nov-13
Kilt and Craic 5K                                     Timonium, MD            10-Nov-13
On Eagles Wings 10K                                   Falls Church, VA        11-Nov-13
Tidal Basin 10K                                       Washington, DC          11-Nov-13
5K Run/Walk For The Music                             Chesapeake, VA          11-Nov-13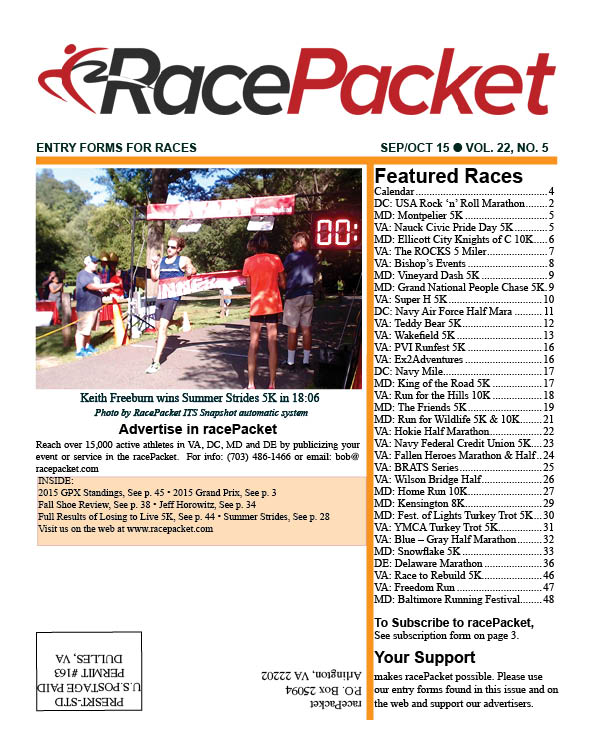 Subscribe to RacePacket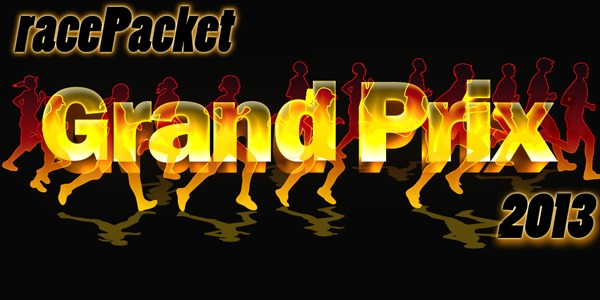 Find out about our $3,000 in prizes