2012 Summer RacePacket Regional Runner Rankings
New Record Numbers all Across the Board

(May 14, 2012 – September 4, 2012)
By James Moreland
The summer ranking for this year increased again to more than 135,000 runners, for the highest summer total. This summer had a record for any period of 424 races used and provided the highest amount of ranked times for all periods with 4310.
Again there were fifty-eight major races (500 or more finishers). The Rock 'n' Roll HM fell off again to 11,286 finishers. Still, they led ten races with more than two thousand finishers and as many as than the next two races combined. Twenty-eight had more than 1,000 finishers.
Ten races had more than fifty ranked runners racing in them. The Rockville Rotary Twilight 8K led the way again with 152 ranked times. Annapolis was next with 114. The Reston Firecracker was third with 87 ranked times. The Lawyers Have Heart was back to the 10K and was fourth best with 80. Baltimore 190 miler is fifth with 78, while the Bel Air Town Run 5K moved up with 72. The powerful Charlottesville Women's 4 mile was next with 64.
Fully forty-six races had more than 10% of the runners with ranked times.
This summer, 2,185 different men and 1,827 different women ran at least one qualifying time. Four hundred and twenty men and 478 women were ranked.
Washington, DC had 18 events with three being major races. Maryland had 176 races with the largest groups being in Columbia (13), Baltimore (17), and Annapolis (8). The larger state of Virginia had the 230 races, with the largest groups being in Arlington (14), Fredericksburg (10), Virginia Beach (11), Williamsburg, Richmond, Roanoke, and Lynchburg all had (8). There were 146 different cities that hosted a race.
This time the open divisions rebounded with 87 women and 60 men. 'Open,' of course, includes runners of any age able to meet the open 10K equivalent standard twice: men 34:20 & women 41:15. Eight men and 24 women made it in from another division. Ray Pugsley was the oldest man at 43 and Robyn Humphrey is the oldest female, at 48.
Runners who win the race or win their division in a race earn an asterisk beside their name. Open runners only get an asterisk for an overall win. The Speed Alone is the fastest qualifying time run for each division. In red, it means the division champion ran it.
Now let us see who made the top. Men and Women
Click here to return to Regional Runner Rankings menu.

Rankings Explained: What It Is, Who Does It, How We Do It, and Where We Are Going
The goal of the runner rankings is to rank the best runners of Washington, DC, Maryland, and Virginia in five-year age groups for the purpose of stimulating competition in the Washington region. Runners are ranked only according to performances in included races. To be included, a race must meet the following criteria:
Take place in Washington, DC, Maryland, or Virginia

Full results listed on the RacePacket Web site

Must list age (and preferably also city and state of residence) of all runners

Standard distance--5K, 4-mile, 8K, 10K, 12K, 15K, 10-mile, 20K, 1/2 Marathon, 25K, 30K, 20-mile, or Marathon

Road race or cross-country
To be included, a race must meet all of the above criteria. If you place well in a race and want it included in the rankings, be sure to ask the race director to e-mail the complete results to the RacePacket at james@racepacket.com so the race can be posted on the RacePacket Web site and counted in the runner rankings.
Runners will be ranked by age divisions for both men and women, with the divisions being open, 19 & younger, 35-39, 40-44, 45-49, 50-54, 55-59, 60-64, 65-69, 70-74, 75-79 and 80 & older.
The rankings are established using a nearly completely objective rating procedure. A preliminary sort, followed by an intensive analysis of competitive results, forms the rankings. The preliminary sort is based on the number of qualifying marks and best times. The final ranking is based on head-to-head competitive results against the other top placers (50%), with time playing a major but secondary role (40%). Our general philosophy is that competition is about beating other runners, and we intend to place an increased emphasis on competitive results.
To qualify for the end-of-year rankings, top priority will go to runners who qualify in two ranking periods. A preliminary sort, followed by a more involved analysis of competitive results, also forms these rankings. The preliminary sort is based on seasonal rankings and best times. The final ranking is again based on head-to-head competitive results, with time playing a secondary role, though at times a deciding role. One special race can at times put a runner over the top, though consistency is a valued asset.
Qualifying times are set in each age division for the 10K, and then adjusted for other distances. We believe in a constant time so that, while a runner may not make the top ten, he or she may consider himself or herself a ranked runner. Our primary concern is that of believability. There should be few surprises. Competitiveness will always find a few disputes. Most runners know whom they can best and who remains unbeatable. The rankings should fairly reflect that. If you have comments and questions or would like to get a more complete explanation of individual rankings, contact the author at james@racepacket.com. The ranking periods for the 2012 ranking year:
Winter Runner Rankings, November 14, 2011 through March 4, 2012
Spring Runner Rankings, March 5, 2012 through May 13, 2012
Summer Runner Rankings, May 14, 2012 through September 4, 2012 - reported November/December 2012
Fall Runner Rankings, September 5, 2012 through November 11, 2012 - reported January/February 2013

Best of 2012 (November 14, 2011 through November 11, 2012) -reported March/April 2013
Bold races are Major races (500 or more runners or 20% ranked runners)
Race
City
Date
Dist.
Tidal Basin 5K
Washington, DC
16-May-12
5K
Capital Challenge 3M
Washington, DC
16-May-12
3M
Mercy Clinic 5K Health Run
Rockville, MD
19-May-12
5K
Race to Victory 5K
Bristow, VA
19-May-12
5K
Head of the Bay 5K
Perryville, MD
19-May-12
5K
Franklin Tull 5K
Edgewood, MD
19-May-12
5K
Carter's Run 5K
Ashburn, VA
19-May-12
5K
Adam's Angels 5K
Fairfax, VA
19-May-12
5K
Turtle Trot 5K
Arlington, VA
19-May-12
5K
Atoms 5K Run
Annandale, VA
19-May-12
5K
Calvary Baptist Church Road Trip 5K
Lynchburg, VA
19-May-12
5K
Ashcreek 5K
Hanover, VA
19-May-12
5K
Delta Torchbearer 5K
Baltimore, MD
19-May-12
5K
GNS Tortoise and Hare 5K
Greenbelt, MD
19-May-12
5K
Nestle 5K
Danville, VA
19-May-12
5K
Armed Forces Day 10K
Aberdeen, MD
19-May-12
10K
Kelley Cares 5K
Alexandria, VA
19-May-12
5K
MAC HM
Freeland, MD
19-May-12
HM
Cindy's Fund Run 4M
Oakland, MD
19-May-12
4M
Run the Crater 5K
Fort Lee, VA
19-May-12
5K
Run the Crater 8M
Fort Lee, VA
19-May-12
8M
Girls on the Run 5K
Virginia Beach, VA
19-May-12
5K
St. Michael's Run Festival Half Marathon
St. Michael's, MD
19-May-12
HM
St. Michael's Run Festival 10K
St. Michael's, MD
19-May-12
10K
St. Michael's Run Festival 5K
St. Michael's, MD
19-May-12
5K
Batesville 10K
Batesville, VA
19-May-12
10K
Grandin Court Baptist 5K
Roanoke, VA
19-May-12
5K
Lytle Law 5K
Newport News, VA
19-May-12
5K
Mountain Valley 10M
Keezletown, VA
19-May-12
10M
BKB 5K
Washington, DC
19-May-12
5K
Fit to Dream 8K
Williamsburg, VA
19-May-12
8K
Germantown 5 Miler
Germantown, MD
19-May-12
5M
Deer Dash 5K
New Market, MD
19-May-12
5K
Run for the Animals 5K
Silver Spring, MD
20-May-12
5K
RedHotRun 5K
Baltimore, MD
20-May-12
5K
Smile 5K
Virginia Beach, VA
20-May-12
5K
Scoot for Scooter 5K
Sandy Spring, MD
20-May-12
5K
Joe Cassella 5K
Great Falls, VA
20-May-12
5K
Bodies in Motion 5K
Warrenton, VA
20-May-12
5K
Beacon of Hope 5K
Virginia Beach, VA
20-May-12
5K
Jewish Caring Network Women's Care 5K
Baltimore, MD
20-May-12
5K
Making Tracks for Celiacs 5K
Baltimore, MD
20-May-12
5K
Run for a Dream HM
Williamsburg, VA
20-May-12
HM
Capitol Hill Classic 10K
Washington, DC
20-May-12
10K
Marine Corps Historic Half Marathon
Fredericksburg, VA
20-May-12
HM
Semper Fred 5K
Fredericksburg, VA
20-May-12
5K
Cascades Firechase 10K
Sterling, VA
26-May-12
10K
Chick-fil-A 5K
Newport News, VA
26-May-12
5K
Central Valley Kidney Association 10K
Lynchburg, VA
26-May-12
10K
Elizabeth River Run
Portsmouth, VA
26-May-12
10K
5K Run/Walk for Autism
Henrico, VA
26-May-12
5K
Stoneleigh Stampede Run 5K
Towson, MD
26-May-12
5K
Save the Trail 5K
Chevy Chase, MD
26-May-12
5K
Soaring Eagles 5K
Manassas, VA
26-May-12
5K
Appalachian Power Festival 10K
Roanoke, VA
26-May-12
10K
Appalachian Power Festival 5K
Roanoke, VA
26-May-12
5K
Roundhill Hometown Festival 5K
Roundhill, VA
26-May-12
5K
Fair Oaks Volunteer Fire & Rescue Ambulance Chase 5K
Fairfax, VA
26-May-12
5K
Chestertown Tea Party 10 Mile
Chestertown, MD
26-May-12
10M
Chestertown Tea Party 5K
Chestertown, MD
26-May-12
5K
Champions of Hope 5K
Williamsburg, VA
26-May-12
5K
Grandview Christian 5K
Fallston, MD
26-May-12
5K
MCVets 10K
Baltimore, MD
27-May-12
10K
MCVets 5K
Baltimore, MD
27-May-12
5K
Alexandria Running Festival Half Marathon
Alexandria, VA
27-May-12
HM
Alexandria Running Festival 5K
Alexandria, VA
27-May-12
5K
MCRRC Memorial 4M
Rockville, MD
28-May-12
4M
Civitan's 10K
Fredericksburg, VA
28-May-12
10K
Civitan's 5K
Fredericksburg, VA
28-May-12
5K
Jeremy's Run 5K
Olney, MD
28-May-12
5K
Jeremy's Run 10K
Olney, MD
28-May-12
10K
Ringing Hope 5K
Ashburn, VA
28-May-12
5K
Ringing Hope 10K
Ashburn, VA
28-May-12
10K
Yorktown Freedom 5K
Yorktown, VA
28-May-12
5K
Run for the Ranch 5K
Chesapeake, VA
28-May-12
5K
Heritage Classic 5K
Rocky Mount, VA
28-May-12
5K
Remembrance 5K
Columbia, MD
28-May-12
5K
Mission Possible 5K
Reisterstown, MD
28-May-12
5K
Parkway Panda 5K
Frederick, MD
28-May-12
5K
Komen Global Race for the Cure 5K
Washington, DC
2-Jun-12
5K
Fox Hill Community 5K
Hampton, VA
2-Jun-12
5K
Lutherville 5K
Lutherville, MD
2-Jun-12
5K
Lutherville 10K
Lutherville, MD
2-Jun-12
10K
Springfield 5K
Springfield, VA
2-Jun-12
5K
Springfield 15K
Springfield, VA
2-Jun-12
15K
Joe Robeson 5K
Hagerstown, MD
2-Jun-12
5K
Mental Health Recovery Run 5K
Williamsburg, VA
2-Jun-12
5K
Aloha 5K
Fulton, MD
2-Jun-12
5K
Zooma 10K
Annapolis, MD
2-Jun-12
10K
Zooma HM
Annapolis, MD
2-Jun-12
HM
Charles Village 5K
Baltimore, MD
2-Jun-12
5K
Trek4Tech 5K
Crofton, MD
2-Jun-12
5K
4 the Wounded 5K
Charlottesville, VA
2-Jun-12
5K
Virginia Wine Country Half Marathon
Hillsboro, VA
2-Jun-12
HM
National Trails Day 5K
Farmville, VA
2-Jun-12
5K
Ocean City Boardwalk 5M
Ocean City, MD
2-Jun-12
5M
Conquer the Cove Marathon
Roanoke, VA
2-Jun-12
26.2M
Henderson Husky 5K
Montclair, VA
3-Jun-12
5K
Juni Rennen 5K
Boyds
3-Jun-12
5K
Run Through History 10K
Sharpsburg, MD
3-Jun-12
10K
Run Through History 5K
Sharpsburg, MD
3-Jun-12
5K
Stratford Hills 10K
Richmond, VA
3-Jun-12
10K
Herndon Festival 10K
Herndon, VA
3-Jun-12
10K
Herndon Festival 5K
Herndon, VA
3-Jun-12
5K
HCS Thunderhill 10K
Columbia, MD
3-Jun-12
10K
Matzohball 5K
Ellicott City, MD
3-Jun-12
5K
Bel Air Town Run 5K
Bel Air, MD
3-Jun-12
5K
Lynchburg Track 5K
Lynchburg, VA
5-Jun-12
5K
WRC Run with the Knights 5K
Eldersburg, MD
7-Jun-12
5K
Run with the June Bugs 5K
Derwood, MD
8-Jun-12
5K
Stand up for our Warriors 5K
Fairfax, VA
9-Jun-12
5K
Hope's Heroes 5K
Baltimore, MD
9-Jun-12
5K
Crofton Kiwanis - Team Surlis 10K Challenge
Crofton, MD
9-Jun-12
10K
Eggleston OK 5K
Virginia Beach, VA
9-Jun-12
5K
Sundown Classic 5K
Rocky Mount, VA
9-Jun-12
5K
Abby's Race for Hope 5K
Richmond, VA
9-Jun-12
5K
Child Rescue Centre 5K Benefit Run
Sterling, VA
9-Jun-12
5K
Lawyers Have Heart 10K
Washington, DC
9-Jun-12
10K
PRR Twilight Festival 4 Miler
Ashburn, VA
9-Jun-12
4M
Varmint Half Marathon
Burke Gardens, VA
9-Jun-12
HM
Varmint 5K
Burke Gardens, VA
9-Jun-12
5K
Manchester Valley 5K
Westminster, MD
9-Jun-12
5K
Gunpowder Neck 10M
Edgewood, MD
9-Jun-12
10M
Nick Adenhart 5K
Hagerstown, MD
9-Jun-12
5K
Katie's Run 5K
Grantsville, MD
9-Jun-12
5K
Race with Grace 5K
Roanoke, VA
9-Jun-12
5K
Delightfully Different 3.5M
Petersburg, VA
9-Jun-12
3.5M
Woodstock 5 Mile
Woodstock, VA
9-Jun-12
5M
Howard County Library 5K
Columbia, MD
9-Jun-12
5K
Gaza Support 5K
Washington, DC
9-Jun-12
5K
Beth Walton 5K
Wheaton, MD
10-Jun-12
5K
Red Devil 5K
Towson, MD
10-Jun-12
5K
Survivor Harbor 4 Mile Run
Baltimore, MD
10-Jun-12
4M
Survivor Harbor 7 Mile Run
Baltimore, MD
10-Jun-12
7M
Tropical Smoothie Cafe 5K
Manassas, VA
10-Jun-12
5K
Race to Donate Life 5K
Occoquan, VA
10-Jun-12
5K
SPCA Run for Shelter 5K
Fredericksburg, VA
10-Jun-12
5K
Damien's Run for Recovery 5K
Columbia, MD
10-Jun-12
5K
Pacemakers 5K
Warrenton, VA
10-Jun-12
5K
Schechter on the Move 5K
Baltimore, MD
10-Jun-12
5K
DCRRC WDF 5K
Arlington, VA
13-Jun-12
5K
All Comers Track Meet
Annapolis, MD
13-Jun-12
5K
DCRRC After the Women 5K
Arlington, VA
13-Jun-12
5K
King's Daughters Run/Walk for the Kids 8K
Norfolk, VA
16-Jun-12
8K
Walk on Water 5K
Havre de Grace, MD
16-Jun-12
5K
Light up the Night 5K
Roanoke, VA
16-Jun-12
5K
Presbyterian Homes 5K
Lynchburg, VA
16-Jun-12
5K
Vince Tantillo/Jack Barr Memorial 5K
Hagerstown, MD
16-Jun-12
5K
Losing to Live 5K
Annandale, VA
16-Jun-12
5K
MCRRC Run for the Roses 5K
Wheaton, MD
16-Jun-12
5K
Purple Strides 5K
Washington, DC
16-Jun-12
5K
Warhill 5K
Williamsburg, VA
16-Jun-12
5K
Powhattan Village Run 5K
Powhattan, VA
16-Jun-12
5K
Baltimore 10 Miler
Baltimore, MD
16-Jun-12
10M
Babe Ruth 5K
Thurmont, MD
16-Jun-12
5K
Sadie Rose 5K
Dayton, VA
16-Jun-12
5K
Richmond Firefighters Beat the Heat 5K
Richmond, VA
16-Jun-12
5K
GBMC Father's Day 5K
Towson, MD
17-Jun-12
5K
Dash 4 Dad 5K 4M
Arlington, VA
17-Jun-12
4M
Charlottesville Father's Day 4M
Charlottesville, VA
17-Jun-12
4M
Battling Cancer 5K
Fredericksburg, VA
17-Jun-12
5K
Father's Day 8K
Elkridge, MD
17-Jun-12
8K
Georgetown Running Company Father's Day 8K
Washington, DC
17-Jun-12
8K
Run with Dad 5K
Reston, VA
17-Jun-12
5K
GPS 5K
Baltimore, MD
17-Jun-12
5K
AS Dawson's 10K
Severna Park, MD
17-Jun-12
10K
Tidal Basin 5K
Washington, DC
20-Jun-12
5K
Hashawa 3M
Westminster, MD
21-Jun-12
2.86M
Tim Harmon Memorial 5K
Fairfax, VA
23-Jun-12
5K
Chesty Puller Memorial Twin Bridge 10K
West Point, VA
23-Jun-12
10K
Children's Village 5K
Hagerstown, MD
23-Jun-12
5K
Engage in Lives 5K
Burle Lake, VA
23-Jun-12
5K
Reston WDF 5K
Reston, VA
23-Jun-12
5K
Dreaded Druid Hills 10K
Baltimore, MD
23-Jun-12
5K
Run for Justice 5K
Danville, VA
23-Jun-12
5K
Run for Justice 10K
Danville, VA
23-Jun-12
10K
New Balance Jenny Smith Baltimore Women's Classic 5K
Baltimore, MD
24-Jun-12
5K
HCS Hammond 5K
Columbia, MD
24-Jun-12
5K
Alex's Run 5K
Olney, MD
24-Jun-12
5K
Diamond's House 5K
Virginia Beach, VA
24-Jun-12
5K
FSC Firecracker 5K
Frederick, MD
27-Jun-12
5K
HCS Burleigh Manor 5M
Columbia, MD
27-Jun-12
5M
Leapin Lizard 5K
Lexington Park
28-Jun-12
5K
Semper Fi 5K
Washington, DC
30-Jun-12
5K
Run for Independence 8K
Leesburg, VA
30-Jun-12
8K
Deltaville 5K
Deltaville, VA
30-Jun-12
5K
Chesapeake Police Foundation Five-0 5K
Chesapeake, VA
30-Jun-12
5K
Iron Furnace 5K Run
Lonaconing, MD
30-Jun-12
5K
Wounded Hero 5K
Lake Ridge, VA
30-Jun-12
5K
Run for Shelter 5K
Bel Air, MD
30-Jun-12
5K
Abebe Bikila 5K
Washington, DC
1-Jul-12
5K
EC 10K
Ellicott City, MD
1-Jul-12
10K
River Hill CC 5K
Columbia, MD
3-Jul-12
5K
Yorktown Independence Day 8K
Yorktown, VA
4-Jul-12
8K
PVTC Go Fourth 8K
Alexandria, VA
4-Jul-12
8K
Let Freedom Run 5K
Fairfax, VA
4-Jul-12
5K
Arbutus Firecracker 10K
Arbutus, MD
4-Jul-12
10K
We Build People 5K
Virginia Beach, VA
4-Jul-12
5K
Reston Firecracker 5K
Reston, VA
4-Jul-12
5K
Patriot's 5K
Midlothian, VA
4-Jul-12
5K
FARC Heritage Festival 5 Mile Run
Fredericksburg, VA
4-Jul-12
5M
Rock Hall Flat 5M
Rock Hll, MD
4-Jul-12
5K
Autism Speaks 5K
Potomac, MD
4-Jul-12
5K
Shawsville 5K
Shawsville, VA
4-Jul-12
5K
Run for Freedom 5K
Williamsport, MD
4-Jul-12
5K
Tidal Basin 5K
Arlington, VA
4-Jul-12
5K
Tidal Basin 10K
Arlington, VA
4-Jul-12
10K
DCRRC Age-Handicapped 4 Mile
Carderock, MD
4-Jul-12
4M
Kiwanis Club Independence Day 5K
Charlottesville, VA
4-Jul-12
5K
OPA Freedom 5K
Ocean Pines, MD
4-Jul-12
5K
Four on the Fourth 4M
Roanoke, VA
4-Jul-12
4M
Culpeper 4th of July Freedom 5K
Culpeper, VA
4-Jul-12
5K
Liberty 5K
Winchester, VA
4-Jul-12
5K
Montgomery Village 5K
Montgomery Village, MD
4-Jul-12
5K
Harford Hounds 4M
Conowingo, MD
4-Jul-12
4M
Francis Scott Key 6K
Union Bridge, MD
5-Jul-12
6K
Summer Extravaganza 5K
Waynesboro, VA
7-Jul-12
5K
Summer Extravaganza 10K
Waynesboro, VA
7-Jul-12
10K
Reedville Firecracker 5K
Reedville, VA
7-Jul-12
5K
Run United 5K
Snow Hill, MD
7-Jul-12
5K
HCS Women's Distance Festival 5K
Columbia, MD
8-Jul-12
5K
RRRC Cul De Sac Series 5K #1
Richmond, VA
9-Jul-12
5K
HCS Swansfield 5K
Columbia, MD
11-Jul-12
5K
Kinder Park Farm 5K
Millersville, MD
12-Jul-12
5K
Sweatin' for Scholarships 5K
Williamsburg, VA
13-Jul-12
5K
Shennadoah River Front 5M
Shenandoah, VA
14-Jul-12
5M
DCRRC Bastille Day 4M
Washington, DC
14-Jul-12
4M
AS WDF 5K
Annapolis, MD
14-Jul-12
5K
AS Run after the Women 5K
Annapolis, MD
14-Jul-12
5K
Lisa's Run 5K
Westernport, MD
14-Jul-12
5K
Grant Pierce Indoor Marathon
Arlington, VA
14-Jul-12
26.2M
Carribean Sounds 10K
Washington, DC
14-Jul-12
10K
Pirate Fest 5K
Havre de Grace, MD
14-Jul-12
5K
Allen Stone Memorial 5K
Virginia Beach, VA
14-Jul-12
5K
ArcCRR 5K
Annapolis, MD
14-Jul-12
5K
Westminster WDF 5K
Union Mills, MD
15-Jul-12
5K
Pikesville 5K
Pikesville, MD
15-Jul-12
5K
DC International Festival 5K
Washington, DC
15-Jul-12
5K
RRRC Cul De Sac Series 5K #2
Richmond, VA
16-Jul-12
5K
WRC Pleasant Valley 4M
Westminster, MD
19-Jul-12
4M
Arundel Community College XC 5K
Arnold, MD
19-Jul-12
5K
HCS Reservoir 5K
Columbia, MD
20-Jul-12
5K
Run for the Homefront 5K
Fort Story, VA
21-Jul-12
5K
Fairview 5K
Charlottesville, VA
21-Jul-12
5K
Bobbi Jo Memorial 5K
Thurmont, VA
21-Jul-12
5K
Percival's Island Five Miler
Lynchburg, VA
21-Jul-12
5M
Christmas in July 5K
The Plains, VA
21-Jul-12
5K
Rockville Rotary Twilight 8K
Rockville, MD
21-Jul-12
8K
Crystal City Twilight 5K
Arlington, VA
21-Jul-12
5K
Commonwealth Games 5K
Roanoke, VA
21-Jul-12
5K
Bill Beckwith Memorial 5K
Smithburg, MD
21-Jul-12
5K
Salem Challenge 5K
Garrett County, MD
21-Jul-12
5K
5K Race for Mental Wellness
Fredericksburg, VA
22-Jul-12
5K
Eden Mill 5M
Jarrettsville, MD
22-Jul-12
5M
Hagerstown 5K
Hagerstown, MD
22-Jul-12
5K
Harford County Farm Fair 5K
Bel Air, MD
22-Jul-12
5K
RRRC Cul De Sac Series 5K #3
Richmond, VA
23-Jul-12
5K
HCS Clarksville 5M
Clarksville, D
25-Jul-12
5M
Hammond HS 5K
Columbia, MD
27-Jul-12
5K
Park Heights Community Health Alliance 5K
Baltimore, MD
28-Jul-12
5K
Pony Pasture 5K
Richmond, VA
28-Jul-12
5K
DCRRC Hugh Jascourt 4M
Washington, DC
28-Jul-12
4M
Fredericksburg Christian Health Center Twilight 5K
Fredericksburg, VA
28-Jul-12
5K
Military Challenge 3.5M
Virginia Beach, VA
28-Jul-12
3.5M
Friends of W&OD 10K
Vienna, VA
28-Jul-12
10K
Tazewell Green Dog 5K
Tazewll, VA
28-Jul-12
5K
Vibha DC 5K
Fairfax, VA
29-Jul-12
5K
The Dash 10K by Capital Sprints
Washington, DC
29-Jul-12
10K
CBRC Track Meet
Lusby, MD
31-Jul-12
5K
Runnymede 8K
Westminster, MD
2-Aug-12
8K
Southern River High School XC 5K
Edgewater, MD
2-Aug-12
5K
Lost Dog 5K #1
Arlington, VA
3-Aug-12
5K
Coast Guard Day 5K
Yorktown, VA
4-Aug-12
5K
Got Guts 5K
Bristol, VA
4-Aug-12
5K
Abingdon Main St 5K
Abingdon, VA
4-Aug-12
5K
DCRRC Landon 3M
Bethesda, MD
4-Aug-12
3M
Moonshine Classic 10K
Grantsville, MD
4-Aug-12
10K
Railroad Days 5K
Appalachia, VA
4-Aug-12
5K
Summer Strides 5K
Alexandria, VA
4-Aug-12
5K
Hadassah of Greater Baltimore 8K
Hunt Valley, MD
5-Aug-12
8K
AS Dog Days 8K
Arnold, MD
5-Aug-12
8K
Riley's Rumble HM
Boyds, MD
5-Aug-12
HM
DCRRC Bluemont 5K
Arlington, VA
7-Aug-12
5K
Moonlight 4 Miler
Glen Allen, VA
9-Aug-12
4M
Chesapeake High School XC 5K
Pasadena, MD
9-Aug-12
5K
Lost Dog 5K #2
Arlington, VA
10-Aug-12
5K
River Valley Ranch Trail Run 5K
Manchester, MD
11-Aug-12
5K
River Valley Ranch Trail Run 10K
Manchester, MD
11-Aug-12
10K
AT&T Sneaks Come Out at Night 15K
Baltimore, MD
11-Aug-12
15K
Strides for Health & Fitness 5K
Cumberland, MD
11-Aug-12
5K
Lynchburg 5K
Lynchburg, VA
11-Aug-12
5K
Lynchburg Half Marathon
Lynchburg, VA
11-Aug-12
HM
Christopher Todd Richardson Memorial 10K
Abingdon, VA
11-Aug-12
10K
Health Focus of SW Virginia Salem 5K
Salem, VA
11-Aug-12
5K
Health Focus of SW Virginia Salem 10K
Salem, VA
11-Aug-12
10K
FSC WDF 5K
Frederick, MD
11-Aug-12
5K
Vineyards of Williamsburg 5K
Williamsburg, VA
11-Aug-12
5K
Schoolhouse 5K
Abingdon, VA
11-Aug-12
5K
Giddy up 5K
Towson, MD
12-Aug-12
5K
Steve Thompson 8K
Alexandria, VA
14-Aug-12
8K
BRRC Track 5K @ Goucher
Towson, MD
15-Aug-12
5K
Lost Dog 5K #3
Arlington, VA
17-Aug-12
5K
Smart Smiles 5K
Newport News, VA
18-Aug-12
5K
Volvo Powertrain 5K Run
Hagerstown, MD
18-Aug-12
5K
Andrea's Memorial 5K
Barton, MD
18-Aug-12
5K
Feed Annapolis 5M
Annapolis, MD
18-Aug-12
5M
FAB 5K
Salem, VA
18-Aug-12
5K
Surfer's Healing 5K
Virginia Beach, VA
18-Aug-12
5K
TCRR Race for the Cause 5K
Colonial Heights, VA
18-Aug-12
5K
MCRRC Comus Cross-Country 5K
Comus, MD
18-Aug-12
5K
St. Jude 5K Run/Walk For The Cure
Frederick, MD
18-Aug-12
5K
Cherry Glade 5K
Accident, MD
18-Aug-12
5K
Leesburg 5K
Leesburg, VA
19-Aug-12
5K
Leesburg 20K
Leesburg, VA
19-Aug-12
20K
Hartwood 10 Mile
Fredericksburg, VA
19-Aug-12
10M
Boordy Vineyard 5K
Hydes, MD
19-Aug-12
5K
Too Hot to Trot 10K
Sparks, MD
19-Aug-12
10K
DCRRC Paul Thurston 4.5M
Burke, VA
21-Aug-12
4.5M
HCS Thunderhill 10K
Columbia, MD
22-Aug-12
10K
MCP Roosevelt Run 5K
Arlington, VA
23-Aug-12
5K
Lost Dog 5K #4
Arlington, VA
24-Aug-12
5K
Patrick Henry HM
Ashland, VA
25-Aug-12
HM
Gary Brown Memorial C&O Canal 5 Miler
Williamsport, MD
25-Aug-12
5M
Break Away 5K
Gale City, VA
25-Aug-12
5K
East Coast Surfing Championship 8K
Virginia Beach, VA
25-Aug-12
8K
Moving & Groovin 5K
Richmond, VA
25-Aug-12
5K
PGRC WDF 5K
College Park, MD
25-Aug-12
5K
PGRC RATW 5K
College Park, MD
25-Aug-12
5K
Recovery Rocks 5K
Williamsburg, VA
25-Aug-12
5K
Chaptico Classic 5K
Chaptico, MD
25-Aug-12
5K
Chaptico Classic 10K
Chaptico, MD
25-Aug-12
10K
Downtown YMCA 5K
Lynchburg, VA
25-Aug-12
8K
Gender Defender 5K
Quantico, VA
25-Aug-12
5K
Run for the Pie 10K
Mountaindale, MD
25-Aug-12
10K
Jerry Martin 5K
Owings Mils, MD
26-Aug-12
5K
Annapolis 10 Miler
Annapolis, MD
26-Aug-12
10M
Southlakes 10K
Reston, VA
26-Aug-12
10K
HCS Jeffers Hill
Columbia, MD
29-Aug-12
10K
Knights of Columbus 10K
Ellicott City, MD
1-Sep-12
10K
Kentlands/Lakelands 5K
Gaithersburg, MD
1-Sep-12
5K
Duffield Daze 5K
Duffield, VA
1-Sep-12
5K
Potomac Valley Games
Falls Church, VA
1-Sep-12
5K
Race to Erase MS 5K
Chestertown, MD
1-Sep-12
5K
Charlottesville 4 Miler
Charlottesville, VA
1-Sep-12
4M
Larry Noel 15K
Greenbelt, MD
2-Sep-12
15K
Rock N Roll Half Marathon
Virginia Beach, VA
2-Sep-12
HM
Charm City 20 Mile
Hunt Valley, MD
2-Sep-12
20M
Presidential Fitness Run 3M
Washington, DC
3-Sep-12
3M
Labor Day Rogue 5K
Eldersburg, MD
3-Sep-12
5K
Chick-fil-A Dash for Diabetes 4M
Winchester, VA
3-Sep-12
4M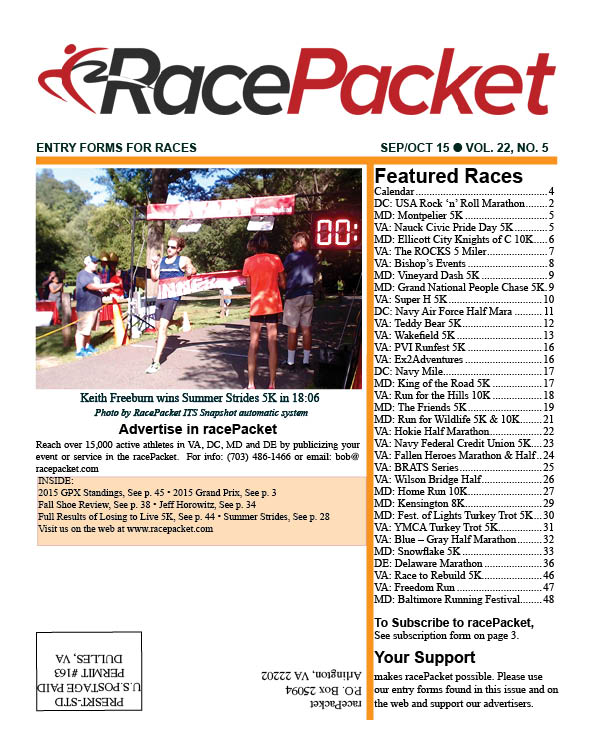 Subscribe to RacePacket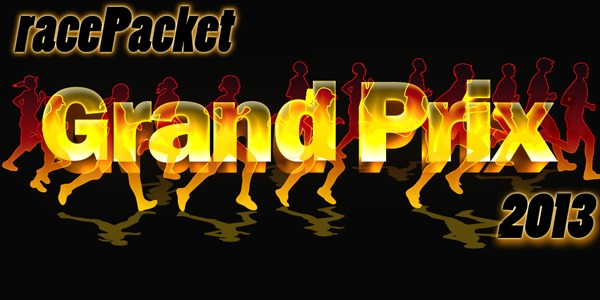 Find out about our $3,000 in prizes