The 2016 Pike's Peek 10k in Review
Suleman Shifa and Julia Roman-Duval bring home victory along with their mason jars
---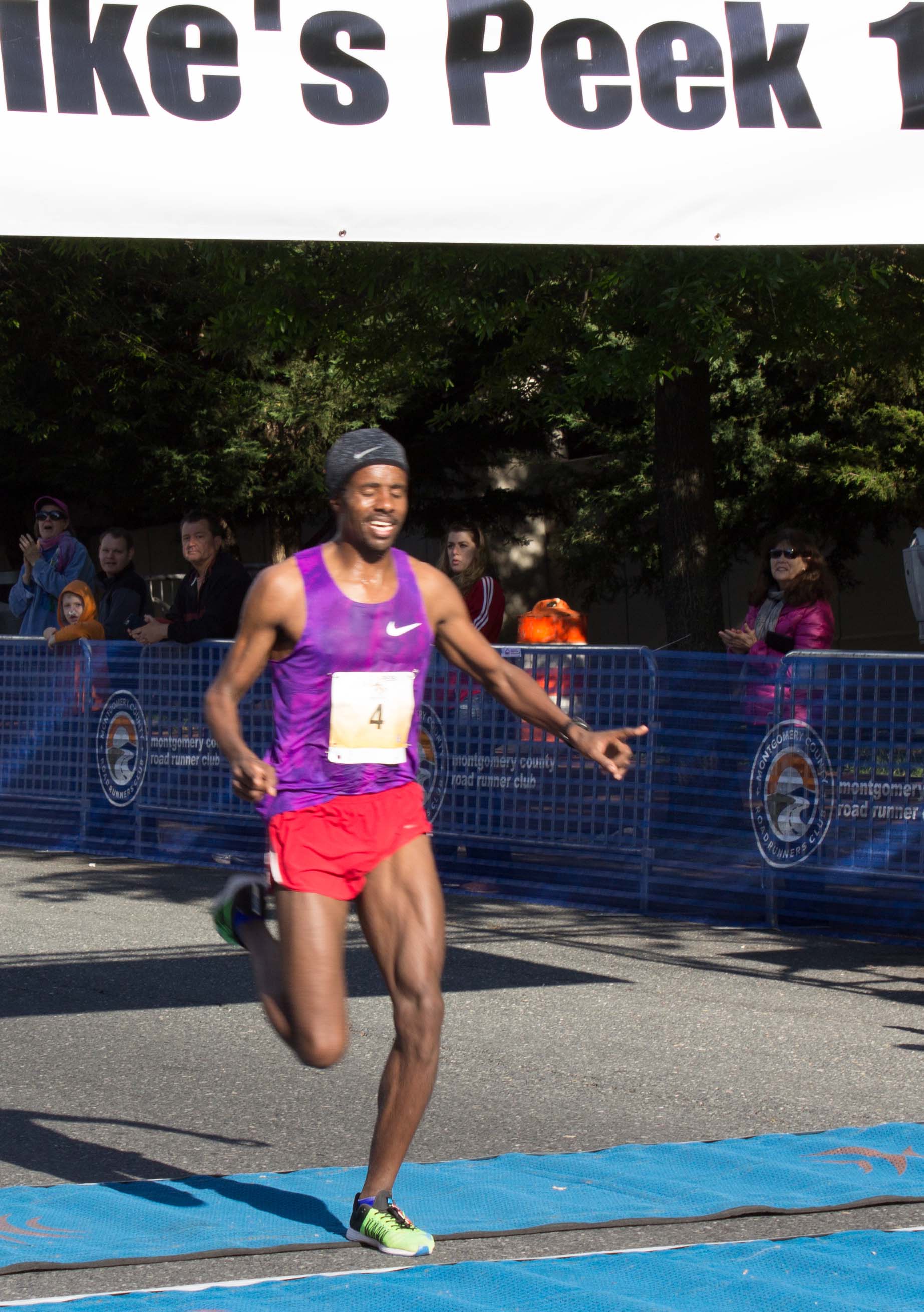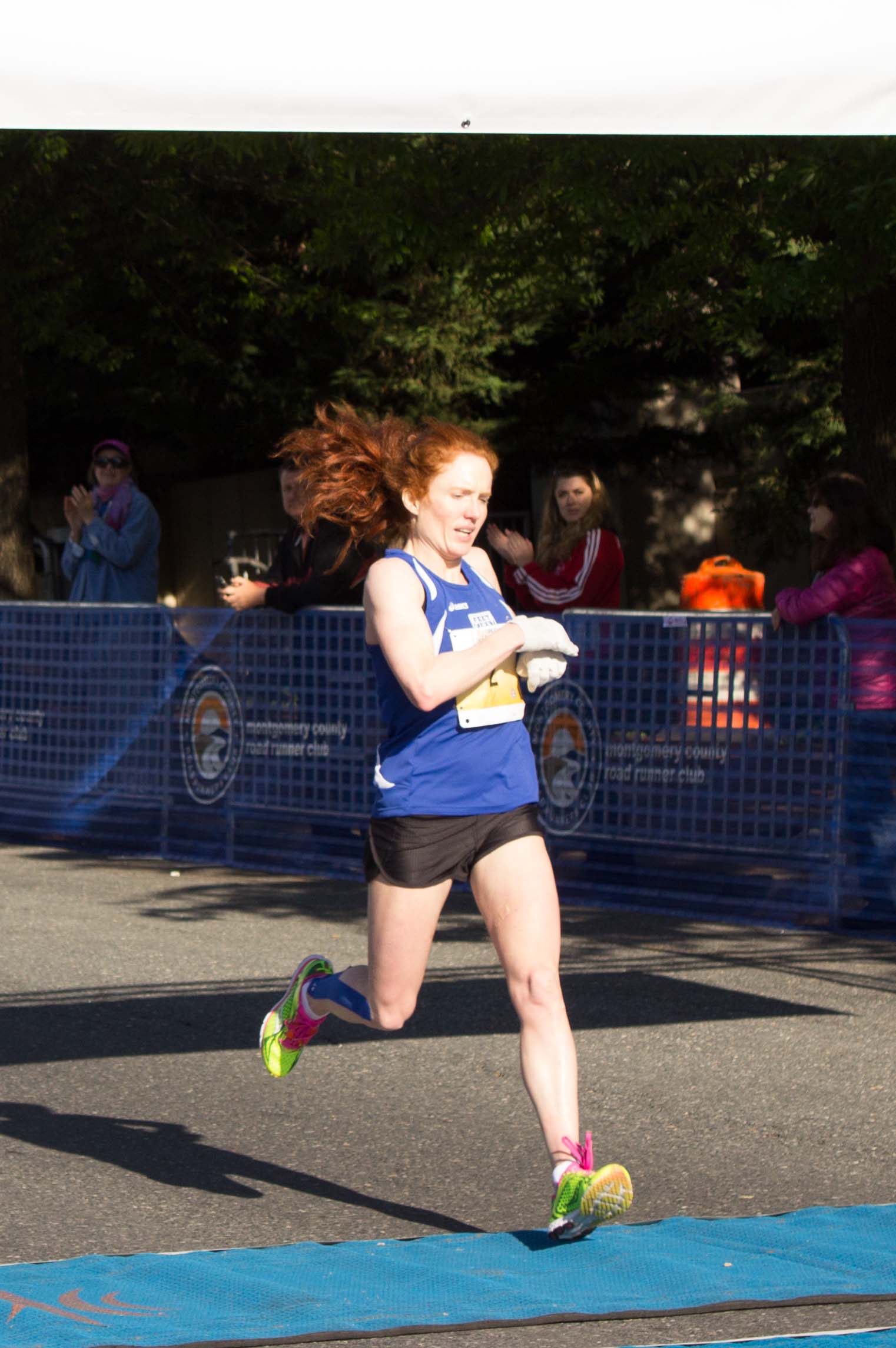 Shifa (Left) and Roman-Duval (Right) win the Pike's Peek 10k
---
April 24th brought crisp, clear weather to the Pike's Peek 10k finish line on Marinelli St. Known as a PR course, Pike's Peek features a point-to-point downhill sprint along Rockville Pike. In the women's race, Julia Roman-Duval of the Howard County Striders cemented her dominance on this course finishing first in 34:22 (19th overall) while, in the men's race, Suleman Shifa of New York, New York finished first in 30:04. 2,143 runners crossed the finish line Sunday, trading in their Ipico timing chip for a commemorative Pike's Peek mason jar, while Shifa and Roman-Duval left with $300 each as well. Cash prizes were awarded to both overall and age group winners.
By Chris Leyen
Rockville, MD--Twenty-two year old Ethiopian-born Suleman Shifa cruised to victory in the 10k at a comfortable (for him) 4:51 min/mile pace outdistancing the other sub-five minute mile finisher, Andrew Weaver of Baltimore, MD (30:39) by 35 seconds. He was followed by his friend, fellow Ethiopian, and sometimes translator, Girma Bedada who finished in 31:00. Very accustomed to this distance, Suleman boasts a 28:15 personal record, and praised the course as "good and flat". However--as he described in a mix of Amharic and English often relayed through Bedada--due to a malfunctioning Garmin and the relaxed atmosphere created by having a comfortable lead, he was unable to sustain a PR pace. Justifiably confident, he assured that, had he been fully-equipped, he would have PR'd today--"definitely." When asked what his strategy was coming into this race Suleman replied in a matter-of-fact tone "It's fully conditioning. Before I start, I know how I will finish."

In her third appearance, Julia Roman-Duval picked up her second consecutive victory. The race for fastest woman came down to a contest between two Maryland residents, but in the end the 33-year old from Columbia finished over 1:30 faster than Michele Carpenter of Rockville (35:53). Roman-Duval's 34:22 finish was also 15 seconds faster than her first-place finish in 2015. A member of the Howard County Striders, she was introduced to this race in 2014, where she placed third. When asked what keeps bringing her back to this event in particular, she replied: "it's super friendly, well organized. It's really like my favorite race in the area" and humbly shrugging her shoulders said "you know, compete to get a PR every year. I don't know how long I can go with that…" Well we'll have to wait for 2017 to see if Roman-Duval can keep the PR-streak alive.
This year, she had a little help improving that time. With less than a mile to go Julia was "not feeling so good", but in a moment that is a true testimony to a race produced by and for local running club members, Erik Anderson of Baltimore, MD (27, 34:15) called out "Come on, Stay with me!" and took the lead for the last ¾ of a mile, serving as a pacer to lead her in to victory and a new personal best time. RacePacket asked how she prepares for 10k's vs the shorter 5k distance, to which she said: "Training for 5k and 10k is pretty similar, just a lot of work on the track, so V02 max, intervals, and then kind of threshold work, mile repeats at goal pace, that how I do it, seems to work." With two consecutive first place finishes, we have to agree.

The Pike's Peek USATF-certified 10k course (MD07015JS) runs downhill from the Shady Grove Metro Station, along Rockville Pike and finishes on Marinelli road near the White Flint Metro. With a 190-ft vertical drop it has become known as one of the fastest 10k courses in the area. As Roman-Duval recalled "It's straight down…I [felt] like a maniac going down, that was nice." Sarah Wassner-Flynn (37, 40:36) of the MCRRC Racing Team remarked "it is a very good fast course, and the top times are always super fast." Emily Pierce (40, 42:19) said "Last time I PR'd on this course, I was 30, and now that I'm 40, I've got my 40's PR.
Elite runners prepared in a variety of ways for the race, and for MCRRC-member Exavier Watson (36, 34:58) of Germantown, MD this means feeding the soul as well as the body. When asked about his pre-race routine that he relied on to break the 35 minute barrier this year, Watson admitted to devouring 4 Krispy Kreme donuts to carbo-load before the start of the race. A Myrtle Beach native, Watson loved the sugary snacks growing up, and despite spending the race trying to keep them from "making an appearance" during the race, the part-time runner, part-time martial artist was more than happy to allow the sugary treats to make a post-race showing as he made his way to the check bag station to get the remaining donuts that he packed.


Also at the race were Woody, the larger than life mascot of Woodrow Wilson that serves as the mascot of the Woodrow Wilson Bridge Half, a long-time RacePacket Grand Prix race. Coming off of a 5k PR at the Manassas Runway 5k--about as flat as you can get, running even the gently rolling downhill of Rockville Pike can "feel like the Swiss Alps for those as top-heavy as the 28th president of the United States" said Woody's "secret service" agent. Even Woody managed a PR this race though, finishing in a net time of 54:53, besting his previous PR of 56:10 and he was happy once again to win his age group--though the field of 120+ year-olds is pretty sparse in any event. Regular RacePacket columnist and author Jeff Horowitz ran beside Woody, channeling his inner Clint Eastwood as Frank Horrigan, the Secret Service Agent from the 1993 film "In the Line of Fire." The president was promoting the 2016 Woodrow Wilson Bridge Half which will be held on October 2. Horowitz praised the Pike's Peek 10k as a great chance to see all of your neighbors, pointing out countless running club singlets and the fact that despite being in an age of several nationally renown races, that here, one met with a preponderance of local race t-shirts and events unique to the DMV running scene.

Overall, the Pike's Peek 10k exemplifies the MCRRC goal of providing a low-key quality distance racing event through its friendly atmosphere, professional and thorough organization, and the representation of several high-quality local racers.

About the Montgomery County Road Runner's Club


MCRRC was incorporated as the Upper Montgomery County Road Runners Club (UMCRRC) in February, 1978, with "the prime object of the association being the promotion and encouragement of long distance running." The club boasts an established tradition of hosting over 30 low-key, high-quality races a year, enabling MCRRC to continue to provide "a place for every pace." Learn more at mcrrc.org.