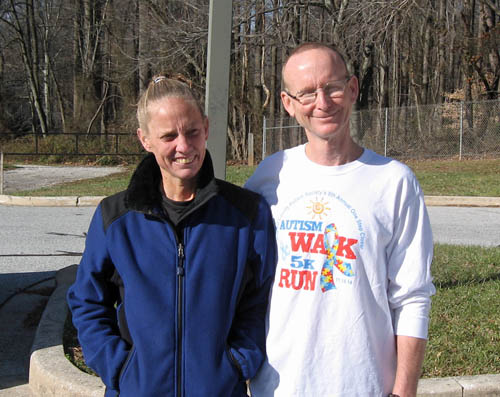 50 Plus Club in 2014
By James Moreland
Gaithersburg, MD
December 31, 2014


After the finish of the General Tso Spicy 8K on Christmas Day

So do you think you ran a lot of races this year? The members of the 50 Plus Club plan our year to reach the lofty goal of racing once a week, 50 times a year. The club began in 1997 to honor our most prolific racer, Ted Poulos who is closing in on 5,000 career races. Since our club began he has continued his streak of years with a least 100 races with nine times exceeding 200 races and he holds the former world Record of 337 races in 2003.

In 2013, Bill Stahr spent months recovering from a leg injury and did not start racing until April. He finished the year with 181 races. This year he was determined to improve on seven years of racing more than 100 times a year. He decided to go after the record held by Ted Poulos. He drove all over the area (even to Delaware and Pennsylvania) sometimes racing five times in a day. As they year finishes, his total mounted to 369 races, more than a one a day. He raced more than 1300 miles.

Second place Ted Poulos had a fine year with 233 races and 90 overall wins giving the fourth greatest total. Third place Karen Young raced 185 times to give her a tie for 15th place on the all time list.

With reports still coming in we are at 4458 races, close to last year's record 4563. We have 133 members, though not all are still active. This year we have 11 runners with 100 or more races and 36 with more than fifty

The club breaks down races into 9 categories with life time records below.


Distance	Times   Name	
1500M/1M	111	Peter Blank
3K/2M	        82	Ted Poulos
5K	        181	Bill Stahr
8K/5M	        67	Jon Palks
6M/10K	        122	Dave McSherry
15K/10M	        52	John Way
20K/HM	        54	Chris Farmer
MARATHON	50	Billy Lese
OTHER	        53	Jon Palks

Dave McSherry ran a 10K in all 122 of his races to rest his own record. Bill crushed the 5K record with 181 more 5Ks than all but three of the racers had for their total of races. John Way ran 52 10 milers to pass fifty in the last hold out distance.
Runners try diligently to set personal records by racing 50 or more times. When they race fifty in one distance they earn the Blank Award named after our first member. The Poulos Award goes to anyone who wins fifty or more races in a year. Runners that race 10 or more times in all nine distances earned the Farmer Award
The club keeps record of all the fastest times run each year and the lifetime records of all of the five year age groups.
Proudly hosted by RacePacket since its inception we invite to check out our web page that is updated almost daily. In February we gather for our annual awards party.