DiGregorio and Schuler Win Baltimore 10 Miler

Start of the race

Race Review: DiGregorio and Schuler Win Baltimore 10 Miler
---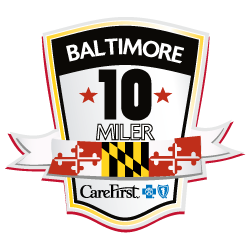 Druid Hill Park, Baltimore, MD--A field of 5,000 runners gathered on June 4 2016 in Balitmore's Druid Hill Park to contest one of Maryland's largest 10 mile races over city streets between the Park and Lake Montebello. The race draws top regional runners. Eric Schuler took the lead from Dave Berdan about half way through the race, when Berdan slowed a bit. Schuler, from Laurel Md, ran unchallenged to a 53:55 finish. Berdan, the 2015 champion was recovering from hip surgery last November. The race sponsor, Care First Blue Cross Blue Shield is donating $2 for every runner that Berdan finishes in front of to the Baltimore Zoo.
The woman winner was Megan DiGregorio of White Marsh, MD who lead from the start and finished in 1:04:13. After the race, Megan said, "I didn't know any of the other competitors." She added, "I was a bit nervous." Megan plans to run in another race on Sunday.
Other top male runners were Dave Berdan in 54:34, Nick Klastava in 57:15, Kunihiko Haysshi in 57:43 and Noah Zaring in 59:11. Top female runners were: Gabrielle Kennelley in 1:05:17, Cara Groves in 1:05:49, Skylar Musa in 1:05:51 and Casey Levin in 1:05:59.
The race is produced by Corrigan Sports and was timed by Mettle Events. Full results are available here.
Baltimore station WMAR televised the race live using a jeep that led the first male runner. It also live-streamed its coverage on its website. Balitmore Police Commissioner Kevin Davis ran the race in a 'Caught by the Commish' promotion. Davis started at the back of the pack and earned a $4 donation for each runner that he passed.