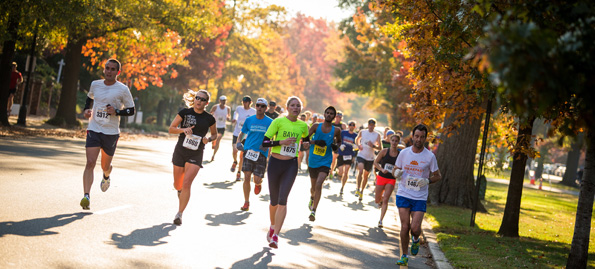 Sammy Too wins Anthem Richmond Marathon;
Desta Girma Tadesse claims female title
Bor, Kamunya set new American Family Fitness Half Marathon course records
Record-size field of 19,629 highlights 36th running of event
By Jackie Stoneburner
Richmond, VA
November 16, 2013


With a time of 2:16:09, Kenya's Sammy Too, 24, won the 2013 Anthem Richmond Marathon, taking home $3,000 in prize money - $2,500 for the first place finish and an additional bonus of $500 for finishing under two hours and twenty minutes. Desta Girma Tadesse, a 26-year-old Ethiopian, was the first female to cross the finish line, clocking in at 2:37:55.

In the sixth year of the American Family Fitness Half Marathon, a new course record was set in both the men's and women's divisions. Twenty-eight-year-old Kimutai Cheruiyot of Kenya crossed the finish line with a time of 1:02:59, besting the previous course record set by Mengstu Nebsi in 2012 by 22 seconds. On the women's side, Pauline Muchiri of Kenya set a new course record with a time of 1:12:47. The previous course record was 1:13:33, set in 2011 by Bekelech Bedada.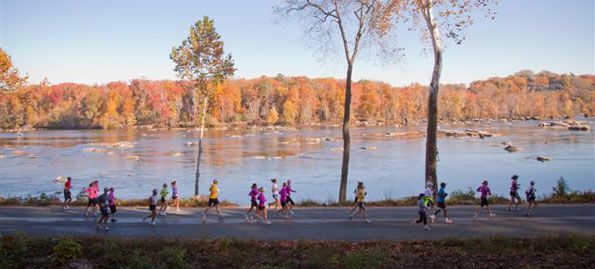 Emmanuel Bor, 19, won the HCA Virginia 8k with a time of 22:41. On the female side, 22-year-old Alice Kamunya captured first place with a time of 24:53, crushing the course record of 25:22 set in 2013 by Neely Spence.
A record 19,629 participants hit the streets of Richmond this morning, taking part in this weekend's events. The 26.2-mile Anthem Richmond Marathon drew 6,103 runners, a new registration record. The American Family Fitness Half Marathon also had a record field with 9,118 participants, and the HCA Virginia 8k had 4,408 participants.
One reason for the surge in numbers was the National Black Marathoners Association (NBMA), an organization that seeks to be a vehicle for Black Americans to meet en masse at a single marathon, hosted its ninth annual gathering at the Richmond Marathon. More than 460 runners participated in the marathon, half marathon or 8k as part of the group.
In addition to a record-breaking number of participants, tens of thousands of spectators lined the streets leading to the spectacular riverfront finish. There were 28 bands and musical performers lining the courses as well as nine official cheering stations and four Party Zones.
The top three local runners, male and female, were also awarded prize money in the 3nd annual Richmond Region Marathon Championship. Michael Tooley was the first male Richmonder to cross the finish line with a time of 2:38:57 and Morgan Denecke was the first female (2:54:15).
The second annual Call Federal Credit Union Marathon Junior, a kids only running event tied to the Anthem Richmond Marathon, was held on October 26. A total of 853 children ages 4-14 participated in the event at Byrd Park.

Support Our Sponsors
Marathon Training
PVTC Track Series
Mary's Custom Quilts
Seashore Striders Summer 2001 Schedule
Joints In Motion
Team Diabetes
Fredericksburg Grand Prix
TrackCoach.com
Running Enclave
DC Fit
Fleet Feet - DC
Fleet Feet - VA&MD